Information System of UPS Essay Sample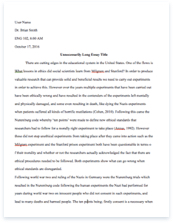 The whole doc is available only for registered users
OPEN DOC
Pages:
Word count: 1000
Category: FedEx
Download Essay
A limited time offer!
Get a custom sample essay written according to your requirements urgent 3h delivery guaranteed
Order Now
Information System of UPS Essay Sample
Question 1.
FedEx is a logistics provider which can deliver your goods from anywhere around the world to your desired destination within 24 hours. FedEx has the same services offered as UPS, which are categorized to air and land shipments. FedEx being the number one in air freight forwarding and the UPS being number one on the ground because of its large network. To provide real-time package tracking for each shipment, FedEx uses one of the world's largest computer and telecommunications networks. The company's couriers operate SuperTracker® hand-held computers, to record the transit of shipments through the FedEx integrated network. FedEx heavy investments in IT solutions as it presented COSMOS and Powership 3 for better package control resulting in an improved quality. COSMOS (Customer Operations Service Master On-line System) is a computerized package tracking system that monitors every phase of the delivery cycle at Federal Express.
FedEx employees constantly input information into COSMOS by several means. Customer service representatives enter shipping information into COSMOS through computer terminals, alerting the dispatcher closest to the pick-up or delivery area. Dispatchers relay pick-up and delivery information to the courier via DADS, small digitally assisted dispatch computer systems found in all courier vans. Hand-held computers, called SuperTrackers, are used to scan the progress of the package an average of 5 times from pick-up to delivery. Couriers simply scan the bar code on every waybill with their SuperTracker, at every stage of the delivery process. Scans are performed at time of pick-up, on arrival at the origin station, at the final station, when placed on the van of the courier's route and at delivery. SuperTrackers retain and transmit package information such as destination, routing instructions and the type of service requested. Once a courier returns to the van, the information is downloaded from the SuperTracker to DADS, which updates the package location in the COSMOS system. Thus, a customer can find out at any time exactly where their package is and when they can expect delivery, whether they call Customer Service or track the package themselves on the FedEx Web site or using FedEx Ship software.
Constant tracking allows Federal Express to maintain positive control over shipments every step of the way. It is so integral a part of the system that FedEx promises to deliver all packages within one minute of the delivery commitment or the customer does not pay. The company also offers a second guarantee that is unique to the industry: if a customer cannot be told exactly where their package is, within 30 minutes of their inquiry, FedEx will pay the transportation costs of the package. From COSMOS and tracking to service guarantees, the Federal Express network is designed to provide 100% customer satisfaction. All the above technologies are very important part of FedEx. If you take out these technologies out of the FedEx operations, it would have less control on package tracking and customer services, which will result the high loss in terms of business revenue. Hence having the technologies like COSMOS, Super Tracker and DADS is very profitable and reduce the cost of operation.
Question 2.
UPS target is to provide stable returns and minimize risks against revenue. This is emphasized by portraying a globally and technology industry leader attitude and the careful selection of services and solutions upon observing competitors. UPS essentially waited for its competitors to be first to market and improve on what others offered. Below are some of the services that ups website provides to their customers:
UPS Express Critical®
UPS Express CriticalSM is your answer for time-critical freight with access to almost any kind of aircraft or vehicle around the world. We can optimize solutions for every shipment, ranging from a one-time urgent shipment to a customized, high-priority solution. Our experienced team can quickly assess a critical situation, identify transportation alternatives, and implement a delivery solution that meets your time and cost requirements.
Air Freight
To consistently meet your freight deadlines, you need a global airfreight provider serving major business centers worldwide. With decades of experience and competitively priced solutions, UPS Supply Chain Solutions offers a single source to manage global airfreight.
Ocean Freight
UPS Supply Chain Solutions offers a full array of global ocean freight and transportation services. We can handle almost any size shipment, from less-than-container loads to full container loads, special equipment, and oversized cargo. Our advanced tracking provides visibility of critical milestones throughout the journey.
From almost any origin, destination or carrier, we can provide streamlined freight forwarding to book your cargo, arrange for pickup and delivery, and manage the shipping documentation. With decades of experience, we facilitate the entire forwarding process according to your specifications as well as the requirements of the import and export countries.
As one of the world's leading Non-Vessel Operating Common Carriers (NVOCC), we can maximize your routing and transit time options by managing your ocean shipments door-to-door, with ease, visibility and global reach. Choose from our flexible ocean freight services based on your timing, cargo size and equipment needs.
Rail/Intermodal
In today's business world, where any delay can spell disaster, UPS Supply Chain Solutions can provide a dependable, cost-effective rail option.
Road Freight
Effective transportation and freight management is critical to any organization. UPS can provide a full range of transportation and freight services to meet your service and cost requirements.
UPS Trade Direct
UPS Trade Direct® is an integrated solution that allows you to bypass distribution centers by shipping directly to retail stores or customers'
doors. Leveraging the breadth and reliability of the UPS global network, Trade Direct provides consolidation of international freight, air, ocean and ground transportation, customs clearance and direct delivery to multiple addresses within the destination country, all through a single source.
UPS served their customers through websites. This allowed customers to become more dependent on their services and brand name. One of the biggest strengths is their business concept. The company also provides e-commerce and supply chain management services to clients worldwide.