Informative Essay on Sir Alex Ferguson, manager of Manchester United Essay Sample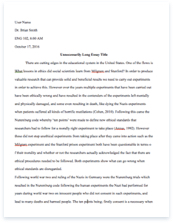 The whole doc is available only for registered users
OPEN DOC
Pages:
Word count: 1379
Category: football
Download Essay
A limited time offer!
Get a custom sample essay written according to your requirements urgent 3h delivery guaranteed
Order Now
Informative Essay on Sir Alex Ferguson, manager of Manchester United Essay Sample
Sir Alex Ferguson has won more trophies than any other manager in the history of English football and been in charge of Manchester United for over 1000 matches (Alex Ferguson, n.d., para. 1). Sir Alex Ferguson is a successful football manager for four reasons: his ambition, the way he builds relationships with his players, his effective building up of the Manchester United squad and his foresight.
The top reason for Sir Alex Fergusons successful managerial career has to be his ambition. A man with an almost obsessive desire to win, Ferguson does not take defeat lightly to the point of becoming unapproachable after a bad game for Manchester United (Ridley, 1996, p. 27).
After a defeat, Ferguson will analyse the match to find out exactly what went wrong. An example of a match analysis can be found in his book The Ultimate Treble. After a 3-1 defeat to Sheffield Wednesday, he wrote that United could not afford to underperform and that it must never allow its standards to fall (Ferguson & Meek, 2000, p. 61). It is common knowledge that players who do not perform well are subjected to Fergusons infamous hairdryer treatment, in which he stands in front of the player and shouts in his face (Ryan, 2002, para. 3).
Sir Alex Ferguson is not one to rest on his laurels. He once said that [f]lash-in-the-pan achievements, such as some good runs in cup competitions, with perhaps the odd winning appearance in a final, could never satisfy [him]. (Ferguson & McIlvanney, 1999, p. 242) Fergusons intention after his European cup triumph was to build a side that could repeat their success again and again and dominate Europe, just like Real Madrid (Hildred & Ewbank, 2002, p. 282). And perhaps Fergusons desire to see Manchester United win again and again could be summed up by David Beckham: If any manager is going to make sure players dont get distracted by dwelling on the past, its Alex Ferguson. (Beckham & Watt, 2003, p. 93)The second reason for Sir Alex Fergusons success is the relationship he has built with his players. He builds this relationship in two ways player motivation and player management.
Sir Alex Ferguson uses motivation to great effect. Keane recalls in his biography that the first question Ferguson asks the team before every season is whether they want to win any trophies. Ferguson then goes on to say that he does and asks the team if they share his ambition (Hildred & Ewbank, 2002, p. 328). No Manchester United player could possibly fail to deliver after such a rousing call to action. When Manchester United found themselves one goal down at half-time during their European Cup Final match against Bayern Munich in 1999, Ferguson said one sentence which put the spark back into the team: Remember that the only way you will get to put your hands on the European Cup is if you win it. (Ferguson & Meek, 2000, p. 160) Manchester United made one of the greatest comebacks in football to win the European Cup – Teddy Sheringham scored in the 90th minute and Ole Gunnar Solskjaer added another goal in the 91st minute to make the final score 2-1 to Manchester United (Ferguson & Meek, 2000, p. 158).
Sir Alex Ferguson manages his players effectively, giving them public support whenever something untoward happens, for example, the lengthy suspensions of Eric Cantona and Rio Ferdinand. In 1995, after Cantona kicked a Crystal Palace fan who had abused him verbally, Ferguson gave the press his explanation for Cantonas behaviour: I sometimes think he is too quiet, shy and unemotional. Maybe he bottles things up to the point where they are liable to burst out disastrously in matches. (Ridley, 1996, p. 32) In 2003, when Rio Ferdinand was charged by the English FA after missing a drugs test, Ferguson insisted that Ferdinand would be in the Manchester United team to face Tottenham Hotspur that weekend, irrespective of the verdict (Ferdinand banned for eight months, 2003, para. 21).
Sir Alex Ferguson is a manager who not only supports players publicly, but who also protects his young players from excessive media attention. Luke Chadwick remembers Ferguson not wanting young players to give press interviews when they were still new at the club (Butt, 2001, para. 45). Ferguson also defended Wayne Rooney after he was accused of striking Boltons Tal Ben Haim in December 2004, claiming that the Bolton player was at fault, and not Rooney. (Man U boss defends Rooney over slapping, 2004, para. 1).
The third reason for Sir Alex Fergusons success is his effective building up of the Manchester United squad. He does it in three main ways.
Firstly, he does the usual buying and selling on the transfer market. Sir Alex is a shrewd buyer and this is shown in his purchases – Peter Schmeichel cost only £505,000 but he became of immense value to the club (Ferguson & McIlvaney, 1999, p. 307). Ferguson only spends on expensive players when the need is there, for example, the purchase of Ruud Van Nistelrooy from PSV Eindhoven for £18.5 million to strengthen the squad with the intention to win back the European Cup (Hildred & Ewbank, 2002, p. 326).
The second way in which Ferguson builds up the squad is to invest in youth players. Right from the start, he was committed to the creation of a youth policy that would be the envy of every other club in Britain (Ferguson & McIlvanney, 1999, p. 274). Young players who excel are given chances to break through to the first team squad, for example Giuseppe Rossi who was given the chance to play in Manchester Uniteds Asia Tour 2005 and scored two goals (Brewin, 2005, para. 6).
The third way in which Ferguson builds up the squad is through periodic renewal. Players who fail to make their mark or who constantly underperform are offloaded to make way for new blood. As Roy Keane says, If your desire is not there Im sure you would be shown the door. (Hildred & Ewbank, 2002, p. 328)The last reason for Sir Alex Fergusons success is his foresight. Firstly, Ferguson does not hesitate to axe players if they cross his path even if they are his star players. He does this in order to prevent personal feuds from spilling over and affecting team dynamics. In 1995, Paul Ince was getting too big for his boots, Mark Hughes was stalling over a new contract, and Kanchelskis was repeatedly asking for a transfer. (Ridley, 1996, p. 228-229) Ferguson offloaded them and started the season with young players (Beckham & Watt, 2003, p. 74). This clearly shows his attitude towards rogue players.
Also, Ferguson does not hesitate to rest players for certain matches in order to preserve their fitness for a crucial match. For example, he rested Roy Keane, Andy Cole and Denis Irwin for the Premiership home match against Southampton in 1999 (Ferguson & Meek, 2000, p. 108). This was to prepare them for their next game against Inter Milan.
As Sir Alex Ferguson heads towards his inevitable retirement, Manchester United will surely be hard pressed to find a worthy successor to fill his boots, for he has certainly set a high standard for future managers to meet.
REFERENCES
Alex Ferguson. (n.d.) Alex Ferguson. Retrieved August 7, 2005, from http://en.wikipedia.org/wiki/Alex_FergusonBeckham, D., & Watt, T. (2003). David Beckham: My Side. London: CollinsWillow.
Brewin, J. (2005). Manchester United Season Guide. Retrieved August 7, 2005, from http://soccernet.espn.go.com/feature?id=337584&cc=4716Butt, R. (2001, August 31). Luke's united stand. Cambridge Evening News. Retrieved August 7, 2005, from www.cambridge-news.co.uk/archives/2001/09/03/ focus.htmlFerdinand banned for eight months. (2003). BBC Sport. Retrieved August 7, 2005, from http://news.bbc.co.uk/sport1/hi/football/3333091.stmFerguson, A., & McIlvanney, H. (1999). Managing My Life: My Autobiography. Great Britain: Hodder & Stoughton.
Ferguson, A., & Meek, D. (2000). The Unique Treble. Great Britain: Hodder & Stoughton.
Hildred, S., & Ewbank, T. (2002). Roy Keane: The Biography. London: John Blake.
Ridley, I. (1996). Cantona: The red and the black. London: Vista.
Ryan, J. (2002). Alex Ferguson. Retrieved August 8, 2005 from http://red11.org/mufc/devilsadvocate/articles/AlexFerguson.htmMan U boss defends Rooney over slapping. (2004, December 27). Sydney Morning Herald. Retrieved August 7, 2005, from http://www.smh.com.au/news/Soccer/Man-U-boss-defends-Rooney-over-slapping/2004/12/27/1103996478815.html?oneclick=true