Intellectual Property Rights Essay Sample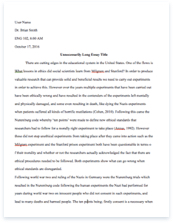 The whole doc is available only for registered users
OPEN DOC
Pages:
Word count: 7610
Category: rights
Download Essay
Get Full Essay
Get access to this section to get all the help you need with your essay and educational goals.
Get Access
Intellectual Property Rights Essay Sample
Intellectual property (IP) refers to creations of the mind: inventions, literary and artistic works, and symbols, names, images, and designs used in commerce. IP is divided into two categories: Industrial property, which includes inventions (patents), trademarks, industrial designs, and geographic indications of source; and Copyright, which includes literary and artistic works such as novels, poems and plays, films, musical works, artistic works such as drawings, paintings, photographs and sculptures, and architectural designs. Rights related to copyright include those of performing artists in their performances, producers of phonograms in their recordings, and those of broadcasters in their radio and television programs. The innovations and creative expressions of indigenous and local communities are also IP, yet because they are "traditional" they may not be fully protected by existing IP systems. Access to, and equitable benefit-sharing in, genetic resources also raise IP questions.
Normative and capacity-building programs are underway at WIPO to develop balanced and appropriate legal and practical responses to these issues. Under intellectual property law, owners are granted certain exclusive rights to a variety of intangible assets, such as musical, literary, and artistic works; discoveries and inventions; and words, phrases, symbols, and designs. Common types of intellectual property rights include copyright, trademarks, patents, industrial design rights, trade dress, and in some jurisdictions trade secrets. Although many of the legal principles governing intellectual property rights have evolved over centuries, it was not until the 19th century that the term intellectual property began to be used, and not until the late 20th century that it became commonplace in the majority of the world. The British Statute of Anne 1710 and the Statute of Monopolies 1623 are now seen as the origins of copyright and patent law respectively.
History
Modern usage of the term intellectual property goes back at least as far as 1867 with the founding of the North German Confederation whose constitution granted legislative power over the protection of intellectual property (Schutz des geistigen Eigentums) to the confederation. When the administrative secretariats established by the Paris Convention and the Berne Convention merged in 1893, they located in Berne, and also adopted the term intellectual property in their new combined title, the United International Bureaux for the Protection of Intellectual Property. The organisation subsequently relocated to Geneva in 1960, and was succeeded in 1967 with the establishment of the World Intellectual Property Organization (WIPO) by treaty as an agency of the United Nations. According to Lemley, it was only at this point that the term really began to be used in the United States, and it did not enter popular usage until passage of the Bayh-Dole Act in 1980.
"The history of patents does not begin with inventions, but rather with royal grants by Queen Elizabeth I (1558–1603) for monopoly privileges… Approximately 200 years after the end of Elizabeth's reign, however, a patent represents a legal right obtained by an inventor providing for exclusive control over the production and sale of his mechanical or scientific invention… demonstrating the evolution of patents from royal prerogative to common-law doctrine." In an 1818 collection of his writings, the French liberal theorist, Benjamin Constant, argued against the recently introduced idea of "property which has been called intellectual."The term intellectual property can be found used in an October 1845 Massachusetts Circuit Court ruling in the patent case Davoll et al. v. Brown., in which Justice Charles L. Woodbury wrote that "only in this way can we protect intellectual property, the labors of the mind, productions and interests are as much a man's own…as the wheat he cultivates, or the flocks he rears."
The statement that "discoveries are…property" goes back earlier. Section 1 of the French law of 1791 stated, "All new discoveries are the property of the author; to assure the inventor the property and temporary enjoyment of his discovery, there shall be delivered to him a patent for five, ten or fifteen years."In Europe, French author A. Nion mentioned propriété intellectuelle in his Droits civils des auteurs, artistes et inventeurs, published in 1846. Until recently, the purpose of intellectual property law was to give as little protection possible in order to encourage innovation. Historically, therefore, they were granted only when they were necessary to encourage invention, limited in time and scope. The concept's origins can potentially be traced back further. Jewish law includes several considerations whose effects are similar to those of modern intellectual property laws, though the notion of intellectual creations as property does not seem to exist – notably the principle of Hasagat Ge'vul (unfair encroachment) was used to justify limited-term publisher (but not author) copyright in the 16th century. In 500 BCE, the government of the Greek state of Sybaris offered one year's patent "to all who should discover any new refinement in luxury."
World Intellectual Property Organization (WIPO)
The World Intellectual Property Organization (WIPO) is one of the 17 specialized agencies of the United Nations. WIPO was created in 1967 "to encourage creative activity, to promote the protection of intellectual property throughout the world." WIPO currently has 185 member states, administers 24 international treaties, and is headquartered in Geneva, Switzerland. The current Director-General of WIPO is Francis Gurry, who took office on October 1, 2008. 184 of the UN Members as well as the Holy See are Members of WIPO. Non-members are the states of South Sudan, Cook Islands, Kiribati, Marshall Islands, Federated States of Micronesia, Nauru, Niue, Palau, Solomon Islands, Timor-Leste, Tuvalu, and the states with limited recognition. Palestine has observer status. WIPO was formally created by the Convention Establishing the World Intellectual Property Organization, which entered into force on April 26, 1970. Under Article 3 of this Convention, WIPO seeks to "promote the protection of intellectual property throughout the world." WIPO became a specialized agency of the UN in 1974.
The Agreement between the United Nations and the World Intellectual Property Organization notes in Article 1 that WIPO is responsible "for promoting creative intellectual activity and for facilitating the transfer of technology related to industrial property to the developing countries in order to accelerate economic, social and cultural development, subject to the competence and responsibilities of the United Nations and its organs, particularly the United Nations Conference on Trade and Development, the United Nations Development Programme and the United Nations Industrial Development Organization, as well as of the United Nations Educational, Scientific and Cultural Organization and of other agencies within the United Nations system." The Agreement marked a transition for WIPO from the mandate it inherited in 1967 from BIRPI, to promote the protection of intellectual property, to one that involved the more complex task of promoting technology transfer and economic development. WIPO has established WIPOnet, a global information network. The project seeks to link over 300 intellectual property offices (IP offices) in all WIPO Member States. In addition to providing a means of secure communication among all connected parties, WIPOnet is the foundation for WIPO's intellectual property services.
Trade Related Aspects of Intellectual Property Rights (TRIPS) The Agreement on Trade Related Aspects of Intellectual Property Rights (TRIPS) is an international agreement administered by the World Trade Organization (WTO) that sets down minimum standards for many forms of intellectual property (IP) regulation as applied to nationals of other WTO Members. It was negotiated at the end of the Uruguay Round of the General Agreement on Tariffs and Trade (GATT) in 1994. The TRIPS agreement introduced intellectual property law into the international trading system for the first time and remains the most comprehensive international agreement on intellectual property to date. In 2001, developing countries, concerned that developed countries were insisting on an overly narrow reading of TRIPS, initiated a round of talks that resulted in the Doha Declaration.
The Doha declaration is a WTO statement that clarifies the scope of TRIPS, stating for example that TRIPS can and should be interpreted in light of the goal "to promote access to medicines for all." Specifically, TRIPS contains requirements that nations' laws must meet for copyright rights, including the rights of performers, producers of sound recordings and broadcasting organizations; geographical indications, including appellations of origin; industrial designs; integrated circuit layout-designs; patents; monopolies for the developers of new plant varieties; trademarks; trade dress; and undisclosed or confidential information. TRIPS also specify enforcement procedures, remedies, and dispute resolution procedures. Protection and enforcement of all intellectual property rights shall meet the objectives to contribute to the promotion of technological innovation and to the transfer and dissemination of technology, to the mutual advantage of producers and users of technological knowledge and in a manner conducive to social and economic welfare, and to a balance of rights and obligations.
General Agreement on Tariffs and Trade (GATT)
The General Agreement on Tariffs and Trade (GATT) was a multilateral agreement regulating international trade. According to its preamble, its purpose was the "substantial reduction of tariffs and other trade barriers and the elimination of preferences, on a reciprocal and mutually advantageous basis." It was negotiated during the United Nations Conference on Trade and Employment and was the outcome of the failure of negotiating governments to create the International Trade Organization (ITO). GATT was signed in 1947 and lasted until 1994, when it was replaced by the World Trade Organization in 1995. The original GATT text (GATT 1948) is still in effect under the WTO framework, subject to the modifications of GATT 1994 In 1993, the GATT was updated (GATT 1994) to include new obligations upon its signatories. One of the most significant changes was the creation of the World Trade Organization (WTO). The 75 existing GATT members and the European Communities became the founding members of the WTO on 1 January 1995. The other 52 GATT members rejoined the WTO in the following two years (the last being Congo in 1997).
Since the founding of the WTO, 21 new non-GATT members have joined and 29 are currently negotiating membership. There are a total of 157 member countries in the WTO, with Russia and Vanuatu being new members as of 2012. Of the original GATT members, Syria and the SFR Yugoslavia have not rejoined the WTO. Since FR Yugoslavia, (renamed to Serbia and Montenegro and with membership negotiations later split in two), is not recognised as a direct SFRY successor state; therefore, its application is considered a new (non-GATT) one. The General Council of WTO, on 4 May 2010, agreed to establish a working party to examine the request of Syria for WTO membership. The contracting parties who founded the WTO ended official agreement of the "GATT 1947" terms on 31 December 1995.
Serbia and Montenegro are in the decision stage of the negotiations and are expected to become the newest members of the WTO in 2012 or in near future. Whilst GATT was a set of rules agreed upon by nations, the WTO is an institutional body. The WTO expanded its scope from traded goods to include trade within the service sector and intellectual property rights. Although it was designed to serve multilateral agreements, during several rounds of GATT negotiations (particularly the Tokyo Round) plurilateral agreements created selective trading and caused fragmentation among members. WTO arrangements are generally a multilateral agreement settlement mechanism of GATT. Case Study
A case study (also known as a case report) is an intensive analysis of an individual unit (e.g., a person, group, or event) stressing developmental factors in relation to context. The case study is common in social sciences and life sciences. Case studies may be descriptive or explanatory. The latter type is used to explore causation in order to find underlying principles. They may be prospective, in which criteria are established and cases fitting the criteria are included as they become available or retrospective, in which criteria are established for selecting cases from historical records for inclusion in the study. Thomas offers the following definition of case study: "Case studies are analyses of persons, events, decisions, periods, projects, policies, institutions, or other systems that are studied holistically by one or more methods. The case that is the subject of the inquiry will be an instance of a class of phenomena that provides an analytical frame — an object — within which the study is conducted and which the case illuminates and explicates." Another suggestion is that case study should be defined as a research strategy, an empirical inquiry that investigates a phenomenon within its real-life context.
Case study research can mean single and multiple case studies, can include quantitative evidence, relies on multiple sources of evidence, and benefits from the prior development of theoretical propositions. Case studies should not be confused with qualitative research and they can be based on any mix of quantitative and qualitative evidence. Single-subject research provides the statistical framework for making inferences from quantitative case-study data. This is also supported and well-formulated in: "The case study is a research approach, situated between concrete data taking techniques and methodological paradigms." Whatever the frame of reference for the choice of the subject of the case study (key, outlier, local knowledge), there is a distinction to be made between the subjestorical unity" through which the theoretical focus of the study is being viewed. The object is that theoretical focus – the analytical frame. Thus, for example, if a researcher were interested in US resistance to communist expansion as a theoretical focus, then the Korean War might be taken to be the subject, the lens, the case study through which the theoretical focus, the object, could be viewed and explicated. Types of Intellectual Property Rights
Common types of intellectual property rights include patents, copyright, industrial design rights, trademarks, trade dress, and in some jurisdictions trade secrets. There are also more specialized varieties of sui generis exclusive rights, such as circuit design rights (called mask work rights in USA law, protected under the Integrated Circuit Topography Act in Canadian law, and in European Union law by Directive 87/54/EEC of 16 December 1986 on the legal protection of topographies of semiconductor products), plant breeders' rights, plant variety rights, industrial design rights, supplementary protection certificates for pharmaceutical products and database rights (in European law).
The importance of intellectual property in India is well established at all levels- statutory, administrative and judicial. India ratified the agreement establishing the World Trade Organisation (WTO). This Agreement, inter-alia, contains an Agreement on Trade Related Aspects of Intellectual Property Rights (TRIPS) which came into force from 1st January 1995. It lays down minimum standards for protection and enforcement of intellectual property rights in member countries which are required to promote effective and adequate protection of intellectual property rights with a view to reducing distortions and impediments to international trade. The obligations under the TRIPS Agreement relate to provision of minimum standard of protection within the member countries legal systems and practices. The Agreement provides for norms and standards in respect of following areas of intellectual property: * Patents
* Trade Marks
* Copyrights
* Geographical Indications
* Industrial Designs
Patent
A patent is a form of intellectual property. It consists of a set of exclusive rights granted by a sovereign state to an inventor or their assignee for a limited period of time, in exchange for the public disclosure of the invention. An invention is a solution to a specific technological problem, and may be a product or a process. In modern usage, the term patent usually refers to the right granted to anyone who invents any new, useful, and non-obvious process, machine, article of manufacture, or composition of matter. The procedure for granting patents, requirements placed on the patentee, and the extent of the exclusive rights vary widely between countries according to national laws and international agreements. Typically, however, a patent application must include one or more claims that define the invention. These claims must meet relevant patentability requirements, such as novelty and non-obviousness.
The exclusive right granted to a patentee in most countries is the right to prevent others from making, using, selling, or distributing the patented invention without permission. Under the World Trade Organization's (WTO) Agreement on Trade-Related Aspects of Intellectual Property Rights, patents should be available in WTO member states for any invention, in all fields of technology, and the term of protection available should be a minimum of twenty years. Nevertheless, there are variations on what is patentable subject matter from country to country. Effects
A patent is not a right to practise or use the invention. Rather, a patent provides the right to exclude others from making, using, selling, offering for sale, or importing the patented invention for the term of the patent, which is usually 20 years from the filing date subject to the payment of maintenance fees. A patent is a limited property right the government gives inventors in exchange for their agreement to share details of their inventions with the public. Like any other property right, it may be sold, licensed, mortgaged, assigned or transferred, given away, or simply abandoned.
A patent, being an exclusionary right, does not necessarily give the patent owner the right to exploit the patent. For example, many inventions are improvements of prior inventions that may still be covered by someone else's patent. An inventor who obtains a patent on improvements to an existing, still under patent mouse trap design can only legally build the improved mouse trap with permission from the patent holder of the original mouse trap. The owner of the improved mouse trap patent can exclude the original patent owner from using the improvement. Some countries have "working provisions" that require the invention be exploited in the jurisdiction it covers. Consequences of not working an invention vary from one country to another, ranging from revocation of the patent rights to the awarding of a compulsory license awarded by the courts to a party wishing to exploit a patented invention. The patentee has the opportunity to challenge the revocation or license, but is usually required to provide evidence that the reasonable requirements of the public have been met by the working of invention. Enforcement
Patents can generally only be enforced through civil lawsuits (for example, for a U.S. patent, by an action for patent infringement in a United States federal court), although some countries (such as France and Austria) have criminal penalties for wanton infringement. Typically, the patent owner seeks monetary compensation for past infringement, and seeks an injunction that prohibits the defendant from engaging in future acts of infringement. To prove infringement, the patent owner must establish that the accused infringer practises all the requirements of at least one of the claims of the patent. An accused infringer has the right to challenge the validity of the patent allegedly being infringed in a countersuit.
A patent can be found invalid on grounds described in the relevant patent laws, which vary between countries. Often, the grounds are a subset of requirements for patentability in the relevant country. Although an infringer is generally free to rely on any available ground of invalidity, some countries have sanctions to prevent the same validity questions being re-litigated. An example is the UK Certificate of contested validity. Patent licensing agreements are contracts in which the patent owner (the licensor) agrees to grant the licensee the right to make, use, sell, and/or import the claimed invention, usually in return for a royalty or other compensation. It is common for companies engaged in complex technical fields to enter into multiple license agreements associated with the production of a single product. Moreover, it is equally common for competitors in such fields to license patents to each other under cross-licensing agreements in order to share the benefits of using each other's patented inventions. Ownership
In most countries, both natural persons and corporate entities may apply for a patent. In the United States, however, only the inventor(s) may apply for a patent although it may be assigned to a corporate entity subsequently and inventors may be required to assign inventions to their employers under an employment contract. In most European countries, ownership of an invention may pass from the inventor to their employer by rule of law if the invention was made in the course of the inventor's normal or specifically assigned employment duties, where an invention might reasonably be expected to result from carrying out those duties, or if the inventor had a special obligation to further the interests of the employer's company.
The inventors, their successors or their assignees become the proprietors of the patent when and if it is granted. If a patent is granted to more than one proprietor, the laws of the country in question and any agreement between the proprietors may affect the extent to which each proprietor can exploit the patent. For example, in some countries, each proprietor may freely license or assign their rights in the patent to another person while the law in other countries prohibits such actions without the permission of the other proprietor(s). The ability to assign ownership rights increases the liquidity of a patent as property. Inventors can obtain patents and then sell them to third parties. The third parties then own the patents and have the same rights to prevent others from exploiting the claimed inventions, as if they had originally made the inventions themselves. Patent Laws
The grant and enforcement of patents are governed by national laws, and also by international treaties, where those treaties have been given effect in national laws. Patents are granted by national or regional patent offices. A given patent is therefore only useful for protecting an invention in the country in which that patent is granted. In other words, patent law is territorial in nature. When a patent application is published, the invention disclosed in the application becomes prior art and enters the public domain (if not protected by other patents) in countries where a patent applicant does not seek protection, the application thus generally becoming prior art against anyone (including the applicant) who might seek patent protection for the invention in those countries. Commonly, a nation forms a patent office with responsibility for operating that nation's patent system, within the relevant patent laws. The patent office generally has responsibility for the grant of patents, with infringement being the remit of national courts. Infringement
Patent infringement is the commission of a prohibited act with respect to a patented invention without permission from the patent holder. Permission may typically be granted in the form of a license. The definition of patent infringement may vary by jurisdiction, but it typically includes using or selling the patented invention. In many countries, a use is required to be commercial (or to have a commercial purpose) to constitute patent infringement. The scope of the patented invention or the extent of protection is defined in the claims of the granted patent. In other words, the terms of the claims inform the public of what is not allowed without the permission of the patent holder. Patents are territorial, and infringement is only possible in a country where a patent is in force. For example, if a patent is filed in the United States, then anyone in the United States is prohibited from making, using, selling or importing the patented item, while people in other countries may be free to make the patented item in their country. The scope of protection may vary from country to country, because the patent is examined by the patent office in each country or region and may have some difference of patentability, so that a granted patent is difficult to enforce worldwide.
Indian Patent Laws
Patent Right varies from country to country. In India the law which govern patent right is "Indian Patent Act 1970". Indian Patent Act, 1970 grants exclusive right to the inventor for his invention for limited period of time. Generally 20 years time has been granted to the patent holder but in case of inventions relating to manufacturing of food or drugs or medicine it is for seven years from the date of patent. There is certain legal procedure which needs to be followed in order to register. There are several attorney helping inventor in patent registration by providing them best well informed knowledge. In India patent registration can be filed individually or jointly. In case of deceased inventor this can be done his legal representative on behalf of him. All the required documents need to be filed along with the application form. Only after verification registration certificate is provided to the applicant. Indian Patent Act, 1970
Indian patent law tells the important aspects of Indian Patent Act, 1970. India patent Act, 1970 differentiates patentable and non-patentable inventions. It means distinction is made between invention and process of invention. Person should have been true inventor of the product in order to be eligible under Indian law. Person whom patent right has been granted is known as patentee. Patentee has monopoly right over creation, right to surrender, right to give patent to some other person. This right is given by a state in order to safeguard and protect his invention. Under Patent Act, right to prevent others from making any use, selling or distributing the invented patent without any permission from patentee. In case there is an infringement of the patentee's law then a suit may be filed for infringement.
Case Study
1.) Apple Inc. v. Samsung Electronics Co., Ltd.
Apple Inc. v. Samsung Electronics Co., Ltd. was the first of a series of ongoing lawsuits between Apple Inc. and Samsung Electronics regarding the design of smart phones and tablet computers; between them, the companies made more than half of smart phones sold worldwide as of July 2012. In the spring of 2011, Apple began litigating against Samsung in patent infringement suits, while Apple and Motorola Mobility were already engaged in a patent war on several fronts. Apple's multinational litigation over technology patents became known as part of the mobile device patent wars: extensive litigation in fierce competition in the global market for consumer mobile communications. By July 2012, the two companies were still embroiled in more than 50 lawsuits around the globe, with billions of dollars in damages claimed between them. While Apple won a ruling in its favour in the U.S., Samsung won rulings in South Korea, Japan, and the UK. 2.) Basmati Patent Battle
In September 1997 Texas, USA company RiceTec was granted U.S. Patent No. 5,663,484 on "basmati rice lines and grains." The patent secures lines of basmati and basmati-like rice and ways of analyzing that rice. RiceTec, owned by Prince Hans-Adam of Liechtenstein, faced international outrage over allegations of biopiracy. It had also caused a brief diplomatic crisis between India and United States with India threatening to take the matter to WTO as a violation of TRIPS which could have resulted in a major embarrassment for the United States. Both voluntarily and due to review decisions by the United States Patent and Trademark Office, RiceTec lost or withdrew most of the claims of the patent, including, most importantly, the right to call their rice lines "basmati." A more limited varietal patent was granted to RiceTec in 2001 on claims dealing with three strains of the rice developed by the company.
Copyright
Copyright is a legal concept, enacted by most governments, giving the creator of original work exclusive rights to it, usually for a limited time. Generally, it is "the right to copy", but also gives the copyright holder the right to be credited for the work, to determine who may adapt the work to other forms, which may perform the work, who may financially benefit from it, and other related rights. It is a form of intellectual property applicable to any expressible form of an idea or information that is substantive and discrete. Copyright came about with the invention of the printing press and with wider public literacy. As a legal concept, its origins in Britain were from a reaction to printers' monopolies at the beginning of the 18th century. Charles II of England was concerned by the unregulated copying of books and passed the Licensing of the Press Act 1662 by Act of Parliament, which established a register of licensed books and required a copy to be deposited with the Stationers' Company, essentially continuing the licensing of material that had long been in effect. Copyrights are said to be territorial, which means that they do not extend beyond the territory of a specific state unless that state is a party to an international agreement.
Today, however, this is less relevant since most countries are parties to at least one such agreement. While many aspects of national copyright laws have been standardized through international copyright agreements, copyright laws of most countries have some unique features. Typically, the duration of copyright is the whole life of the creator plus fifty to a hundred years from the creator's death, or a finite period for anonymous or corporate creations. Some jurisdictions have required formalities to establishing copyright, but most recognize copyright in any completed work, without formal registration.
Generally, copyright is enforced as a civil matter, though some jurisdictions do apply criminal sanctions. Most jurisdictions recognize copyright limitations, allowing "fair" exceptions to the creator's exclusivity of copyright, and giving users certain rights. The development of digital media and computer network technologies have prompted reinterpretation of these exceptions, introduced new difficulties in enforcing copyright, and inspired additional challenges to copyright law's philosophic basis. Simultaneously, businesses with great economic dependence upon copyright have advocated the extension and expansion of their intellectual property rights, and sought additional legal and technological enforcement. Scope
Copyright may apply to a wide range of creative, intellectual, or artistic forms, or "works". Specifics vary by jurisdiction, but these can include poems, theses, plays, other literary works, movies, dances, musical compositions, audio recordings, paintings, drawings, sculptures, photographs, software, radio and television broadcasts, and industrial designs. Graphic designs and industrial designs may have separate or overlapping laws applied to them in some jurisdictions. Copyright does not cover ideas and information themselves, only the form or manner in which they are expressed.
For example, the copyright to a Mickey Mouse cartoon restricts others from making copies of the cartoon or creating derivative works based on Disney's particular anthropomorphic mouse, but does not prohibit the creation of other works about anthropomorphic mice in general, so long as they are different enough to not be judged copies of Disney's. In many jurisdictions, copyright law makes exceptions to these restrictions when the work is copied for the purpose of commentary or other related uses. Meanwhile, other laws may impose additional restrictions that copyright does not — such as trademarks and patents. Copyright laws are standardized somewhat through international conventions such as the Berne Convention and Universal Copyright Convention. These multilateral treaties have been ratified by nearly all countries, and international organizations such as the European Union or World Trade Organization require their member states to comply with them. Exclusive rights
Several exclusive rights typically attach to the holder of a copyright:
1.) to produce copies or reproductions of the work and to sell those copies (including, typically, electronic copies)
2.) to import or export the work
3.) to create derivative works (works that adapt the original work)
4.) to perform or display the work publicly
5.) to sell or assign these rights to others
6.) to transmit or display by radio or video.
The phrase "exclusive right" means that only the copyright holder is free to exercise those rights, and others are prohibited from using the work without the holder's permission. Copyright is sometimes called a "negative right", as it serves to prohibit certain people (e.g., readers, viewers, or listeners, and primarily publishers and would be publishers) from doing something they would otherwise be able to do, rather than permitting people (e.g., authors) to do something they would otherwise be unable to do. In this way it is similar to the unregistered design right in English law and European law. The rights of the copyright holder also permit him/her to not use or exploit their copyright, for some or all of the term. There is, however, a critique which rejects this assertion as being based on a philosophical interpretation of copyright law that is not universally shared. There is also debate on whether copyright should be considered a property right or a moral right
Enforcing copyright
Typically, a work must meet minimal standards of originality in order to qualify for copyright, and the copyright expires after a set period of time (some jurisdictions may allow this to be extended). Different countries impose different tests, although generally the requirements are low. Copyright law recognises the right of an author based on whether the work actually is an original creation, rather than based on whether it is unique; two authors may own copyright on two substantially identical works, if it is determined that the duplication was coincidental, and neither was copied from the other. In all countries where the Berne Convention standards apply, copyright is automatic, and need not be obtained through official registration with any government office. Once an idea has been reduced to tangible form, for example by securing it in a fixed medium (such as a drawing, sheet music, photograph, a videotape, or a computer file), the copyright holder is entitled to enforce his or her exclusive rights. However, while registration isn't needed to exercise copyright, in jurisdictions where the laws provide for registration, it serves as prima facie evidence of a valid copyright and enables the copyright holder to seek statutory damages and attorney's fees.
The original holder of the copyright may be the employer of the author rather than the author himself, if the work is a "work for hire". For example, in English law the Copyright, Designs and Patents Act 1988 provides that if a copyrighted work is made by an employee in the course of that employment, the copyright is automatically owned by the employer which would be a "Work for Hire." Copyrights are generally enforced by the holder in a civil law court, but there are also criminal infringement statutes in some jurisdictions. While central registries are kept in some countries which aid in proving claims of ownership, registering does not necessarily prove ownership, nor does the fact of copying (even without permission) necessarily prove that copyright was infringed. Criminal sanctions are generally aimed at serious counterfeiting activity, but are now becoming more commonplace as copyright collectives such as the RIAA are increasingly targeting the file sharing home Internet user. Thus far, however, most such cases against file sharers have been settled out of court. Prior to 1989, use of a copyright notice — consisting of the copyright symbol (©, the letter C inside a circle), the abbreviation "Copr.", or the word "Copyright", followed by the year of the first publication of the work and the name of the copyright holder.
The Copyright Act, 1957
The Copyright Act, 1957 governs the laws & applicable rules related to the subject of copyrights in India. Copyright Law in the country was governed by the Copyright Act of 1914, was essentially the extension of the British Copyright Act, 1911 to India, and borrowed extensively from the new Copyright Act of the United Kingdom of 1956. All copyright related laws are governed by the Copyright Act, 1957. The Copyright Act today is compliant with most international conventions and treaties in the field of copyrights. India is a member of the Berne Convention of 1886, the Universal Copyright Convention of 1951 and the Agreement on Trade Related Aspects of Intellectual Property Rights (TRIPS) Agreement of 1995. Copyright is a right given by the law to creators of literary, dramatic, musical and artistic works and producers of cinematograph films and sound recordings. In fact, it is a bundle of rights including, inter alia, rights of reproduction, communication to the public, adaptation and translation of the work. There could be slight variations in the composition of the rights depending on the work with it. "Indian work" means a literary, dramatic or musical work,
* The author of which is a citizen of India; or
* Which is first published in India; or
* The author of which, in the case of an unpublished work is, at the time of the making of the work, a citizen of India. Artistic work: A painting, a sculpture, a drawing (including a diagram, map, chart or plan), an engraving or a photograph, whether or not any such work possesses artistic quality, a work of architecture; and any other work of artistic craftsmanship. Musical work means a work consisting of music and includes any graphical notation of such work but does not include any words or any action intended to be sung, spoken or performed with the music. A musical work need not be written down to enjoy copyright protection.
Sound recording means a recording of sounds from which sounds may be produced regardless of the medium on which such recording is made or the method by which the sounds are produced. A phonogram and a CD-ROM are sound recordings. Cinematograph film means any work of visual recording on any medium produced through a process from which a moving image may be produced by any means and includes a sound recording accompanying such visual recording and "cinematograph" shall be construed as including any work produced by any process analogous to cinematography including video films. Government work means a work which is made or published by or under the direction or control of the government or any department of the government, any legislature in India, and any court, tribunal or other judicial authority in India.
Case Study
Stuart Weitzman IP and Stuart Weitzman filed a lawsuit against J.C. Penney Co. Inc. and Mark Tucker Inc. for alleged patent infringement. According to court documents filed in Manhattan federal court on Jan. 16, Stuart Weitzman alleged that Mark Tucker manufactured a shoe sold at J.C. Penney that infringed on a design patent the firm holds for a "Chitchat" shoe. The shoes sold at J.C. Penney were called "Miss Bisou 'Sydney' Patent Peep-Toe Flat."Weitzman alleged that J.C. Penney sent an actual sample or copy of its Chitchat shoe to Mark Tucker "with a request for Mark Tucker to source virtually identical copies to be sold in competition with Chitchat." The complaint also references a shoe manufactured by Mark Tucker for Sears Holdings Corp. called the Personal Identity Starlet shoe, which also allegedly infringes on the Chitchat patent. Included in the complaint are pictures of the alleged shoes from J.C. Penney and Sears, both of which are black patent peep-toed shoes with a buckle detail across the front. Weitzman asked the court for an injunction, damages and trial costs and for the destruction of all the allegedly infringing shoes.
Stuart Weitzman's 'Alex' Espadrilles JC Penny's Miss Bisou 'Sydney' Patent Peep-Toes
Trademark
A trademark, trade mark, or trade-mark is a recognizable sign, design or expression which identifies products or services of a particular source from those of others. The trademark owner can be an individual, business organization, or any legal entity. A trademark may be located on a package, a label, a voucher or on the product itself. Trademarks are used to claim exclusive properties of products or services. A trademark may be located on a package, a label, a voucher or on the product itself. The usage of trademarks by its owner can cause legal issues if this usage makes him guilty of false advertising or if the trademark is offensive.Trademarks can be owned, but also licenced. Licences can be bought from trademark owners and brokers such as United Labels. The unauthorised usage of trademarks by producing and trading counterfeit consumer goods is known as brand piracy. The owner of a trademark may pursue legal action against trademark infringement. Most countries require formal registration of a trademark as a precondition for pursuing this type of action. The United States, Canada and other countries also recognize common law trademark rights, which means action can be taken to protect an unregistered trademark if it is in use. Still common law trademarks offer the holder in general less legal protection than registered trademarks. A trademark may be designated by the following symbols:
1.) ™ (the "trademark symbol", which is the letters "TM", for an unregistered trademark, a mark used to promote or brand goods) 2.) ℠ (which is the letters "SM" in superscript, for an unregistered service mark, a mark used to promote or brand services) 3.) ® (the letter "R" surrounded by a circle, for a registered trademark) A trademark is typically a name, word, phrase, logo, symbol, design, image, or a combination of these elements. There is also a range of non-conventional trademarks comprising marks which do not fall into these standard categories, such as those based on colour, smell, or sound. The term trademark is also used informally to refer to any distinguishing attribute by which an individual is readily identified, such as the well-known characteristics of celebrities. When a trademark is used in relation to services rather than products, it may sometimes be called a service mark, particularly in the United States. In trademark treatises it is usually reported that blacksmiths who made swords in the Roman Empire are thought of as being the first users of trademarks. Other notable trademarks that have been used for a long time include Löwenbräu, which claims use of its lion mark since 1383.Registered trademarks involve registering the trademark with the government.
The oldest registered trademarks in various countries include: * United Kingdom: 1876 – The Bass Brewery's Red Triangle for ale was the first trademark to be registered under the Trade Mark Registration Act 1875. * United States: Samson (a rope-making company), featuring a depiction of the Biblical figure Samson wrestling a lion, was the first to be trademarked in the United States in 1884, and is still used by that company today. * United States: In 1923 the businessman and author Edgar Rice Burroughs registered his fictitious character Tarzan as trademark. Hereby he prolonged the copyright for an unlimited time. On these grounds he sold licences for comic strips and the usage of Tarzan in film and other non-print media. This was the beginning of what is now established as media franchise. * In 1980, there were fewer than ten thousand registered high-tech trademarks in the United States. In 2011, there are more than 300,000. * In 1997 the singer Ernest Evans aka Chubby Checker registered his stage name as a trademark and in 2011 he sued two companies for infringement. Terminology
Terms such as "mark", "brand" and "logo" are sometimes used interchangeably with "trademark". "Trademark", however, also includes any device, brand, label, name, signature, word, letter, numerical, shape of goods, packaging, colour or combination of colours, smell, sound, movement or any combination thereof which is capable of distinguishing goods and services of one business from those of others. It must be capable of graphical representation and must be applied to goods or services for which it is registered. Specialized types of trademark include certification marks, collective trademarks and defensive trademarks. A trademark which is popularly used to describe a product or service (rather than to distinguish the product or services from those of third parties) is sometimes known as a genericized trademark. If such a mark becomes synonymous with that product or service to the extent that the trademark owner can no longer enforce its proprietary rights, the mark becomes generic. A "trademark look" is an informal term for a characteristic look for a performer or character of some sort. It is usually not legally trademark protected and the term is not used in the trademark law.
Enforcing rights
This section needs additional citations for verification. Please help improve this article by adding citations to reliable sources. Unsourced material may be challenged and removed. The extent to which a trademark owner may prevent unauthorized use of trademarks which are the same as or similar to its trademark depends on various factors such as whether its trademark is registered, the similarity of the trademarks involved, the similarity of the products or services involved, and whether the owner's trademark is well known or, under U.S. law relating to trademark dilution, famous. If a trademark has not been registered, some jurisdictions (especially Common Law countries) offer protection for the business reputation or goodwill which attaches to unregistered trademarks through the tort of passing off. Passing off may provide a remedy in a scenario where a business has been trading under an unregistered trademark for many years, and a rival business starts using the same or a similar mark.
If a trademark has been registered, then it is much easier for the trademark owner to demonstrate its trademark rights and to enforce these rights through an infringement action. Unauthorized use of a registered trademark need not be intentional in order for infringement to occur, although damages in an infringement lawsuit will generally be greater if there was an intention to deceive. For trademarks which are considered to be well known, infringing use may occur where the use occurs in relation to products or services which are not the same as or similar to the products or services in relation to which the owner's mark is registered. A growing area of law relating to the enforcement of trademark rights is secondary liability, which allows for the imputation of liability to one who has not acted directly to infringe a trademark but whose legal responsibility may arise under the doctrines of either contributory or vicarious liability.
Bibliography
1. http://en.wikipedia.org/wiki/Intellectual_property
2. http://www.wipo.int/about-ip/en/
3. http://www.rkdewan.com/
4. http://www.deccanherald.com/content/26230/F
5. http://www.accessmylibrary.com/coms2/summary_0286-33895626_ITM