International Students at the University of Newcastle, Australia Essay Sample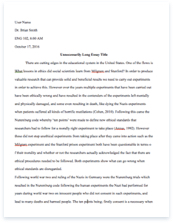 The whole doc is available only for registered users
OPEN DOC
Download Essay
A limited time offer!
Get a custom sample essay written according to your requirements urgent 3h delivery guaranteed
Order Now
International Students at the University of Newcastle, Australia Essay Sample
Abstract
Schools are often composed of people with differing backgrounds and beliefs and thus schools could provide a breeding ground for diversity (Jackson, 1997). Moreover, certain schools have their own sets of sagas which they uphold  and consequently contribute  in the development of a school culture.  Rooney (2005) defined school culture as the context in an education setting where everything else takes place. In a more implicit sense, however, Prosser (1999) described a school culture, which he called "culture's artefacts" in terms of its customs, rituals, symbols, stories and language. For those who are affiliated to a certain school, Prosser's "artefacts" form a certain bond with which the students, faculty, employees and administrators should  all be able to relate to (Beare et al, 1991). Peterson (2002), however, argues that these "artefacts" build up over time and are always at work, either helping or hindering learning.
Even as Clarke (1997) declared that Australia's stance towards the promotion of educational equity in universities is substantially flawed, Australian universities ventured to commit to the cause. Such commitment was documented in the works of Olsen (2001) and Barnett (1994). With much attention being emphasized towards multiculturalism in education, Hooks (in Smith, 2007) lamented on the dearth of practical fora aimed at transforming traditional classroom settings to make the learning experience inclusive of and responsive to all cultures.   Hence, a research study in this respect will significantly help shape future initiatives to address the challenges of providing quality education across the cultural barrier.
            This paper attempted to assay how international students cope with their predicament as regards to acculturation using qualitative research methodology. Using judgmental sampling, 10 international students were involved in the study. A semi-structured interview became the main data gathering instrument. Findings revealed that social support systems, cultural competency and educational practices significantly impacted the respondents' quest for knowledge in Australia by way of emotionally and socially enriching experiences. Recommendations were geared towards the strengthening the social support systems and furtherance of cultural competencies of incoming international students through university staff development programs on diversity, organization of senior peer support groups made up of both international students and volunteer  Australians.
Introduction
            The immense rise of international education has greatly extended its scope not only in the Americas but in other countries as well, particularly Australia. By the year 1985, Australia recognized that education may be a potential industry alongside the idea that international student programs are important dimensions of internationalisation (IDP Education Australia, 1996).   AA Education Network (2007) claims that more than half of the total percentage of the international students prefer Australia over other countries because of the following reasons : (1) the country is noted  for internationally recognized high quality education which it provides using state-of-the-art facilities, competent faculty, and support services responsive to the needs of students; (2) the Australian government prescribes top quality standards which enables Australian graduates to easily qualify for jobs and postgraduates studies anywhere in the world (3) Australia has a national system of learning pathways called Australian Qualifications Framework (AQF) which covers different qualifications, university linkages, as well as vocational education /training and  school education (4) compared to the United States and the United Kingdom, Australia boasts of  lower living costs and tuition fee rates (5) Australia's international students and even their dependents are allowed to gain employment up to 20 hours a week, making earning extra compensation, obtaining work experience and relating to people of different cultures possible and  (6) Australia is a melting pot of cultural diversity which affords  international students to freely adapt to the Australian way of life.
The above reasons transformed Australia to being an educational service provider, especially among students from Asian countries, dislodging the United States and United Kingdom from their erstwhile hold of the top spot (Cohen, 2005).  This was also spurred by Australia's concept of fair access to education even among students with different educational and cultural experience (Atweh, 2000:84).
            The internalization of education have brought about various issues involving acculturation, including anxiety and the language barrier.
Vedder & Horenczyk (2006) contend that international students look at enrolment in foreign schools as an opportunity for social and economic mobility and many of them have somehow reached this goal. For others, however, acculturation is a painful process brought about by sacrificed personal relationships and the lost fragments of their native culture which had to be set aside in favor of the culture they had to assimilate to gain the competencies they felt they needed.   Acculturation, in this respect, is the "process of assimilating new knowledge and values shared by a society into an existing cognitive structure" (Miller, 2006).
In their study of international students, adverse effects of acculturation were reported by Kaplan and Marks (1990) including the significant increase of stress among young adults brought about by increased acculturation. Kaplan and Marks believed that alienation and discrimination are two intervening events leading to the psychological distress of highly acculturated young adults.
The language barrier is also a significant issue among international students in universities the world over, including the United States (University of Cincinnati, n.d), United Kingdom (University of Leeds, n.d.), Australia (Rout, 2007), New Zealand (Ward, 2006) and Canada (Millns, 2003).
Being himself an international student, this researcher cultivated a particular interest in undertaking an analysis on how international students manage acculturation predicaments, with the end in view of coming up with specific recommendations on what initiatives to put up in order to help international students to cope with adjustment problems associated with acculturation.
Specifically, the author will venture to answer the following questions.
What is the profile of the respondents in terms of age, gender and race.
What are the experiences of the respondents on acculturation and classify these experiences as to whether these are helping mechanisms or deterring mechanisms.
What support mechanisms do the respondents utilize to cope up with their acculturation predicament?