Interview of Cristy Good Essay Sample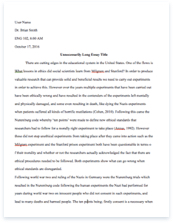 The whole doc is available only for registered users
OPEN DOC
Download Essay
Get Full Essay
Get access to this section to get all the help you need with your essay and educational goals.
Get Access
Interview of Cristy Good Essay Sample
This interviewer had the pleasure of sitting down with Cristy Good. Time spent in the interview covered Cristy's work and job description as an Administrator for Centura Health Physician Group (CHPG). Topics covered involved Cristy's department and employees that she is responsible for managing, Cristy's pathway into health care, and changes to health care. This interview gave more insight than expected into Cristy Good's role within her daily operations at work. A description of the targeted department
The targeted department is management of Centura Health physician practices. These practices are comprised of practices purchased from the physicians to build the infrastructure of Centura Health. Centura Health is setting the building blocks for creating a more streamlined delivery of health care to the patients who use this system. Management includes financial decisions, employee decisions, and working with upper management to bring income into the Centura practices. Information about the type of work done in the practices
The practices that Cristy Good manages cover a wide range of services but these practices can refer within themselves to maintain a streamlines continuum of care for the patients. General surgery, breast surgery, vascular, endocrinology, ear, nose and throat, diabetes, neurosurgery, and breast imaging are specialties that fall under the eight different practices managed by Cristy Good. Many similar and different needs and problems need addressing for the wide range of physicians under her direction. The targeted interviewee and responsibilities
Cristy Good, administrator, is responsible for the daily operations and monthly financial reporting for eight physician practices. This currently includes 40 employees. The employees break down as follows 14 physicians, one physician's assistant, eight nurses, five medical assistants, two supervisors, one lead, three schedulers, five front desk employees, and one financial assistant. These numbers do not include the ninth practice she will be managing that is set to be on-loaded in to Centura Health Physician Group in June 2013. These practices and employees are not all in one area so Cristy's workspace is divided between multiple locations throughout the workweek. The work that Cristy Good does throughout the week, as worded by Cristy, is "like herding cats." Driven by a strong intuition, Cristy listens to her gut instinct, which usually points her in the right direction. Cristy is responsible for budgets and two monthly meetings where she reports on the financials of each practice she manages.
During this meeting, she gets up in front of the Chief Operating Officers (COO) and presents the numbers she has formulated. Cristy tells a story that within her first four days of employment she had to report the monthly financials to the COO's. Promptly told that she needed to reduce her staff numbers to offset the high operating costs, Cristy's response after only four days of being in her management job was that she was not going to reduce her staff numbers but instead Centura needed to look into their billing practices. Cristy highlighted 1.4 million dollars in timely filling and repeated billing errors that would significantly reduce the practices operating costs. Currently, this information is under review to see how to implement better changes within the billing cycle. What is your primary responsibility?
Cristy's primary responsibility is good communication between all of the physicians and staff that she manages. Cristy believes that without good communication the other aspects of managing eight practices fall apart. Cristy must communicate to her staff so that the daily functions in each practice run smoothly. Communication with the physicians is important because they have specific requirements they need fulfilled to provide quality care to their patients. If the providers do not have all the necessary supplies and equipment to treat patients they must communicate back to Cristy in order to have these items purchased or included in the monthly and yearly budgets. In turn, communication with the Chief Operating Officers is necessary to keep the practices within their forecasted budgets. Open lines of communication help maintain smooth daily operations and continued conversations about financial details. Who are the practices customers?
First, the main customer is the patient. Without patients, the practices cannot continue to operate because they are not generating any income. Making the entire experiences as comfortable as possible is important to Cristy, and she relays this to the staff that interacts with the patients. Cristy feels that the physicians and staff are also customers of the practices. Owned by CHPG, Cristy explains that it is the responsibility of CHPG to create a welcoming environment to work in for the physicians and staff. If there is any conflict, Cristy works with the staff to resolve any conflict as easily as possible.
Cristy feels that she cannot make any of her staff like each other but she strives to make the workplace as friendly as possible. Currently Cristy explains that she has one staff member who makes work a very hard place to enjoy for another staff member. Their conflict, although addressed many times, in the forms of one-on-one conversations, group meetings, and documented counseling continues to be an issue. During the course of the interview, Cristy received a phone call from the staff member who is being mistreated and Cristy explained that after the interview she was headed over to help resolve a current issue. What was your career path to this point?
Cristy Good had an unconventional pathway into management. Cristy explains that she received her biology degree with a minor in chemistry. She also completed her teaching certificate. She continued in her education to get a Master's in Business Administration. Cristy was trying to get into the public school system by substituting while working in the lab at University Hospital. Cristy eventually began private tutoring at Sylvan Learning. Cristy worked in retail, and she discovered her way into more permanent work doing DNA testing. Cristy worked in the labs at University Hospital for five years. Cristy explains that her previous supervisor stole her into the Children's Hospital system. Within six months of working in the lab at Children's Hospital Cristy earned promotion to the lab manager because her immediate supervisor saw her potential and was willing to take a chance on her skills. From Children's Hospital, she applied, and offered employment into the Centura Health system.
Cristy had 10 years of management when she applied for the Administrator position she currently holds. Cristy strongly feels that employers are looking for the commitment from employees into their education. She knows that Children's hires people into position strongly based on their education. She feels that Centura is going in the same direction and Cristy believes this is the best practice. Education shows that a person took the time to invest in him or herself and employers see that investment as an asset. Cristy does not take away from employees who have worked their way up from the bottom to become leaders in health care. Cristy feels that it may have taken them longer to achieve their goals without education to back up their individual skills.
Discuss the interviewee's role in the broader context of the health care industry. This interviewer and Cristy Good discussed her role in the broader context of the health care industry at some length. Cristy believes that she is in a constantly changing position in health care. With new legislation, health care employers are trying to adapt to the changes Cristy feels that her biggest challenge is to implement change. Using critical thinking skills, being creative and gaining different perspectives is vital to her changing role in the health care industry. Being able to step back from the big picture and analyze the situation is important for Cristy. Cristy feels that she maintains her stress levels because she knows that every situation that comes to her may be fixed. This is a useful thought process in the health care industry because every day contains change. Conclusion
Interviewing Cristy Good was an insightful view into the ideas of a person currently employed in the field this interviewer is obtaining a degree in from the University of Phoenix. Cristy has good thoughts and ideas on managing people in her practices. Cristy understands that change is happening constantly in health care and that she can help others with the changes by maintaining a level thought process and with the knowledge that everything may be fixed. This interviewer is looking forward to continuing her work relationship with Cristy Good, and to learning all that Cristy has to teach.