Investigation To Measure The Resistivity Of Graphite Essay Sample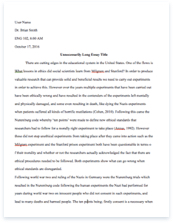 The whole doc is available only for registered users
OPEN DOC
Pages:
Word count: 1356
Category: science
Download Essay
Get Full Essay
Get access to this section to get all the help you need with your essay and educational goals.
Get Access
Investigation To Measure The Resistivity Of Graphite Essay Sample
Aim
The aim of the experiment is to find out the resistivity of graphite. The resistance which is measured in ohms of a resistor is applied with three basic elements. These are length (in meters) the cross sectional area which is measured in meters squared, and finally resistivity which is measured in ohms multiplied by meters.
The experiment is aimed to measure resistivity of the graphite. To measure this you cannot just put a measuring device on the graphite and measure the resistivity. No resistivity is done by measuring three different readings that can be arranged in an equation. The four parts to this equation are :- A (Cross-sectional area) R (resistance) L (Length) ? (Resistivity). These put in an equation to find resistivity are:-
?= A R
L
So lets say if the length is doubled, then the resistance of the wire is doubled, then because of this the current is then halved. Because off this we assume that resistance is proportional to length. If the cross section area of the wire doubled then the resistance is halved because the current can flow more easily. Resistivity is actually giving a material a value. Every material has a value. This value is sensitive to temperature. So the experiment will have a constant current, as the can affect the results as current affects temperature. So the experiment will have three sets of current, these sets will also include length values of 1cm through to 10 cm. As the current will be kept at a constant uniform value, then the experiment's results will be more accurate due to current causing more heat throughout the graphite. As the experiment is keeping the current the same and using variables of length, I am able to measure the voltage of the circuit, so because I have these two values I can measure resistance. Thus I now have length, resistance, and cross sectional-area I can calculate the resistivity.
List Of Apparatus
Power pack – A range of 0V – 13V
Meter Rule
Micrometer – To measure cross section of Graphite.
Variable Resistor – This will Be used to keep Current constant
Ammeter – To measure the current
Voltmeter – To take readings of Voltage
Crocodile Clips – Used to place them on the graphite at the exact length.
Graphite- This is the conductor
Safety
This is of paramount importance during the experiment. To maintain safety in the lab, current passing through the graphite must not be over 1 amp, this is because the current will make the electrons flowing flow at a faster rate creating friction through the graphite which could make it burn. Also the experiment will be well away from any taps, and liquid. This is precautions, to prevent injury. But the risks from this experiment are not that great.
Implementation
1. Measure the cross section of the graphite.
2. Make sure the micrometer is calibrated to zero.
3. Set up apparatus.
4. Set crocodile clips at various lengths of 1cm to 10 cm
5. Set current to either 0.1, 0.2, or 0.3
6. Record Voltage.
7. Work out resistance.
8. Record results onto a graph
That's a basic run of what the experiment entails.
results
Current +/- 0.01 amps
Length +/- 0.01 cm
Voltage +/- 0.01 volt
Resistance +/- 0.01 ohm
0.1
1
0.29
2.9
0.1
2
0.3
3
0.1
3
0.33
3.3
0.1
4
0.37
3.7
0.1
5
0.41
4.1
0.1
6
0.44
4.4
0.1
7
0.46
4.6
0.1
8
0.48
4.8
0.1
9
0.52
5.2
0.1
10
0.57
5.7
current
length
voltage
resistance
0.2
1
0.41
2.05
0.2
2
0.47
2.35
0.2
3
0.55
2.75
0.2
4
0.6
3
0.2
5
0.73
3.65
0.2
6
0.82
4.1
0.2
7
0.9
4.5
0.2
8
0.98
4.9
0.2
9
1.06
5.3
0.2
10
1.17
5.85
current
length
voltage
resistance
0.3
1
0.58
1.93
0.3
2
0.67
2.23
0.3
3
0.82
2.73
0.3
4
0.88
2.93
0.3
5
1.09
3.63
0.3
6
1.24
4.13
0.3
7
1.37
4.57
0.3
8
1.43
4.77
0.3
9
1.56
5.20
0.3
10
1.71
5.70
Diameter of graphite = 1.97 mm –> 1.97 x 10-3 m
Area = ?r2 = 0.0000030 m –> 3.0 x 10-6 m
Resistivity
?= A R
L
P R
A = L = M
P
A = M
P=MA so MA=P
A=0.02 m
2 = 0.01 or 1*10 (power -3)m
?R"2″
3.14*0.01″2″ multipled by the gradient (0.32 for 0.1amps) which is :-
resitivity of graphite at 0.1amps is 100.53*10 "-8"
Conclusion
As you vary the current to different constants you would expect the voltage to vary as it increased. The resistance however you would expect to stay generally the same. The resistance of the graphite shouldn't change no matter what current. You can see that the resistances are to a certain degree within each other. Theses are because of errors. These can be cause by myself not reading the meters correctly, the temperature change due to current which can affect my results. But the errors associated to the experiment are not of a large scale, which will affect my findings. However saying that the errors are clear in the graph. So because of this a line of best fit is used to estimate as much as possible.
Evaluation
By look at this rough graph you can observe that the lines of best fit are not at the precise angle. The other immediate observation that you can make from the graph is that the points maybe slightly out, but overall are accurate. So the conditions of accuracy were held reasonably well. The reliability of the results are of a reasonable standard as the conditions were maintained throughout the whole experiment.
If I was to conduct the experiment again the factors that I would change are the length, I would use this variable, to extent greater than at present. I would also use more currents as a variable. I would also try on accuracy on lower currents more because I found the position of the line to be at a slightly more obtuse angle than I expected.
I would improve on my measuring of the graphite as it is relatively easy to break. As it is a fiddle getting the crocodile clips in the exact position is a challenge. I would also improve on the measuring instruments. I would use a micrometer to check the cross section out.
Another improvement of my results would by to allow greater cooling times for the graphite, to make it a fair test. e.g. At 5.4instead of 6cm, or the connections that sent the current through the wire may have been held on tighter on one of the distances resulting in a stronger current and less resistance, and loser on the next resulting in a lower current and more resistance.
So my experiment proves that if length is double then the resistance of the wire is doubled, Because of this the current is halved. And if the cross-sectional area is doubled then resistance is halved, as the electrons can flow more easily.