Investing in an Engineering Company's Stock Essay Sample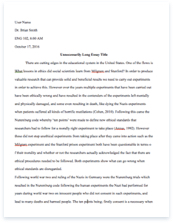 Pages: 6
Word count: 1,608
Rewriting Possibility: 99%

(excellent)

Category: stock
Get Full Essay
Get access to this section to get all help you need with your essay and educational issues.
Get Access
Introduction of TOPIC
Abstract
In this exercise, the performance of three engineering corporation stock prices over a two month period was investigated. The three engineering companies were Boeing, Sony Corporation and Apple, all of whose stocks are traded on the New York Stock Exchange in the case for Boeing and Sony or NASDAQ in the case of Apple. The objective was to see firsthand the potential benefits of investing in the stock market by seeing the possibility of investment growth in the movement of these three engineering firms. The theoretical investment lost money as the stock price of all three firms slid downward during the two month period, laying testament to the volatility of the market even as some companies posted record breaking sales.
Description of Purpose
Stocks are a popular form of investment for many people. Investing in stocks means that a person will invest his money in a company, often buying shares. With typical corporations, the more amount of money an investor puts in, the more control and say over the company that investor will get. The bigger investment will also mean that the investor would get a greater share of the profit. For publicly listed corporations, their stock prices reflect the cost of purchasing one share in the company. Each share of stock a person owns would translate to one vote in the company's stockholder's meeting as well as one share of profit should the company decide to declare dividends.
However investing in stocks for most people doesn't rely on the dividends to earn back the stock's cost. Stocks are traded like a commodity with investors buying stocks at a low price then waiting until the price appreciates so that they can sell the stock off for a profit. The prices of stocks are more or less affected by supply and demand. A company with high earnings and in little trouble would have high demand for its shares and its stock price would go up. On the other hand, a stagnant company which is losing money with no end in sight would see its investors scrambling to sell their shares at a low price.
In this manner of trading stocks, many small fortunes have been earned as well as many large ruins. It is therefore important to have a hands-on understanding of the behavior of stocks. That is the goal of this activity. In this activity, virtual money will be spent on purchasing the shares of three companies – Boeing (NYSE:BA), Sony (NYSE:SNE) and Apple (NASDAQ:AAPL) on June 2 and seeing if these investments have been fruitful by August 1, two months after the investment. We will try to understand how if ever, events from inside and outside these corporations affect their stock prices.
Statement of Process
The primary tool in this investigation has been Google Finance, a free service of search engine company Google.com. Google Finance allows the viewing of a stock's price all the way up to the time of the company's IPO. Moreover, a particularly useful feature of Google Finance was that it tagged the
company's stock price history on dates where news items about that particular company appeared on
major media outlets. Using the service, the two month histories of the stock price of the three corporations were retrieved. The relevant news items were also viewed in conjunction with their price histories.
Additionally, the cost of getting into the stock market was also evaluated. Using the fees listed at the website of stockbroker Noble Trading, the fees needed to make all the transactions were recorded. For this exercise, 10,000$ worth of stock for each of the three companies were purchased on June 2, 2008. All of these shares were then sold on August 1, 2008. Since the price of a share of stock fluctuates within the day, the closing stock price for June 1 and August 2 were used in our calculations for consistency.
Results and Discussion
From the Noble Trading website, we gathered that the most cost-effective pricing for us would be the per share plan which charges $0.008 per share with a minimum of $3.95 per trade. In our case, we never reached the minimum which meant that all our trades would cost $3.95 each. This is much cheaper than their per trade plan which charges $7.50 per trade.
Our results are summarized in the following tables
June 2 Transactions
June 2 Price
Cost of shares bought
Actual Number of shares bought
Transaction Fees
Actual Cost
Boeing
81.15
10,000
123
3.95
9985.4
Sony
51.37
10,000
194
3.95
9969.73
Apple
186.1
10,000
53
3.95
9867.25
Total Outlay
29822.38
August 1 Transactions
June 2 Price
Number of shares sold
Revenue from selling
Transaction Fees
Actual Cost
Boeing
62.01
123
7627.23
3.95
7623.28
Sony
37.83
194
7339.02
3.95
7335.07
Apple
156.66
53
8302.98
3.95
8299.03
Total Outlay
23257.38
Net before tax profit
(6565)
It appears that were these trades real, we would have lost more than 20% of our starting capital as the cost for all our shares declined by roughly the same amount during the two month period. Looking at the two month histories of these companies, a downward trend has been apparent for all three. This for me has been surprising especially for Apple Corporation whose successful launch of their new Iphone 3G made headlines last month. Indeed for Apple, the successful launch of the Iphone really did give a boost to their stock price but that jump was temporary and the stock continued on its downward trend. Some news which may help explain the downward trend for the company includes fears over the health of founder Steve Jobs as well as Apple themselves issuing a fourth quarter outlook which is below their previous estimates.
For Sony, the major events which shaped their stock seemed to be the underperformance of the PlayStation 3 game console. Sony was hit by aggressive price cuts by Microsoft, makers of rival console XBOX 360. The sharper than predicted profit fall during Q1 also contributed to the downward slide of the stock.
For Boeing, the major event which contributed to the downward trend seemed to be the contention for a new tanker aircraft for the Air Force. The contract for the new tanker aircraft has been awarded to Northrop-Grumman, a competitor of Boeing who have promised immediate delivery to the Air Force. The stock recovered somewhat in the middle of July after confirmed new orders for its 777 and 737 model aircraft.
From these results, we see that predicting stock prices is not as easy as simply reading the news. As seen in the results for Apple, the record breaking worldwide launch of its iPhone did nothing to stop the slide of their stock even as their launch made headlines worldwide. One conclusion which could be drawn from this experiment is to not simply rely on the headlines or on the latest for the week with regards to picking stocks to invest in. There needs to be a comprehensive long term understanding of the company as well as the challenges (such as lost contracts) it faces before picking up a stock. In the end, a successful product launch will do nothing to counteract the effect of increasing quarter to quarter losses. The investor should get a picture of the company's health which is as complete as possible, not only relying on the press releases and the marketing blitz.
References
Google Finance. http://finance.google.com
Noble Trading. http://www.nobletrading.com/commissions_fees.php
BizJournal. (June 20, 2008). Boeing tanker's rival: 'Our plane is ready now'. In MSN Money. Retrieved August 10, 2008, from http://news.moneycentral.msn.com/provider/providerarticle.aspx?feed=ACBJ&date=20080620&id=8808640.
Mintz, J. (July 22, 2008). Apple stock drops despite jump in Q3 profit. In Forbes. Retrieved August 10, 2008, from http://www.forbes.com/feeds/ap/2008/07/22/ap5239629.html.
Uranaka, T. (July 30, 2008). Sony shares hit after profit fall, Matsushita jumps. In Reuters. Retrieved August 10, 2008, from http://uk.reuters.com/article/technologyNewsMolt/idUKT3846420080730.