Issues of Policing: Staffing, Politics, Crime, and Crime Prevention Essay Sample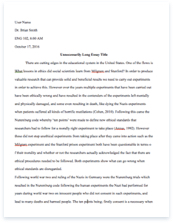 The whole doc is available only for registered users
OPEN DOC
Pages:
Word count: 1178
Category: police
Download Essay
Get Full Essay
Get access to this section to get all the help you need with your essay and educational goals.
Get Access
Issues of Policing: Staffing, Politics, Crime, and Crime Prevention Essay Sample
Although policing in rural or urban areas are different geographically and demographically, underneath it all they both have to deal with the same issues of policing. They deal with staffing, politics, crime, crime prevention and the community. This is an in depth look at some of these issues in rural and urban areas. Community Relations
In order to understand the difference of police-community relationships between rural and urban areas, it is important to know the definition of police. Police is the "the department of government concerned primarily with maintenance of public order, safety, and health and enforcement of laws and possessing executive, judicial, and legislative powers" (Merriam Webster, n.d.) There are many definitions for the police, but they all come down to the same thing whether it is a rural area or urban area and that is preventing, detecting and prosecution of crimes committed. There are many misconceptions about crime and policing in rural areas. One common belief is that crime in rural areas was less frequent and less violent than in urban areas. That is far from the truth. Statistics from a recently released FBI data shows that smaller, rural areas with a population of 10,000 to 24,999 have seen their murder rates increase 9.2 percent and communities under 10,000 have seen an increase of 18.3 percent in murder rates. (Eldridge, 2012)
What this means is that although rural areas have less crime than urban areas, they have more crime then they did in the past and rural crime problems are serious. There is an increase of gangs and illegal drug use which challenge rural law enforcement department much more than their urban counterparts. (Eldridge, 2012). The information from these studies suggests that rural crime is becoming just as challenging as urban area crimes. Because many rural areas have a smaller force of law enforcement officers, this makes investigating, apprehending and charging criminals harder to do than in urban areas. There is much debate about the staffing and styles of a police department and poses a continuous challenge to get it right. Before the 2008 recession, police agencies regardless of rural or urban setting, had difficulty recruiting officers and implemented a number of creative recruitment incentives.
Thereafter, the poor economy caused police agencies to implement hiring freezes, furloughs, layoffs, salary and benefit cutbacks, and retirement incentives. (Wilson & Weiss, 2013) These difficulties also saw an increase of applications to the Community Oriented Policing Services Hiring Program also known as COPS. Altogether, both the supply of and demand for qualified officers are changing in a time of increasing reduction of work force, expanding responsibilities, and decreasing resources. (Wilson & Weiss, 2013) In addition, most of the methods developed to help agencies determine the appropriate number of officers that are needed are designed for large communities and are not very well suited for agencies serving small communities. (Wilson & Weiss, 2013) This shows that rural and urban areas are suffering from the same thing, lack of officers and lack of resources, which can be very dangerous to the general public.
One important factor that has been the focus of police departments across America is community policing. A 2004 report of a study done by the National Institute of Justice stated that two-thirds of U.S. local police departments and 62 percent of sheriffs' offices have full-time personnel performing community policing. (National Institute of Justice, 2004) This study was conducted with eight law enforcement agencies in small to medium sized cities and surrounding rural districts who were implementing community policing. The results of the study were numerous, however, three results stood out the most. Community policing was most successful when front-line officers tried innovative approaches directed at specific local problems in tandem with residents and members of the community; the police chief or sheriff must be fully committed to community policing and drive its implementation, or it will not take hold, let alone advance and having a strong "topdown" (National Institute of Justice, 2004) leadership commitment not only legitimizes community policing in the eyes of officers, but also fosters innovation that breaks through entrenched local problems. (National Institute of Justice, 2004) Community policing can be a very useful tool in law enforcement in both rural and urban areas if the resources are available to the department.
One last area to discuss which seems to find its way into everything is politics. It does not matter if an agency is a rural agency or urban agency, politics in policing is something that police leaders will have to deal with. Although community policing is one area that provides a new challenge in the politics of policing because it emphasizes significant changes in traditional police administrative and operational practices. (Carter, n.d.) Crime and crime prevention have always been important issues to the politicians and the constituents they represent. Politicians have increasingly viewed community policing as the most effective means to deal with crime while providing better public services at the same time, even though they do not fully understand the meaning of community policing. (Carter, n.d.)
Community policing requires significant changes in law enforcement philosophies and practices, and because crime and crime prevention are major political issues, the police administrators must be prepared to respond to elected officials as well as their own employees. The process of implementing substantial changes in the field of law enforcement requires stealth political maneuvering, negotiating positions, bartering political influence, sharing information, assessing new directions, and responding to the diverse needs of a citizens, elected officials, and employees. (Carter, n.d.) It is no secret that politics is involved in law enforcement in urban and rural areas all across America. One just has to pick up a newspaper to see it. However, dealing with politics gets in the way of policing. Having to deal with the politics of policing takes the focus of the police leaders away from fighting crime and building up community relations and this is unacceptable. Conclusion
There is much work that still needs to be done in police department in urban and rural areas. Finding ways to deal with the politics of policing while continuing to focus on the community and actual police work is a fine line that many police leaders fail at. Police leaders in both rural and urban areas need to focus on the important aspects of policing, which are community relations, fighting crime and keeping a fully staffed police department whether it is through community policing or recruitment of officers. This is easier said than done and the police leaders will have to take the issues one at a time and do their best to make everyone happy.
References
Carter, D. (n.d.) Community policing and politics. Retrieved from
http://www.cj.msu.edu/~people/cp/cppolit.html.
Eldrige, L. (2012) Policing mayberry: misconceptions about rural policing. Retrieved from http://www.policeone.com/rural-law-enforcement/articles/5827741-Policing-Mayberry-Misconceptions-about-rural-cops. Merriam Webster (n.d.) Police. Retrieved from http://www.merriam- webster.com/dictionary/police. National Institute of Justice (2004) Community policing beyond the big cities. Retrieved from
https://www.ncjrs.gov/pdffiles1/nij/205946.pdf.
Wilson, A. & Weiss, J. (2013) Staffing the "small" department: taking stock of existing
benchmarks and promising approaches. Retrieved from
http://www.policechiefmagazine.org/magazine/index.cfm?fuseaction=display&article_id =2906&issue_id=42013.