The issues relating to the admission an adult into residential care Essay Sample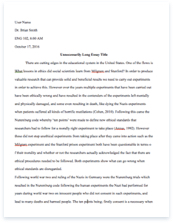 The whole doc is available only for registered users
OPEN DOC
Get Full Essay
Get access to this section to get all help you need with your essay and educational issues.
Get Access
The issues relating to the admission an adult into residential care Essay Sample
In order to examine the issues relating to the admission of an adult into residential care I will relate them to an Asian woman with whom I worked during my time as an outreach worker with a voluntary organisation for older Asian people. I will also draw up on my experience of working in residential settings, including a nursing home for older people. I will outline some of the legislation relating to residential care, consider the problems of balancing the rights and needs of different groups and individuals. The difference in the amount of power held by the client and by the staff will be considered.
I will look at the impact of moving into residential have on this person and her family and suggest some ways in which any negative impact can be reduced. Mrs. AB is a 67-year-old Muslim woman who comes originally from Pakistan. She lives alone in rented accommodation in a deprived area of south Manchester. Mrs. AB has two daughters, both of whom are currently single and have chosen to follow a western life style. Her younger daughter (S) lives in California and is pursuing a career in publishing. The older daughter (F) lives nearby and works as a primary school teacher.
When not working most of F's time is spent caring for her mother. Mrs. AB was diagnosed with (early onset) dementia three years ago. She has no physical disabilities, but requires help with many aspects of daily living, in order to ensure her safety. Mrs. AB has become confused and forgetful; this makes it hazardous e. g. for her to go out alone or to cook. F visits her mother twice a day in the week and spends more time with her at the weekend. F provides food for Mrs. AB to heat up as she wants and ensures that her mother has attended to her personal hygiene. Mrs. AB is in receipt of Attendance Allowance and has no savings.
F finds combining her job and role as a carer very draining over the last six months she has been suffering sleep problems and has been losing weight. Her mother is becoming increasingly forgetful and has been reluctant to eat or bathe. F is very concerned and feels that she is no longer able to meet Mrs. AB's needs. The family and their social worker all agree that Mrs. AB needs to have 24 hour care and supervision, however Mrs. AB and her daughters are not comfortable with the idea of residential care which is not an option commonly taken up by people in their community.
The social worker has given them a list of homes in the area and has asked them to choose a suitable one. As an agent of the local authority, Mrs. AB's social worker is obliged (under section 47 of the NHS and Community Care Act 1990) to assess her needs. The social worker has concluded that she requires round the clock support, so the local authority has a duty to provide her with accommodation because she is "… in need of care and attention not otherwise available to [her].
" National Assistance Act 1948, part III, section 21, 1a The local authority might provide this accommodation itself, or it might pay a private or voluntary organisation to do so. Residential care establishments, statutory or otherwise, are monitored by the same body – The National Care standards Commission (NCSC). The Care Standards Act (2000) established the NCSC as an independent regulatory body for care services in England. The act also sets up a body – The General Social Care Council – to regulate the training of social workers and elevate standards in the social care profession.
To this end each local authority compiled a register of social care staff. Another register, this one maintained by the secretary of State and referred to by employers, lists people considered unsuitable to work with vulnerable adults. The "No Secrets" policy document gives Social Service departments a role in coordinating various agencies (e. g. the police, NHS, voluntary and private sectors and primary health care organisations) to practice in a way that protects vulnerable adults from abuse.
The Department of Health paper "they look after their own don't they? (1998) recommends that information about service, rights and complaints procedures be provided to older people in minority ethnic groups in appropriate languages and formats. It would be more empowering for Mrs. AB if she were given details of the homes to be considered in her first language, Punjabi, this might also help her to feel valued and recognised as an individual rather than as a member of a homogenous group.
Dementia is a broad term used to describe loss of memory, intellect, rationality, social skills and normal emotional reactions (www. lzvic. asn. au). Tune and Bowie (2000) state that the quality of residential care available for people with dementia is a cause for concern. They point out that those who have dementia in residential care "… are unlikely to complain, and unlikely to be heard if they do. " (p325) There are a number of things which those working with people with dementia can do to help the individual to make the most of their abilities and retain as much power and dignity as possible.
It is important to recognise the person's right to refuse to cooperate; furthermore, Killick writes in 1997, the worker/carer should try not to take this as a personal affront as rejection is likely to be a symptom of the condition and not a judgement (p24). In addition to these emotional measures we can also aid the individual in practical ways. In the early stages of the disease strategic labelling can be used – bold lettering on important objects and places can help maintain a person's orientation.
Mrs AB does not read English and so the (non-Punjabi speaking) staff team will need to enlist the help of e. . F to assist with the strategic labelling. A pictorial list of the stages involved in a particular activity (e. g. brushing one's teeth) could be displayed to assist the person. It is helpful also to reduce the amount of clutter in the home and to use visual cues e. g. a picture of a toilet on the toilet door. Dementia brings changes in one's communication skills. Attempts to communicate can lead to the individual and their carers experiencing frustration, leading to withdrawal and reluctance to communicate.
Simplifying language and using prompts or cues can enhance the individual's communication and reduce frustration. Mrs AB's English language skills are declining as her condition progresses – so the anglophone staff need to use more visual cues – e. g. indicating a cup when asking Mrs AB if she would like a hot drink. There is a danger that because communicating with Mrs AB requires patience and imagination, a demoralised staff team might avoid her and fail to meet her needs. Staff morale and attitudes will be discussed later.
If staff are under considerable time pressure they might adopt a task rather than client centred approach – e. g. they might not allow the resident with dementia sufficient time to undertake a task themselves, and may do it for them – in this way the needs of the staff/organisation can clash with those of the cared for individual. Minimising background noise can aid communication, however, reducing the volume on the television (for example) in order to speak to someone might irritate other residents, again people can have conflicting needs.
Memory is one of the first things to be affected by a dementing disease. It might be possible to aid a person's memory using a personal memory album — a small photograph album containing reminders of the people, places and events of importance to that person and which (s)he likes to talk about. These items (e. g. photographs, tickets or post cards) must be chosen by the individual and have meaning for them. The album should be used all the time to initiate and supplement conversation. For those whose condition is more advanced a memory chart or memory box will work in a similar way (Murphy, 1987, p286).
Age exchange, a London based organisation, promote reminiscence skills amongst residential care staff and "… facilitate enjoyable weekly reminiscence sessions for residents. " (www. greenwichgateway. com) Mrs. AB might find this pleasant and stimulating or, possibly, because her memories her earlier life in Pakistan are very different to the memories of the other residents, all of whom are white — she may feel marginalised. Connors (2000) found that Threadgold's Sonas approach led to significant improvements in communication, cognition, activities of daily living and depression.
It is a multi-sensory approach developed for use with people with dementia. A Sonas session includes stimulation of all the senses, gentle exercise and relaxation. In the interactive section participants contribute, for example, a song, proverb or poem. This could be seen as an opportunity for residents from different backgrounds to share things about their culture. Barton (1976) reports the existence of a condition he calls institutional neurosis. This is characterised by apathy, submissiveness and a lack of individuality. He suggests a series of steps to treat the disorder.
I would argue that these could be employed to prevent the individual becoming institutionalised. This might be achieved by: * Maintenance of family and community contacts — e. g. Mrs. AB could be offered the opportunity to accompany her family to Eid celebrations. * Encouraging residents to be active, establishing a sequence of events — e. g. Mrs. AB might like the opportunity and space to pray five times each day, allowing her to maintain her spiritual health and adding structure to her day. * Facilitating/allowing friend and family involvement and engaging the individual in events.
For Mrs. AB it would be possible to offer her a chance to attend a weekly drop in session for Asian women with mental health needs. This is run by a local charity, and takes place near to her former home. If, having had the idea put to her in an accessible way, Mrs. AB wants to attend; the project has outreach volunteers who will support her in the session. This is a way of promoting social contact and allowing Mrs. AB to mix with women from a similar background. However staff and managers might feel that this constitutes an unacceptable risk to Mrs. AB.
Elliott (1980, p17) expresses concern about "… a system where the worker is totally responsible for the resident's welfare and is accountable to an agency hierarchy to the exclusion of the resident's responsibility for his own action. " Thus there is a danger that the workers' fear of accusations of negligence or legal action might be put before Mrs. AB's need to maintain community presence and express her cultural identity. The needs of the institution could be in conflict with those of the individual. Another matter, which could bring the two sets of needs into conflict, is food.
Mrs. AB wishes to eat halal food and does not like English food. F has offered to prepare food for her mother and bring it in, or she is willing to teach the catering staff to prepare Asian cuisine. Again Mrs. AB's needs, and right to her cultural identity are in opposition to the institution's priorities, e. g.. in relation to health and safety policies, financial constraints and demands on staff time (Goffman, 1961, p214). Netten (1993, page 105) reports on a small scale, NHS managed residential unit in which a goal has been to "balance the conflicting objectives of residential care. "
In this setting the individual's psychological and emotional needs may be given priority over the physical aspects of care. However, these small-scale intensively staffed establishments are costly and so are unlikely to become widespread. It was not Mrs. AB's desire to enter into residential care, however it is important that she be given choices in other areas, e. g. those measures already listed to help her to maintain her cultural identity and spiritual health, as well as more mundane matters like what to wear and when to rise. Mrs. AB is the expert on her own needs and preferences.
If those involved in her care can acknowledge this and strive to understand her verbal and non verbal communication and communicate with her in a way she can understand, then Mrs. AB will be able to regain some of the power she has lost due to her health needs and her admission to residential care. By working in this way, recognising Mrs. AB's skills and offering her accurate and accessible information (e. g. on complaints procedures or services/activities available) staff will be working in accordance with the Etcheton Model of Empowerment (see appendix) and be helping to redress the power imbalance between themselves and Mrs.
AB. In order to empower their clients residential care workers themselves must feel valued and empowered. Research undertaken for the Joseph Rowntree Foundation (JRF, 1995) reveals that staff shortages in residential care homes result in increased workloads, demoralisation and feelings of being under pressure. Feelings of insecurity and low morale arising from organisational changes such as moves to part-time contracts and reliance on casual/agency workers can ultimately have a negative impact on those using the service.
The JRF study found that where staff are well trained, valued for their contribution and are well supported by a cohesive team and an approachable, responsive manager, workplace stress is reduced. This will put the staff in a better position to support and empower those they care for. Due to the fact that Mrs. AB's admission into residential care was not occasioned by an emergency it would have been possible for her to have been gradually introduced to her new accommodation — perhaps for a short trial stay or a few daily visits (www. careguide. om).
A 1998 JRF study tells us that most families found the task of choosing a suitable home confusing and difficult. They would have welcomed more input from their social worker. Most families visited only the home where the placement was made. People in the Asian community rarely choose residential care as some people feel it implies a failure on the part of the family to care for the older individual (www. mind. org). Residential care is designed for white, able bodied, heterosexual people – and those outside these groups are not well served.
Mrs AB's daughters 9perhaps in particular F, her main carer) might experience feelings of guilt in relation to Mrs AB's entry into services. F may perhaps feel that she has not matched up to her own expectations as a carer. The Alzheimer's society advises carers to set "realistic" limits and to bear in mind that they too are entitled to a life (www. alzheimers. org). Mrs AB may also feel a sense of loss. Cyranowski et al (2002) postulates the existence of separation anxiety in the adult as well as the child. Mrs AB no longer has F as her main caregiver.
Bowlby (1969, p27) identifies three stages of separation behaviour; protest, despair and detachment. Detachment is characterised by apathy and listlessness – I feel it has features in common with Barton's (1979) institutional neurosis – suffered by people separated form friends, family and their normal way of life. I suggest that Mrs AB could be supported to avoid developing separation anxiety by following the steps outlined earlier to keep her in touch with her family and events in the Pakistani Muslim community.
In addition, if F, on her frequent visits were permitted to assist her mother e. . in personal care, Mrs AB might feel less anxious about losing her relation ship with her daughter (www. jrf. org,uk). Here I have endeavoured to explore ways of making an individual's admission into residential care as positive as possible. I have done this with reference to Mrs AB. Effort has been made to identify and reduce any negative impacts the change might have on the client. Legislation and research shaping residential care has been looked at and I have suggested ways of working which might redress the imbalance of power between health and social care staff and those we care for.