"It Doesn't Matter" Reflection Essay Sample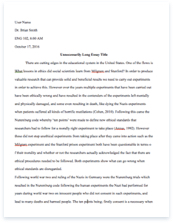 The whole doc is available only for registered users
OPEN DOC
Pages:
Word count: 834
Category: costs
Download Essay
A limited time offer!
Get a custom sample essay written according to your requirements urgent 3h delivery guaranteed
Order Now
"It Doesn't Matter" Reflection Essay Sample
Within the Harvard Business Review's May 2003 issue, Nicholas Carr wrote an article, "IT Doesn't Matter" depicting Information Technology's immense growth and importance for business and economics, but yet concludes IT's decline and fall in business strategic positioning. In class discussion on this article described this author's point of view as one-sided that Information Technology's ubiquity eliminates its competitive edge, creating IT as a costly commodity for businesses. Class discussion was divided as pro or against Nicholas Carr's point of view, binging up examples within the article, as well as personal first-hand experience for evidence. My personal reflection on "IT Doesn't Matter", is in agreement with the author's stance that Information Technology has lived it's life cycle of growth and decline, and now positioned as a cost commodity, rather than an asset, for conducting business.
The article detailed many break-through technologies of the past, describing the evolvement from beginning as a strategic value, to a buildout phase, and finally as a commoditized product. Some examples that were given by the author and discussed in class were how rail transportation is an infrastructure technology that holds more value shared, by interconnecting and broadening businesses and the whole economy. I feel the examples the author provides, reveal IT as an infrastructure technology that is better shared and standardized for cost effective and economic benefits. Students discussed how the buildout and ubiquity of Information Technology is positive due to its availability and standardization being cost effective for most companies. However, the standardization and buildout of IT diminishes its strategic positioning value. Although there are many cost benefits for standardization, one student pointed out this can stifle flexibility for the company's business processes and operations. Cons were discussed that IT's standardization and availability can be intelligently exploited and have potential security or operational risks. Again, this means that a company that requires specific IT options or features to be customized will have increased IT costs.
As an infrastructure technology, Information Technology is now viewed more as a cost driver for companies, rather than a position of strategic value. Companies now have to budget large costs for IT departments just to function as a business. The author explains how company executives must be open to options for cutting IT costs, by finding and removing waste expenses or possible outsourcing. I agreed when students discussed how company executives should consider IT strategies when determining budgets and IT investments. Directors of the IT Department should work collaboratively with Directors of Operations to focus on strategies and processes for achieving business goals. Within the article, it was stated how some organizations are creating a CIO, Chief Information Officer, to assist top executives with managing risks and costs of IT functions and investments. I have witnessed the importance for IT investments to be compatible with operational processes, functionality, and goals. At my current employment, my company deployed an entirely new Work Management System that was purchased and handled through an outsourced IT company (vendor), IBM.
It took over five years in the development of the Work Management System, but the deployment of each phase has proved much difficulty and little operational success, creating more processes and work-arounds to function as a business. It appears top executives and operational managers were not directly involved with team development, and did not provide IBM specific and concise directives for operational needs to be interconnected within the Work Management System. My experience with IBM as my company's IT vendor, has made me in agreement with Nicholas Carr when he discusses in the article how IT, as an infrastructure technology, is now becoming a commodity where vendors are attempting to position themselves as IT utilities or oligopolies. Overall class analysis believed Nicholas Carr wrote "IT Doesn't Matter" strictly from a business perspective, and not an IT perspective. The author went into detail how IT is integrated throughout an organization and must be managed properly. One student believed Carr focused mainly on the vulnerabilities of IT, rather than the opportunities. Information Technology is adaptable and interconnected throughout an organization's structure.
Therefore, organizations must make wise decisions for investing in IT, but especially focus on the utilization and management of IT. In class discussion revealed the importance for understanding the operational needs of an organization and how to use and execute the available IT tools. Some students argued that the utilization of IT can create potential for opportunities and growth, still rendering IT competitive and strategically valuable. Even Nicholas Carr provided examples how FedEx's success with their package tracking system was not only a wise IT investment, but FedEx's utilization of the technology positioned themselves as an industry leader. It was concluded in class that IT investments should be made by top company executives, but should have significant input from top IT directors for operational functionality. Company executives not only need to focus on the business budget and costs of Information Technology, but also on the usage of the technology to accomplish business goals.