IT Investment at North American Financial Essay Sample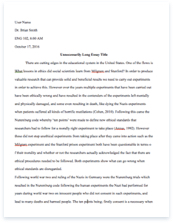 The whole doc is available only for registered users
OPEN DOC
Download Essay
A limited time offer!
Get a custom sample essay written according to your requirements urgent 3h delivery guaranteed
Order Now
IT Investment at North American Financial Essay Sample
Key Issues At NAF, delivering value with IT is about more than delivering projects on time and on budget or having a good IT development shop. They have all this but theres still not enough value getting delivered. This case explores the questions of who is responsible for delivering value with IT and when IT value is delivered. It emphasizes that value delivery should be a business-IT partnership responsibility and will require change in the business over time. The first part of this case looks at the relationship between business strategy and IT development projects. It makes it clear that enterprise business strategies need enterprise solutions and a procedure for matching these. It also introduces the concept that investing in IT infrastructure and keeping it current is an important component of being able to deliver value. This case speaks directly to the disconnect between IT budgeting practices and financial and business strategy implementation. The case describes how lack of clearly defined expectations, effective governance, and accountabilities can undermine the business-IT relationship and lead to a lack of trust. The case illustrates the need to reduce the proportion of the IT budget spent on maintenance matters and the need for reduction of the complexity of the applications portfolio in order to free up resources to use on discretionary, strategic IT projects.
Discussion Questions Cathy Benson, the Director of the newly created IT Investment Office, is tasked with the design and implementation of a detailed investment optimization process to be implemented throughout the bank in time for the next budget cycle. She has three months to do this and it must be in accordance with the five established principles to guide the banks IT investment process. Your task is to design and implement inst/ingeneral-problem idch05genqq01 label1 maxpoints1questionparaDesiA thorough and rigorous method of project categorization and prioritization./para/question/general-problem The enterprise must first identify its strategic priorities and then all projects must be evaluated according to how they contribute towards them. Business leaders should be expected to explain the importance of each initiative to one or more enterprise strategies Finance leaders should work with the business to develop a business case, including quantifiable benefits, for each project. IT leaders must then estimate the costs involved with each project and any prerequisite projects that are needed (e.g., common customer data are required before comprehensive customer initiatives are implemented).
Enterprise leaders must then assess and prioritize each proposed project according to a) its benefits b) its contribution to enterprise strategy and c) its costs, including prerequisite projects. These projects then need to be listed in priority order and compared with the amount of money the company is willing to spend on IT development. This will determine the cut-off of which projects can be undertaken in a budget period. Enterprise leaders can then review the plan and decide if they want to spend more money to undertake more projects or if they want to reassess their priorities based on which projects will and will not be completed. Following this, a prioritized project list and resources can be produced. inst/instgeneral-problem idch05genqq02 label2 maxpoints1questionA comprehensive and holistic governance of IT spending and benefits delivery at all levels./para/question/general-problem As Caroline points out, there are three categories of IT spending maintenance, mandatory and new development. A governance process needs to monitor and track spending in each of these categories.
With mandatory projects, each business unit needs to identify what needs to be done with its current systems to comply with new regulations and then an enterprise leader needs to assess these for cross-business unit synergies, combining similar projects to make them more cost-effective (e.g., anti-money laundering initiatives). With maintenance projects, IT needs to identify what it needs to do to keep the technology environment up-to-date and what these will cost business needs to identify changes to its existing systems, enhancements and minor new development (under a certain cost) and what benefits it hopes to achieve. Each business unit and IT should be given a modest budget for this work and efforts made to keep these initiatives well-managed and cost-effective. Ideally, a modified business case should be prepared and priorities for this work should be made collaboratively by IT and the business unit involved. Furthermore, IT should identify opportunities to reduce application clutter and the costs and benefits involved. Business units could be given some incentives (e.g., a portion of the costs saved to be added to their development budgets) to work with IT to decommission old applications and to migrate to common ones.
IT should monitor its effectiveness by quantifying the applications decommissioned and the costs saved. Finally, new development projects should follow the process outlined in 1 above. Once a project is approved, IT should be responsible for the quality, timeliness and costs involved, while Finance and the business must monitor the benefits of implemented technology according to what was identified in each business case. Furthermore, major development projects should be reviewed by an enterprise leadership committee on a quarterly basis to make sure that each is still on track for delivering tangible benefits. Modifications to project plans and priorities should be made as necessary. inst/instgeneral-problem idch05genqq03 label3 maxpoints1questionparAn annual IT planning process that provides transparency and accountability for all types of IT spending and which creates an integrated and strategically aligned development portfolio.
IT planning should be undertaken annually but reviewed and modified quarterly by the IT leadership team. Each category of IT work must be looked at separately but then integrated by IT management to develop a holistic portrait of IT spending and technology evolution. IT leaders need to assess the architectural soundness of the overall picture, the impact on the overall budget and the impact on operations and make appropriate recommendations for any modifications to senior management. Any additional work, such as RD, should also be considered as part of this process. Ideally, business-oriented metrics should be developed for each component of the IT plan and progress reported quarterly.ITIiii IT should take responsibility for managing its costs downward in operations and maintenance and should be expected to demonstrate the results of its work in this area. It should also report on the progress of each initiative designed to address an enterprise strategy and the key capabilities that are delivered.