Jane Eyre – Charlotte Brontë & The Yellow Wallpaper Essay Sample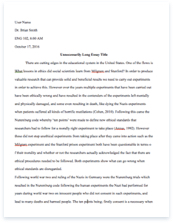 The whole doc is available only for registered users
OPEN DOC
Download Essay
A limited time offer!
Get a custom sample essay written according to your requirements urgent 3h delivery guaranteed
Order Now
Jane Eyre – Charlotte Brontë & The Yellow Wallpaper Essay Sample
Within "Jane Eyre" and "The Yellow wallpaper", both female writers themes focus on similar ideas in how women of the 19th century were manipulated and treated inadequately. Both authors' stories have several similar characteristics brought to life through three female characters within each story including the fight for power through isolation and manipulation and the very different outcome of each woman. While both "Jane Eyre" and "The Yellow Wallpaper, explore the themes of isolation, male dominance, Jane Eyre, Bertha and Jane all at some point within the texts face the same fate of being sealed in a room against their own will and are isolated from the outside world. The way, in which Brontë writes allows the reader to sympathize with Jane Eyre's emotions, experience, including her isolation in the red room. Jane Eyre is a young orphan isolated from her parents due to their death, she lives with her aunt and cousins, she is abused by her cousin John and receives punishment for Johns actions as a young child Jane Eyre recalls that "I shall remember how you thrust me back . . . into the red-room. . . . And that punishment you made me suffer because your wicked boy struck me—knocked me down for nothing.
Locked into this empty room Jane Eyre becomes physically isolated from the world. Contrasted to Jane in The Yellow Wallpaper the difference is that Gilman's Jane is trapped within the social world, of John, her "husband", who also constantly manipulated Jane. He secluded her from the entire world, and he was known as the reason she went mad. If he had not forced her to sit in her room day as seen when Jane says, "I sometimes fancy that in my condition, if I had less opposition and more society and stimulus after day from the rest of the world," then she would not have become obsessed with the wall and gone insane. In comparison to Jane, Bertha is also locked away when Rochester lifts "the hangings from the wall, uncovering,  a door that leads to a bare asylum like room. She is subjected to being known as the mad woman in the attic. For that same reason, Bertha went insane. However we cannot say whether Bertha was extremely insane before Rochester locked her away; we can determine that after Bertha was locked in her confined room, she became more and more insane by the day.
Brontë and Gilman's characters of Jane Eyre, Bertha and Jane all were forced into a room of isolation away from society however Jane Eyre was forced into isolation by her aunt where as both Bertha and Jane were locked away in rooms by their husbands, creating a comparison between the two texts but also the differences between them. A secondary theme within these writings is the struggle for power that each women has and how the men in their lives are perceived as dominant in nature. In "Jane Eyre" we initially are introduced to a flabby school boy name Master John Reed who dictates Jane Eyre when she is young, Reeds dominant tendencies are most noticeably seen when "I saw him lift and poise the book and stand in act to hurl it…the volume was flung, it hit me, and I fell, striking my head against the door and cutting it. This early introduction to John Reed is the first instance of many within "Jane Eyre" where the men dominate and remove any authority from females.
Jane Eyre says to Edward Rochester, "I don't think, sir, you have a right to command me, merely because you are older than I, or because you have seen more of the world than I have; your claim to superiority depends on the use you have made of your time and experience. This quote emphasizes the importance of power to Jane Eyre she also says, "Do you think, because I am poor, obscure, plain and little, I am soulless and heartless? You think wrong! – I have as much soul as you, – and full as much heart! And if God had gifted me with some beauty and much wealth, I should have made it as hard for you to leave me, as it is now for me to leave you! Within these quotes Brontë's Jane Eyre attempts to assert her power in the presence of Rochester. Brontë and Gilman both emphasize the lack of power that married women have in the Victorian era. Juxtaposed to Jane Eyre, Gilman's Jane automatically assumes she has no power because of her husband and brothers social standing "if a physician of high standing, and one's own husband, assures friends and relatives that there is really nothing the matter with one but temporary nervous depression—a slight hysterical tendency—what is one to do? My brother is also a physician, and also of high standing, and he says the same thing." (Gilman 60)
She believes that due to the high standing of the men in her life that she must take orders from them leaving her powerless. Jane doesn't fight her husband's power rather had fallen victim to his dominance. Paralleled to these two women Bertha fights to gain power over her husband throughout the climax of the story. She fights her husband and attempts to take over by setting "fire first to the hangings of the room next her own," multiple times. Bertha fights against the person who has taken the power away from her, by seeking revenge when she can. Bertha is the only character within the stories to seek revenge to those that have taken something away from her. Within the texts the motif of women fighting for power is highlighted by three different ways, the similarities of someone who holds power-taking advantage of these women is present, but how each women handles their lack of power differs for each woman. Compared to Gilman's Jane and Bertha, Jane Eyre fought the men in her life, any time Jane encounters a man that tries to control her she advocates for women.
As a reader, these days we would call Jane Eyre a feminist, the work that Jane Eyre does within the story she fights for women's rights and says" women feel just as men feel, which is frowned upon. It is seen when Jane Eyre says "the more he bought me, the more my cheek burned with a sense of annoyance and degradation" (Bronte 252). This provides a clear insight into Jane Eyre's thoughts when Rochester attempts to get her to marry him, Jane Eyre fights to not be objectified compared to Betha and Jane who accept the fate that their husbands have for them, Jane Eyre exhibits courage and stands up against Rochester. Jane in "The Yellow Wallpaper," is referred to as "John's wife,"(Gilman 61) for a vast majority of the text highlights the male dominance within this story. John is, a physician of extraordinary standing, and My brother is also a physician, and also of high standing, and he says the same thing. (Gilman 60) I wanted one downstairs that opened on the piazza and had roses all over the window, and such pretty old–fashioned chintz hangings! But John would not hear of it. (Gilman 61) John does not know how much I really suffer.
He knows there is no reason to suffer, and that satisfies him. (Gilman 61) The reader see's through Jane's eyes her true feelings about how John treats her. John is controlling over Jane's actions as seen when Jane says, "he says that with my imaginative power and habit of story–making, a nervous weakness like mine is sure to lead to all manner of excited fancies, and that I ought to use my will and good sense to check the tendency. So I try." (Gilman 61) Jane feels that the way in which John her husband and doctor's treatment plan and the way in which the couple deals with her depression is lacking in mental stimulation in this case her imagination. Within the opening chapters of Jane Eyre we are subjected to the role that males have in the Victorian era. Jane Eyre says, "women are supposed to be very calm generally: but women feel just as men feel… instead of "making puddings and knitting stockings, to playing on the piano and embroidering bags.
This is the way Jane Eyre sees the role of the female in society not for them to be locked up and controlled by men rather "they need exercise for their faculties, and a field for their efforts, as much as their brothers do; they suffer from too rigid a restraint, to absolute a stagnation, precisely as men would suffer; and it is narrow-minded in their more privileged fellow-creatures to say that they ought to confine themselves. Consequently, in many ways, through the relationships of Jane and Bertha with their partners, "The Yellow Wallpaper" and "Jane Eyre" can be carefully entwined to each other. Sickness:
"Every atom of your flesh is as dear to me as my own: in pain and sickness it would still be dear." "Even for me life had its gleams of sunshine." but temporary nervous depression—a slight hysterical tendency (Gilman 60) Jane compared to the Bertha insanity is started by the hormone change that is now know as post-partum depression we the reader see this when Jane says "It is fortunate Mary is so good with the baby. Such a dear baby! And yet I cannot be with him, it makes me so nervous" (Gilman 61) In the deep shade, at the farther end of the room, a figure ran backwards and forwards. What it was, whether beast or human being, one could not, at first sight tell: it grovelled, seemingly, on all fours; it snatched and growled like some strange wild animal: but it was covered with clothing, and a quantity of dark, grizzled hair, wild as a mane, hid its head and face.
In conclusion, the three women end up with different fates, they all face similar conditions within their lives. Each woman deals with their circumstances differently and it impacts not only their lives but also the men's lives that they interact with throughout the story. Both authors highlight the key issues surrounded by the lack of power that women have, subordination and mental health illness within the Victorian time period through their characters and enlighten the reader to sympathize with each of the women in different ways. Suffering from hereditary madness that had been kept from Rochester, Bertha began to spiral into psychosis and violence shortly after their marriage. Bertha then is imprisoned in the attic at Thornfield under the guard of Grace Poole, in confinement to ensure both her own safety and the security of the other residents of the house. Bertha however occasionally escapes from her prison and creates havoc within the house; her last outburst involves setting fire to Thornfield and leaping to her own death.