Job Design and Management for Organizations Essay Sample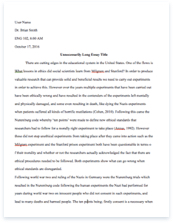 The whole doc is available only for registered users
OPEN DOC
Download Essay
A limited time offer!
Get a custom sample essay written according to your requirements urgent 3h delivery guaranteed
Order Now
Job Design and Management for Organizations Essay Sample
As the newly appointed district manager, my mission is to share and broaden my experience by putting together five different teams for the five new locations I will be responsible for. It is my duty to serve our communities, guests, employees, and franchises with hard work and dedication. "Dunkin Brands offers a comprehensive series of award-winning training programs for crew members, managers and franchisees designed to foster deep connections to our brands' heritage and improve the guest experience and business results at the restaurant level" (Dunkin Brands, 2014).
My job is to promote Dunkin' Brands core values into the institution structure of each new location. The basis of this report is to explain and pinpoint how job design, organizational design, recruiting and selecting, training personnel and performance appraisals are the key factors in establishing successful establishments. Job Design Through job design I plan to reduce job unhappiness and team member isolation. Most organizations strive to increase output levels, fulfillment and encouragement of employees through job design.
The three standard approaches to job design are job analysis, job description, and job specification (Baack, Reilly, & Minnick, 2014). Job analysis is a process that takes place right after identifying the position and position building in an organization table. Creating a job description is a very important element in job design. Job descriptions are publicly displayed by the company, which allows applicants and interested parties to review a clear and thorough formal task list. Formal job descriptions will include a level of responsibility, expected outcome, including reporting line and other interactions.
Job specifications "identify the eligibility requirements or qualifications needed to perform a job" (Baack, et al. , 2014, Ch. 4. 4). Organizational Design Dunkin Donuts organizational design is very important. All companies are built on the foundation of organizational design. The best organizational design choice for Dunkin Donuts is the geographic region structure. One organizing choice I will integrate into the five new stores is to generate a set of commitment guidelines that will impact employee's actions. Another key component in organization design is being able to adapt.
While the new locations in our region are a small part of Dunkin Donuts organizational structure, the stores will be designed under my management with an organic structure. This type of structure engages very few rules and policies, has a low number of organizational levels and ranks, enables for casual relationships among team members, and is much for flexible and adaptable as a result. Since each new location will consist of three levels and about twenty team members, the store managers will be able to easily preserve this type of structure.
Recruiting and Selecting The purpose of recruiting is to ensure there is an adequate pool of applicants available at the appropriate time. All five new locations are going to require staffing in all positions. The District Manager and Restaurant Managers will focus on marketing, recruitment, and strategic selection of the most qualified applicants. The recruitment and selection of people who are engaged, collaborative, genuine and driven to support the Dunkin\' Donuts brand.
The recruitment process will utilize tools which are highly effective; reflecting the Dunkin\' Donuts cultural values, while providing consistent and objectivity to assist with determining who will be the right person for each position (Dunkin\' Brands, 2014). Applicants will have to complete a profile on the Dunkin Donuts website. The applicants must complete an online application and assessment. The assessment will determine each applicant's behavioral patterns and will find out who will be the best match for all positions.
Once the applicant's submission is complete, the section process will begin. All selected personnel will advance to the interview portion of the process to answer interview questions. This process will give the applicants the opportunity to show off their talents. Training and performance appraisals Training new employees will come with being able to make all foods and refreshments in a timely manner. An employee's performance will always be a reflection of the company and who was in charge of their training.
Assessments and examinations are very useful in any workplace because it helps reward those employees who have been working hard, and help other crew members that still need help in other areas. Behavioral evaluations are both intentional and selective based off what supervisors need to be aware of see where all the employees are falling in line or where there are some changes that need to be made. After performance appraisals are done a supervisor will then view all assessments of the employees. If there are any questions or concerns members of the staff may have, then they that will be the time those issues will be addressed.
If there are bigger problems that exist amongst workers that cannot be fixed, then that is when a meeting will come into place and discuss the manners of the workplace. With regards to motivations, compensation and work adaptability will be a piece of the examination process. Regular employees usually start off at $9. 00 an hour and can of course earn raises over a certain amount of time and depending on the type of conduct and work they have been performing. Conclusion In closing, Dunkin Donuts mission drives the company and is simple.
It is to \"make and serve the freshest, most delicious coffee and donuts quickly and courteously in modern, well merchandised stores. " With our proper store design, simple organizational structure, and recruitment and training techniques will ensure our company continues to grow and be more profitable in years to come. We will continue to be recognized as one of \"the world\'s leading franchisors of quick service restaurants\" At Dunkin Donuts we aim to keep our customers happy and satisfied by presenting them with service and products that are at the fore front of our customers and communities.
References
Baack, D., Reilly, M., & Minnick, C., (2014). The five functions of effective management (2nd ed.). San Diego, CA: Bridgepoint Education, Inc.
Dunkin Brands Group, Inc. (2014). Corporate website. Retrieved December 7, 2015 from http://www.dunkinbrands.com/leadership