Johnson & Johnson Crisis Management Essay Sample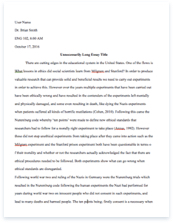 The whole doc is available only for registered users
OPEN DOC
Download Essay
A limited time offer!
Get a custom sample essay written according to your requirements urgent 3h delivery guaranteed
Order Now
Johnson & Johnson Crisis Management Essay Sample
Johnson & Johnson, one of the world's leading healthcare products manufacturer, was founded in 1886 by three brothers, Robert Wood Johnson, James Wood Johnson and Edward Mead Johnson. In 1888, Johnson & Johnson pioneers the first commercial first aid kit and other key products such as, baby powder, baby oil, no tears shampoo and tylenol in the following years. With more than 275 companies located in more than 60 countries, Johnson & Johnson and it's subsidiaries have approximately 127,000 employees worldwide. The business is organized into three core segments: Consumer, Pharmaceutical and Medical Devices and Diagnostics. The Consumer segment includes a broad range of products such as baby care, skin care, oral care, wound care.
The Pharmaceutical segment includes products in the following areas: anti-infective, antipsychotic, contraceptive, gastrointestinal, immunology, infectious diseases, pain management, and vaccines. These products are distributed directly to retailers, wholesalers and health care professionals for prescription use. The Medical Devices and Diagnostics segment includes a broad range of products distributed to wholesalers, hospitals and retailers, used principally in the professional fields by physicians, nurses, hospitals and clinics. These include products to treat cardiovascular disease; orthopaedic and neurological products; blood glucose monitoring and insulin delivery products; general surgery, biosurgical and energy products; professional diagnostic products; infection prevention products; and disposable contact lenses.
"Caring for the world, one person at a time…" , the tagline for Johnson & Johnson, inspired from the organization's Credo. The Credo consists of four main responsibilities which challenge the organization to prioritize the needs and well-being of the people they serve. First responsibility is to the doctors, nurses and patients, to mothers and fathers and all others who use their products and services. Second responsibility is to their employees, the men and women who work with them throughout the world. Third responsibility is to the communities in which they live and work and to the world community as well. Their final responsibility is to their stockholders.
This set of deeply held values have serve as the strategic and moral compass for all Johnson & Johnson's leaders and employees as a guide to their decision making.[1]
On August 2010, DePuy, a subsidiary of Johnson and Johnson, issued a voluntary recall of the ASR hip system. The hip system is commonly used to relieve arthritis pain or fix severe physical joint damage. It involves surgery to replace one end of the joint with a metal ball and resurface the other with a metal shell and plastic liner to create new joint surfaces. DePuy issued the recall after receiving data from the National Joint Registry of England concerning the ASR hip system. The data showed a five-year revision rate of more than 12% which is not in line with data previously reported to DePuy. More patients had report symptoms of pain, swelling and problem walking due to implant loosening, misalignment of the implant or broken bone joint due to the implant. Patients are require to undergo revision surgery to remove the existing hip implant and replaced with a new hip implant.[2] With more than 93,000 ASR system sold and more than 2,000 lawsuits, Johnson & Johnson could face billions of dollars in cost.[3]
SWOT
|Strength |Weakness | | | | |- Stable financial status with AAA credit rating. |- Conglomerate of independent companies. | |- Strategic Acquistions . |- Reduction in market demand for key products due to availability of generics | |- Diversified products range. |as substitutes. | |- Strong branding and recognition worldwide. |- Disparate quality levels across business units. | |- Customer loyalty. |- Counterfeit and theft. | |- Business ethics based on social responsibilty. |- Pressure on product pricing. | |Opportunity |Threats | | | | |- Establish "Earthward" process to develop greener products. |- Government healthcare regulations restricting the marketing of products. | |- Increasing presence and sales result in top pharmaceutical market. |- Multiple recalls of products affect company's reputation. | |- Strategical position to develop cross sell opportunities. |- Strong gobal competitors to offer alternatives at lower product pricing. | | | |
With the company's vast experience in crisis management, Johnson & Johnson has all the relevant SOPs in responding to the hip replacement system crisis. Production and sales ASR system has been halted. Recall guide issued to medical professionals to support their evaluation and provide important information to the patients on the recall, full details about the recall being publish on DePuy's website , setting up of global helpline call centre to answer patients' enquiry, engagement of a third party claims processing company to handle the medical cost associated with the recall and open communication with stakeholders through DePuy's website.
With all the right things in place, why does this crisis seems to be one of the greatest challenges to Johnson & Johnson?
The problem lies with it's delay in identifying and addressing the issue in the first place.
As early as 2007, surgeons had noticed patients encountering groin pain and difficulty walking after the hip replacement. Patients' soft tissue and muscles around the hip were found to be destroyed when surgeons conducted their revise surgery. When the Australian National Joint Replacement Registry first notified Depuy about the high revision rate, DePuy released a safety warnings to surgeons on the importantance of the hip system positioning instead of investigating if the problems lie with the system itself. Surgeons involved in the studies of the hip system had criticised on the flaw in the product's design and how it could lead to increased wear. As the hip system wear, they can generate large amounts of metallic debris. The debris can cause severe inflammatory responses, damaging muscles and other soft tissues.
Over the next three years, DePuy used a range of techniques and arguments to try to assuage fears arising from the evidence generated by the Australian registry and surgeons themselves. In August 2010, four years after the first problem was highlighted, DePuy finally issued a recall for the ASR hip replacement system. By then, it was too late as more than 93,000 patients were fitted with the implant. [4]
No matter how well Johnson & Johnson reacts to this recall, there is public sentiments that it ignored the problem from day one and appear to be in state of denial until it was forced to take responsibility. The most effective crisis management takes place before the problem escalates out of control during the "incubation" phase. In comparison to the ASR hip recall, when Johnson and Johnson faced the cyanide-laced Tylenol incident in 1982, the company based on the it's credo, first responsibility to doctors, nurses, patients, mothers and fathers and everyone else who uses its products, comes to a non-rational decision of halting the production of Tylenol and issue a nationwide recall of Tylenol product within 6 days. Such actions allow Johnson & Johnson to carry out damage control, causing minimum damage to it's reputation and restoring the public's faith in their products. This is crisis management at its best.