Jonathan Swift Essay Sample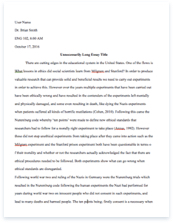 The whole doc is available only for registered users
OPEN DOC
Download Essay
A limited time offer!
Get a custom sample essay written according to your requirements urgent 3h delivery guaranteed
Order Now
Jonathan Swift Essay Sample
Jonathan Swift was a talented author of his time who wrote intelligent and influential poetry in order to share his values. He was well educated and worked alongside various other distinguished authors and was the founder of a respected writers group which even included Alexander Pope. Swift had strong beliefs and tried to influence others through is writing, similar to Alexander Pope's poetry.
One of Pope's most well known poems is "The Rape of the Lock" which is a well known mock heroic poem that satirizes society and their expectations for women. The main character, Belinda is a typical women whose life revolves around looking perfect in order to please society. She attends a party and while she is there someone cuts off a piece of her hair, sending her into depression and humiliation. This story portrays the women in Pope's society and tries to prove his point that society is driving women mad over something of such little importance. Jonathan Swift strongly believes that women have an unhealthy obsession to please society by making themselves beautiful, causing him to view women in a negative manner because of what they do to themselves. Swift and Pope have the same common beliefs and Jonathan Swift would enjoy reading "The Rape of the Lock" for numerous reasons including women's need to be beautiful, their uncoordinated values, and their pointless doings.
In "The Progress of Beauty" Swift writes about the everyday rituals that women undergo in order to live up to societies expectations. In this instance he is referring to a women named Celia, and the long and tedious process of applying cosmetics which she has to do daily. Similarly in "The Rape of the Lock" Pope talked at length about Belinda's everyday beautifying rituals. Pope writes about the satisfaction that Belinda feels after she is finished, "Now awful beauty puts on all it's arms; the fair each moment rises in her charms, repairs her smiles, awakens ev'ry grace, and calls forth every wonder of her face" (Pope, 1. 139-143) showing the confidence and excitement that she instantly gains. Both Swift and Pope believe that women feel untouchable once their make up is applied, and how their whole world revolves around looking up to parr.
In an article, John fletcher wrote "Swift shows the overall idea of the vanity in women are consumed because of the subjugation of men through expectations of perfection" (Fletcher, 1). Jonathan Swift would like the way that Pope portrays Belinda once she is all done up. Swift perceives women as feeling envied and invincible once they live up to, or even surpass societies expectations; and Pope's poem describes Belinda's feeling as exactly that.
Jonathan Swift believes that artificial beauty should not be the most important thing to women but because of society they are shielded by reality, "It is clear that Swift believed that women were capable of bettering themselves particularly if they resisted societies pressure to be more concerned with their outward appearance" (Szwec, 1). Alexander Pope's sole purpose of his poem was to satirize the importance of beauty in society because he, just like Swift thought it was all meaningless. In The Rape of the Lock after Belinda's lock got cut off she was devastated and says, "Honour forbid! at whose unrival'd shrine ease, pleasure, virtue, all, our sex resign" (Pope, 4. 102-105) showing how disheartened she becomes once her beauty is taken away. Belinda's reaction over the loss of her lock is so exaggerated that it becomes almost comical.
Both Swift and Pope share the same point of view about Women and their worthless attempts to obtain beauty because it will not last forever. In "Beauty and Progress" the reader becomes aware of the fact that artificial beauty is harmful and the ongoing attempts to be perfect, in actuality are unfeasible. Jonathan Swift wrote the poem "The lady's dressing room" which criticizes women for their artificiality as he describes a women getting dressed. The poem is similar to "Beauty in Progress" in the way that he negatively describes the women before they have makeup on and in both endings artificial beauty is the destruction of women. Swift's writing shows that "women are held at ridiculous standards in terms of beauty, and through satire shows how in actuality its unrealistic" (Green, 1).
According to Swift, women can spend their whole lives making themselves beautiful, but it is all artificial and no matter how hard you try beauty always ends. The Rape of the Lock has the same feelings about beauty that Swift does, "Frail beauty must decay, curl'd or uncurl'd, since locks will turn to grey, since painted, or not painted, all shall fade" (Pope, 5. 25-27). Jonathan Swift's opinion of women in society is supported by Pope, making it easy for him to
be satisfied and happy after reading The Rape of the Lock.
If Jonathan Swift were to read "The Rape of the Lock" he would react in such a positive way because he shares the same beliefs as the ones being conveyed in Pope's poem. Belinda is perfectly portrayed as a stereotypical women of her era and Swift view of women is seen as the exact same way. Swift tries to convey to women that the real meaning in life is not about how you look on the outside, it's on the inside. Society has pressured women to go to extremes to be perfect and Swift this is wrong to do to Women for many reasons. "The Rape of the Lock" deals with the same issues that Swift talks about which is why he would admire this poem and support all that is taught.