Joy of Chocolate – Review Essay Sample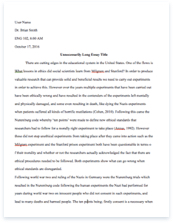 The whole doc is available only for registered users
OPEN DOC
Download Essay
Get Full Essay
Get access to this section to get all the help you need with your essay and educational goals.
Get Access
Joy of Chocolate – Review Essay Sample
Content theory explains specific things that motivates people at work and explains why people need change with time in the workplace. Content theories aim to identify people's needs. Alderfer's Modified Need Hierarchy- Existence needs are about sustaining human existence and survival and cover psychological and safety needs of a material nature. Relatedness needs are about relationships to the social environment and cover love or belonging, affiliation and meaningful interpersonal relationships of a safety or esteem nature.
Growth needs are about the development of potential and cover self esteem and self actualisation.
In 'Joy Of Chocolate' there is an example of existence needs in the section of the growth of the business where all staff know the importance of 'strict adherence' to Health and Safety, Food Production regulations and keeping waste as low as possible. Relatedness needs were evident where Hafiz believed in trusting his team and chose not to routinely check all employees' progress. This would have helped employees have a connection and trust each other more as well as with Hafiz which would also help staff to stay motivated at their job.
Also staff becoming involved with tasting the chocolates and new products would give them a feel of belonging and involvement within the organisation. Staff were also encouraged to suggest a name for new chocolates. This was another factor that helped in creating a positive work culture. Growth needs were evident where Hafiz and Suzy allowed employees to rotate jobs, helping them to build their knowledge and as they developed new skills, employees were able to make contributions as team members.
Process theories attempt to identify the relationship among the dynamic variables that make up motivation. These theories are concerned more with how behaviour is initiated, directed and sustained. Process theories place emphasis on the actual process of motivation. In 'Joy Of Chocolate' Suzy's aim was to have her own business and achieve her dream of creating gourmet chocolates. Her drive and motivation helped her to get the business and she kept it going and developed her sales expertise over the years, even after almost declaring bankrupt. She developed good relationships with her suppliers, employees and everyone involved with her company.
2. Motivation- every individual with have a different motivator and perform better or worse with each motivator compared with others. Setting goals and expectations will help employees have an understanding of how to work in a workplace and what is expected of them as well as achievable goals set by managers. These help employees' performance to peak within a workplace and improve. Appraisal & Feedback help staff in an organisation to understand what they are best at and where there is improvement needed, being praised about their strengths etc will help staff to become more confident and will encourage them to keep up the good work as they realise they are being noticed.
Approachable management- having managers who are approachable, friendly etc will help employees to understand that they can speak to their managers about any issues they are having or to raise any questions or concerns. Involvement- keeping employees involved in every aspect of the organisation makes employees feel their voice is being heard and makes their job more enjoyable. In 'Joy Of Chocolate' Suzy involved her employees in the 'blind tasting' of the chocolates and encouraged them to suggest a name for new chocolates.