Justified Torture Essay Sample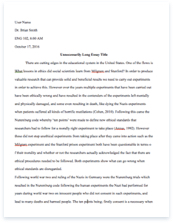 The whole doc is available only for registered users
OPEN DOC
Pages:
Word count: 683
Category: morality
Download Essay
Get Full Essay
Get access to this section to get all the help you need with your essay and educational goals.
Get Access
Justified Torture Essay Sample
Torture is an action or practice of inflicting severe pain on someone as a punishment or in order to force them to do or say something. Many people believe that torture is brutal and immoral. "It violates our ideals and our values."(President Barak Obama said). On the other hand, there are people who argue that torture is acceptable in the affirmative and point to so-called ticking bomb scenarios to support their case. They believe it is an exception to torture when an incident is involved thousands of lives of innocents. However, I think torture is evil no matter what circumstances we are in. I oppose any form of torture that anyone who tries to perform on other person because of the uncertainty whether the person being torture is a victim or a criminal. What if it is the wrong person? Perhaps he's confessed, but can one be sure the confession is genuine?
In "Death and the maiden," Paulina suspects that Roberto is the doctor, whose face she never saw, raped her years ago. Paulina recognizes Roberto's voice and mannerism as that of her rapist, and takes him captive in order to put him on trial and extract a confession from him. Moreover, it is unclear if Roberto is the criminal or not. Paulina forces him to confess what he did to her otherwise she will kill him.
Despite that, Roberto does not confess anything because he is innocent. However, in order to save his life, he eventually confesses whatever Paulina wants him to say. This is an example of false confession that I believe the information a person being tortured provides is unreliable. In relation, the ticking bomb scenario is similar to this instance because we are uncertain if the person we arrested is the terrorist. Consequently, we are the criminals ourselves if the suspect is indeed innocent and he does not know the location of the bomb.
In my opinion, torture is unacceptable because of its cruelty. Torture can result in the death of innocent people. It violates human rights, including the very fundamental right to life, of innocent victims. Furthermore, someone who is being tortured will happily confess anything that he believes it will end the torture. They would say the grass is blue and the sky is green if you would stop torturing.
Therefore, the information that we obtain from them is more likely to be unreliable. In addition, torturing another human being is inexcusable under any circumstances. Some people justify that the knowledge a terrorist might have could save millions of lives. To an extent I agree that the loss of an individual's life to save so many others can sometimes be justified. However, torture cannot be justified in this way because it is incapable of achieving its end; torture is not only inhumane, it is also very ineffective.
One of the underlying principles that justified torture is the "ethic of responsibility." (Article, Dr. Elshtain). That is an ethic that is especially important when we are talking about statesmen and stateswomen who often have the lives of thousands in their hands. In some cases, torture is necessary because it saves the lives of the innocents. However, there are disadvantages when torture takes place.
Torture can lead to bad consequences. Torture violates the rights and human dignity of the victim, including the legal right to remain silent when questioned. It may well produce false information because under torture a prisoner will eventually say anything to stop the pain – regardless of whether it is true. Moreover, because of this the interrogator can never be sure that they are getting the truth and will never know when to stop.
The subject of torturing people for information appears to be a great dispute nowadays. Because of different opinions and religions, many believe torture is justifiable and many disagree. In some cases, torture can be justified when it saves the lives of the innocents. However, in my opinion, I believe it is always wrong to hurt someone physically because it is inhumane and immoral.