Keep Apple Fresh Essay Sample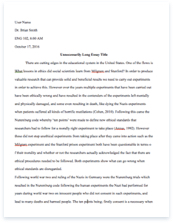 Pages: 2
Word count: 461
Rewriting Possibility: 99%

(excellent)

Category: management
Get Full Essay
Get access to this section to get all help you need with your essay and educational issues.
Get Access
Introduction of TOPIC
1.0 Introduction
Apple is one of the companies that can attract people to join and do their best work by using the powerful management. Hence, this report is going to outline the management issue of Apple that related to the paradigm and analyze the impact of these management approaches on the development of Apple. In most case, Apple is using the scientific management approach in order to motivate staffs to do their best rather than just requesting them. Besides, some new management approaches have risen in recent years and it may be better for Apple in the future development.
2.0 Issue Identification
To decide what management approaches is Apple using, the definition of management approaches should be clarified first. Management approaches can be also defined as paradigm. Paradigm is defined "as a model, a code of behavior, a way of seeing, or a set of boundaries that acts as a guide and limiter of through and action." (Par
r, 1992, P.18). As mentioned, Apple is using the scientific management approach. First of all, about
the scientific management approach they are using. Scientific management approach accentuates the prudent selection and training of staff (Schermerhorn, Davidson, Poole, Simon, Woods and Chau, 2011, P.88). Thus, Apple employs staffs that are never satisfied. This staffing strategy is representing Apple is selecting and training workers for specific jobs and carefully select workers with the right abilities for the job (Schermerhorn, Davidson, Poole, Simon, Woods and Chau, 2011, P.88).
Hence, this paradigm can provide Apple a continuously idea as the staffs will give some suggestions when the product is not satisfied, so Apple can modify the product in order to make it prefect. However, Parr (2011, P.19) argued that "senior managers are seen as keepers of scorecards who manage toward short-term goals with a predominantly fiscal perspective." under the scientific management approach. Hence, if Apple wants to be more successful, they should find and follow a new paradigm. "Managing the creation, providing, and continuously improvement of strategic organizational supra-systems which when used by members of the organization will produce that which is of value to customers and users." (Carothers, 1988, ). Through the new paradigm, Apple can have a sustainable development in different aspects in an attempt to focus on the long-term goals.
3.0 Conclusion
The company is using different paradigm vary between the environment situation, include internal and external. Therefore, Apple uses scientific management approach can focus on the short-term goals in order to bring the stimulation to revenue. Moreover, use new paradigm can focus on the long-term goals so as to keep some competitive advantages in the current competing environment.