Keeping a Good Relationship With Single Mother and Teenage Daughter Essay Sample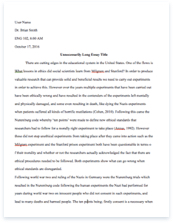 The whole doc is available only for registered users
OPEN DOC
Download Essay
A limited time offer!
Get a custom sample essay written according to your requirements urgent 3h delivery guaranteed
Order Now
Keeping a Good Relationship With Single Mother and Teenage Daughter Essay Sample
Their is no hard or fast way on how to raise a child, especially a teenage daughter. It is especially hard being a single parent with no father in the home. In my opinion I do not think that Emily's mother did the best that she could in raising her. Yes she was a young mother and Emily's father had left them, which contributed to some of the problems that Emily faced.
You can see from the mother's responses that she is at lost as to how to deal with Emily. She feels that it is no use in her trying to help Emily, as she feels that she will only hinder, instead of helping her. She recalls that Emily has lived nineteen years, during which those nineteen years, life for Emily has happened outside of her and beyond her.
The circumstances surrounding Emily's childhood and the era during which she was raised, was probably what sparked the rebellion inside of Emily. Emily's mother had her during the depression which became a very bad situation for mother and daughter. The father left the home, which made everything that Emily's mother had to do much harder. The only thing that Emily's mother seemed to remember about Emily with fondness was the fact that she was a beautiful baby.
You can hear the pride in her voice and the marvel at the beauty of Emily at her birth. She noted the fact that she nursed her, "with all the fierce rigidity of first motherhood." It is as if, she wants to assure the social worker that she really loves Emily, and that she was not neglected at birth and that she was wanted.
The problems between Emily and her mother seemed to have started from she was a baby of eight months. The psychical separation between mother and daughter seemed to be something that was unavoidable. Faced with poverty and the need for survival for her and her young daughter, Emily's mother left her with a lady, she was sure would not really treat Emily right, as evidenced by the clogged weeping that Emily produced, upon seeing her mother after work.
Emily's mother could not deal with this and sought to do something better. She found a job at nights, where she was able to stay with Emily during the days. I would think that at point they began to bond again. But the difficulty of trying to survive and with a child, during the depression era became too much for Emily's mother and she had to send her away again.
This to me marks the turning point in the story and in Emily's and her mother's life. Once this happens there seems to be no turning back the hand of time. She stayed with her father's family, but from the description of her appearance, it would seem that Emily was not taken care of properly. The happy, laughing child was no longer to be seen.
The mother acknowledges that she did not know then what she knew now, and if she did, it seems as if she would never have sent Emily to the nursery. But then she admits that the knowledge would have made a difference, as it was the only place that there was for Emily. This situation, where the mother knew the teacher was evil, seemed to have caused Emily to become worried and it transferred into her adulthood.
The mother is caught between feeling responsible for her daughter's unhappy childhood and has recognized her powerlessness and lack of alternatives to change that. Due to the wages of loss, poverty and dislocation, a wall has grown up between mother and daughter.  The narrator reflects on the distant relationship between a mother and her eldest daughter. The mother recognizes that she really does not have a relationship with Emily. She remembers the facial expressions that she wore when she looked at Emily conveyed worry and tightness. This might have made Emily feel as if she was a burden to her mother.
The mother realizes that the constant sending away of Emily for her own good, has placed a barrier between her and Emily, she cannot interact with Emily, and was even surprised that she won the amateur competition. During the years of World War II Emily's mother had not time for her, she had no time to sit and listen to Emily, which caused her to overlook Emily in the face of her sister Susan, who was more outgoing, with a sunny personality.
Her mother made an attempt to close the distance between her and Emily, by encouraging her to try out for the amateur show at her school. She seemed surprise that she had even won, but proud of the fact that Emily has become famous and is being requested to perform and various places.  The relationship between mother and daughter could have been better, if Emily's mother had made the effort to get to know her daughter and not ignored her in favor of the other children. It did not seem to be intentional, but it destroyed her nonetheless. The mother questioned what in her demanded goodness from Emily and what was the cost to Emily to constantly being goods. My guess is that Emily got sick of being good and just started to rebel. Emily seems to be trying to find herself and to see how she fits in to the grand scheme of this thing they call life.
The relationship between the mother and daughter could have been better with a little bit more love and attention on the mother's part, especially when Emily was sick before the baby. The same way the mother made time for the other children; she should have made time for Emily too. Emily had needed her mother just as much as the other children. Now Emily seems to be rebelling against all that life has done to her and maybe in her mind against her mother too.
Works Cited
Analysis of I Stand Here Ironing." Example Essays.Com. 12 Apr. 2008 <http://www.exampleessays.com/viewpapaer/6429.html>.
Coulehan, Jack. "I Stand Her Ironing." Literature Annotations. 2 May 2005. 12 Apr. 2008 <http//litmed.med.nyu.edu/annotation?action=view&annid=11948>.
"I Stand Here Ironing Study Guide." Book Rags. 2005. Thompson Gale. 12 Apr. 2008 <http://www.bookrags.com/studyguide-istandhereironing/>.
"I Stand Here Ironing." LitSum Literature Summries. 2006. 12 Apr. 2008 <http://litsum.com/i-stand-here-ironing/>.
"I Stand Here Ironing." Enotes.com. 12 Apr. 2008 <http://www.enotes.com/stand-here/themes>.