Kenyan Leaders Must Use Their Political Power To Protect Those Who Need It Essay Sample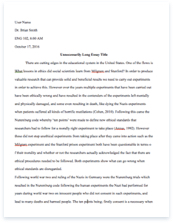 The whole doc is available only for registered users
OPEN DOC
Pages:
Word count: 668
Category: leaders
Download Essay
A limited time offer!
Get a custom sample essay written according to your requirements urgent 3h delivery guaranteed
Order Now
Kenyan Leaders Must Use Their Political Power To Protect Those Who Need It Essay Sample
                As an economist and critically acclaimed author I have learned to view the events unfolding in my native Kenya the way a highly educated, yet spiritual person does. I never lose the hope that my native Kenya will eventually rise from the ruins of the socio-political turmoil that constantly plagues it. When I came to America, it was with the full intention of learning  from the experts and then returning home to Kenya in order to help my motherland.
The time I spent away from home led to me towards a spiritual awakening that resulted in my spending tremendous amounts of time soul searching and talking to God. I was born in Kenya with the name Charles Njongu but, after I decided to become an author and publish the critically acclaimed book Echoes of Heaven, a spiritual self help book that has helped thousands of people with their personal struggles, I decided to use the pen name Charlese Elephant. Coming from the literal translation of my Kenyan surname, I thought it only a fitting surname for one who just like an elephant, will never forget where I came from and how it helped me get to where I am today.  This is why I view the current events in Kenya with a deep sadness. I am frustrated by the unfolding events and my powerlessness to return home in order to help bring order to the existing chaos. I am worried the fractured political system and wide spread genocide occurring daily has brought Kenya to the verge of a civil war.
                I believe that the government and opposition parties in Kenya must remember that they are only vessels of God. Their leadership powers were vested upon them by the Kenyans through the divine intervention of the Supreme Being and he can take it away anytime he pleases. God allowed them to be elected to their positions on the condition that they guide the country in a righteous manner. They are to be the protectors and liberators of the oppressed. Instead, they become arrogant and cruel t their fellowman. Mr. Elephant reminds me that there are 3 things God cannot stand. These are men with too much sense of importance, trouble makers, and murderers. These are the people he banishes from power and returns to nothingness.
                I firmly believe that it is the loss of religious focus that has brought Kenya to its current state. I feel that God has allowed Kenya to fall into mass chaos in order to show his lost flock the path towards righteousness once again. God never forsakes his people, regardless of race. All he wants is for us to return to his protective embrace  and allow him to guide our lives towards the right path that the arrogant and the lost choose to ignore. As I said in my book Echoes of Heaven;  " Leaders must learn how to trust in the Most High God with all your heart. Never rely on what you think you know. Remember God in everything you do, and he will show you the right way to lead his children. Whether you are a politician of a spiritual leader, you must have a human heart.
                Right now, political leaders in Kenya are floating the idea of power sharing. A method of governance that has never succeeded in bringing peace to a divisive political arena.  Instead of power sharing and political discussion, I would like to suggest and advocate that political leaders call upon spiritual leaders to advice them and work hand in hand with them in order to enhance the welfare of the people especially on the spiritual aspect. They both should work sincerely and honestly for the people so that God will once again enlighten them and bring peace upon the land. Only by doing so, will Kenya finally be lifted from the political and social turmoil that threatens to implode the country at any moment.