Kerry James Marshall Essay Sample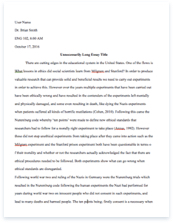 The whole doc is available only for registered users
OPEN DOC
Pages:
Word count: 788
Category: marshall
Download Essay
A limited time offer!
Get a custom sample essay written according to your requirements urgent 3h delivery guaranteed
Order Now
Kerry James Marshall Essay Sample
            Born in 1955, Kerry James Marshall resided in Birmingham, Alabama, where he went to school  at the Otis Art Institute, located in Los Angeles, California.
             Kerry James Marshall earned a BFA, and also an honorary doctorate in the year, 1999. Marshall's paintings were incredibly created from his deep love and respect for the African-American traditions his passion for his art is found in where he was born and raised.
            Marshall felt that he had a social responsibility to the black American populations because he was born in  Birmingham, Alabama and that was where he gained his heritage. Because he lived in the southern part of Los Angeles, he felt that he still owed something to his people in the south, which he demonstrated in his pieces of art.
            (Marshall.2000) "You can't live near the Black Panthers headquarters, and not feel like you've got some kind of social responsibility. You can't move to Watts in 1963 and not speak about it. That determined a lot of where my work was going to go," Marshall tells us.
            Kerry James Marshall pays respect to his heritage in his art, through his pieces called the "Souvenir series" of paintings and sculptures. Marshall also offers respect by offering a tribute to the Civil Rights movement where he showed us his mammoth printing stamps that read "Black Power" that were completed in bold letters and he also gave us paintings for middle-class, Black citizens who demonstrate angels working in a domestic order that is populated by the ghosts of many famous people in our history, such Martin Luther King, Jr., John F. Kennedy, Robert Kennedy, and so many other heroes from the 1960s era.
            Marshall also created a comic book by the title of "Rhythm Master" which is a more modern painting that displays the ancient African sculptures coming to life against the cyber-space upper-class population,  that gambles losing touch with the past traditions.
            Kerry James Marshall offers a tribute to Renaissance painting and Black-American folk art.
            He gave us El Greco and Charles White. What so many people love about Marshall's artwork are the deep ebony skin tones, he uses in  his figures. Marshall tells us that this pattern came from the invisible way that people look at Black-Americans in our country.
            He mentions that it isn't a bad thing because he uses the dark tones and this was just a way he liked to express himself, in his paintings.
            Marshall work is definitely a tribute to his culture and upbringing in the South. He clearly demonstrates the roots of his upbringing in his fine work and many people, especially Black-Americans feel that he is one of the greatest artists, ever!
            Kerry James Marshall was an extremely well-rounded person, as he was a painter, photographer, installation artist and printmaker. We can view his private art collections at the Art Institute and Museum of Contemporary Art in Chicago and The Studio Museum in Harlem.
            You can also find his art displays at Whitney Museum of American Art in New York. Marshall's wonderful talent in the art field has earned him much respect, such as the coveted MacArthur, "Genius Award" and his work has also been included in many art displays.
            Marshall loves to demonstrate his feelings about society in his work. He makes political statements, voices his opinion about how he feels about the way Black-Americans are treated by our society and shows a deep appreciation for Black-American culture and traditional values.
            He uses various forms of art, such a photographs to show his emotions concerning how he feels about the different ethnic topics and ideas that affect the Black-American society.
            He paints about the everyday Black Americans who work and live in in America and how they are seen, by other humans in our society. Because Marshalllived in Los Angeles, California, he felt he owed his homage to the "Black Panthers" who operated in the city.
            He felt that since they were so close to where he resided, that he should make a major contribution to their efforts in their fight for equality in America. Many of his pieces of art tell a story about his values and feelings about how Black-Americans live, each day.
            Kerry James Marshall can truly be called one of the greatest African-Americans of all time. He demonstrates a natural talent and a God given gift that is easily reflected in each of his art projects.
Reference Page
Marshall, Kerry James. (2000). "Kerry James Marshall". Harry N. Abrams.