Kin Mind and Body Essay Sample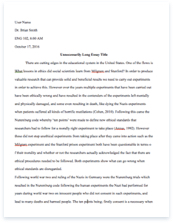 The whole doc is available only for registered users
OPEN DOC
Download Essay
A limited time offer!
Get a custom sample essay written according to your requirements urgent 3h delivery guaranteed
Order Now
Kin Mind and Body Essay Sample
The mind and body connection is what drives my philosophy in kinesiology. Working with athletes to enhance their performance through psychological counseling is an wonderful career. Would you like to pursue a career to help people and expand their athletic experience? Sports play a very dynamic and pivotal role in our society and should like to be a part of that industry in the most positive way you can. It is necessary to train both the mind and body for peak performance. Success in sports requires your mind and your body and as an athlete it is very important to have a clear mental picture of what it is you are striving for. Sports psychology can be defined as the study and application of the attitudes and behaviors of athletes (including team athletes) that impact (either positively or negatively) performance in sports or competitive settings.
In America, sport psychology's roots date back to the late 19th and early 20th centuries when several psychologists started conducting sports-related studies. The first North American sports psychologist is from Indiana University named Norman Triplett. Triplett was the first researcher to confirm that bicyclists sometimes rode faster when they raced in groups or pairs than when they rode alone (Davis, S.F 2009 pg, 98-115). Coleman Griffith of the University of Illinois established the first sports psychology laboratory in North America in 1925. Griffith researched the effects on athletic performance with factors such as, "reaction time, mental awareness, muscular tension and relaxation and personality." He then published two books, the first The Psychology of Coaching (1926) first book published in the field of sport psychology. His second book was, The Psychology of Athletes (1928) (Hoffman, 2005, pg242). Griffith's laboratory closed in 1932 due to the economic downturn of The Great Depression. A temporary break took place in sport psychology's development because of The Great Depression, World War II and the Korean War. In 1960, the population growth of the baby boom generation caused the rapid development of physical education departments. Many colleges and universities began to offer courses in sport psychology. Norman Triplett and Coleman Griffith were to main people who started sports psychology and society witnessed a rapid surge in its growth nearing the 1950's
Pay ranges vary considerably within sports psychology based on training, education, and area of specialization. According to the Occupational Outlook Handbook published by the U.S. Department of Labor, average salaries for clinical and counseling psychologists range between $41,850 and $71,880. The median salary for university faculty positions was $55,000 in a 2001 salary survey by the American Psychological Association (APA). Some top sports psychologists earn six-figure salaries working as consultants for professional athletes, but most earn a more modest income.
Sport psychology offers plenty of training programs but very few train students to become practicing sports psychologists who see clients. Those that do offer these selective programs are graduate level courses (master/doctoral). A PhD in Clinical Psychology and Master's level counselor, with training in sport psychology is needed. There is no set career path for being a sport psychologist once they graduate. It is mostly up to that person of what path they will choose to pursue their career. A career in sport psychology requires mental focus, goal-setting, creativity, and concentration. A typical schedule would not exist for a sports psychologist; this is not a 9-5 job.
A sport psychologist hours and workplace can vary depending on the sport and level of competition. A workplace can be at a university, secondary school, hospital and office. Most elite athletes recommend their psychologist to travel with them. Traveling during the day is a regular attribute for sport psychologist. Working with an individual can take place during a practice session. Working hours must be flexible and are mostly schedule around competition. Some sports psychologists work full time with professional sports teams but this can be a very competitive position to get. Determining their workplace and hours can tell a lot about a typical work day.
A typical day for a sport psychologist is mainly helping an athlete set effective goals. Most days they have to keep up to date with literature and the best practices in their field. Planning workshops for coaches and athletes can take a whole work day to organize. Most days may consist of helping athletes with psychological problems such as performance enhancement, goal setting injury recovery and so on. A regular day for a sport psychologist is to show athletes how a mental and emotional state can play a huge effect on their performance.
Today sport psychology jobs availability is average. New psychologist entering this field will have a vast opportunity to find employment. Jobs are available at the master's and bachelor's level but those with a doctoral degree will have the best outcome for finding work. Recessions in professional athletics will slowdown business every year. The availability to get employed may be determined on the location and experiences the psychologists have. U.S. Bureau of Labor Statistics reports that the job growth in this field is expected to grow by 12 percent from 2008 to 2018. Employment is expected to grow as more and more people seek psychological services. This proves availability for job openings is very high.
The mind and body is a very powerful one. For everything you think in your mind, your body has a reaction regardless of whether it is real or imagined. For example, have you ever had a bad dream? Usually, you will wake up and your heart is racing, you are sweating and very agitated, even though you were resting in sleep. But, in your mind there was something bad going on and your body was reacting to it. That is an example of how strong the connection is between your mind and body. Sport psychology is something that every team needs including the coaching staff. Sport psychology involves preparing the mind of an athlete, just as one prepares the body. "The goal of sports psychology is to help athletes and teams identify unhealthy attitudes and beliefs, apply mental toughness skills and peak performance strategies to perform at high levels" according to key concepts to sport psychology.