Kinds of Children's Literature Essay Sample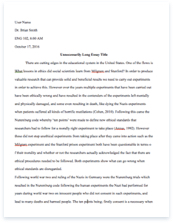 The whole doc is available only for registered users
OPEN DOC
Download Essay
A limited time offer!
Get a custom sample essay written according to your requirements urgent 3h delivery guaranteed
Order Now
Kinds of Children's Literature Essay Sample
A lot of books are published for students each year, so it is important for teachers to know how to select the very best of these for their learners.The teacher has to take care to the age of the learners, then their interests, their level of language, and cultural background. The extracts that are chosen are supposed to be applicable to the life, emotions, experiences, or dreams of the student.
It is important to choose books to support children learning from every genre of students' literature. A literary genre is a specific kind of literature, such as poetry,biography, or historical fiction, and each genre has certain features that distinguish it from the others. Biography is based on the known facts of a person's life, while historical fiction tells an imaginative story in an realistic historical setting. Children's literature can be generally classified as fiction, nonfiction, or poetry, like adult literature.
Fiction is literature that is an artistic, imaginative creation of the writer and includes folktales, historical fiction, modern fantasy, contemporary realistic fiction and historical fiction. Nonfiction, otherwise, describes events, real persons, or things. Informational writing and biography in the sciences, social sciences, mathematics, and the arts are examples of this kind of writing.
Poetry is characterized by the elements of rhythm, rhyme, imagery and repetition.
Classifying students' literature into genres is helpful for children and teachers alike, because it encourages discussion and thinking about the significant elements and purposes of each type. Teachers encourage students to read and write in the various genres and to use a large range of literature to search topics of interest to them. The following section gives a description of each kind of literature and lists motives for including each type in the classroom.
Traditional literature gives experience with time-honored ideals and values : the rewards of hard work and perseverance; the triumph of right over wrong; and vindication of the persecuted, humble or helpless of society. These stories usually utilize fanciful beings, talking animals, persons with exaggerated powers, or noble heroes, all of whom appeal to a child's sense of adventure and imagination . Many of the stories include predictable elements that allow listener participation and create anticipation. These stories in Big Book format (oversized picture books used on easels) are excellent for manage reading in kindergarten and primary grades, because they give repetitive and predictable elements that can be easily assimilated by beginning readers.
Traditional stories also include folktales, fables, fairy tales, tall tales and legends that have been told in an oral tradition from generation to generation in a society or culture . These kinds of stories are described below: Fairy Tales and Folktales relate adventures of humans or animals and contain elements of the supernatural.
There is often a task or quest for the main character, who is either assisted by helpers with unusual powers or opposed by miraculously endowed adversaries.A common theme for these tales is the punishment of evil and the reward of good. You probably recall many of these stories from your own childhood, such as Little Red Riding Hood, Cinderella, Snow White, Sleeping Beauty, Rapunzel, Puss-in-Boots and Rumpelstiltskin (The Random House Book of Fairy Tales, Goode & Erlich, 2000, reissue). Folktales from around the world reproduce the values of a culture and, like myths, often feature main characters who succeed despite a humble station in society (Favorite Folktales from Around the World, Yolen, 1988a).
Fables are stories in which animals behave like humans. Their purpose is to illustrate human foibles or to teach a lesson. The most famous of these are Aesop's Fables (Aesop, 1990), a collection of stories that demonstrate the consequences of greed, impatience, vanity, or ignorance. In more recent times, artist–storytellers such as Arnold Lobel (1980) have provided a new generation of readers with funny, well-drawn stories on the same themes.
Mitsumasa Anno's versions of the familiar tales are full of puzzles and contain parallel stories told by a fox (Anno, 1989). Myths, a common story form in all cultures of the world, are considered to be true in the societies in which they originate. These sacred accounts involve deities, humans, and animals. Myths are accounts of events that happened in the earliest of times, with themes that deal with the origins of the world, human beings, and natural phenomena such as seasons and the weather.
Legends, which may have their origins in a historical event, are frequently considered to be true by the storyteller and audience but are more contemporary than myths. They are set in the recent past rather than long ago and frequently exaggerate notable events, such as those which occur in times of war, plague, and famine. Many, such as the Arthurian legends, feature royalty and brave deeds.
Tall Tales are obviously exaggerated accounts of characters who exhibit superhuman strength or endurance. These stories feature larger-than-life persons, such as Paul Bunyan, who could easily cut down an entire forest in a single day; the African American railroad builder, John Henry; and the infamous cowboy, Pecos Bill (American Tall Tales, Osborne, 1991). Modern Fantasy While they are hiding in an old wardrobe at their uncle's home, four children accidentally enter the magical kingdom of Narnia, where they encounter an evil witch, talking animals, a heroic lion, and all manner of strange creatures.
They are called on to fight the great evil that keeps the kingdom in continual winter. Eventually, the children become kings and queens of Narnia. When they return home from their adventures, they are surprised to discover that no time has elapsed, although their adventures lasted for years in the other world. The Lion, the Witch and the Wardrobe (Lewis, 1994) typifies modern fantasy, with its strange creatures, mythical elements, magic, time warps, and the forces of good and evil in great battle.
Modern fantasy shares themes with traditional literature and is created by altering one or more elements of reality. Most recently, the stories of Harry Potter (Rowling, 1997) have captured the imagination of a generation of children worldwide. As in all good modern fantasy, some elements of his experiences are based in reality. He goes to school, has loyal friends, worries about his studies, and tries to cope with difficult relatives.
Because readers can identify with Harry's real-life problems, they are willing to suspend disbelief and enter the world of Hogwarts, a place that could not exist in terms of current understanding. In fantasy literature, animals talk (The Amber Spyglass, Pullman, 2000), little people live in the walls (The Borrowers, Norton, 2003), time travel is possible (Charlie Bone and the Time Twister, Nimmo, 2003b), and entire worlds follow different rules of nature (The White Mountains, Christopher, 1988).
Stories that feature the deep myths of a culture, such as the Arthurian legends, are featured in books such as The Dark Is Rising series (Cooper, 1976). Fantasy helps develop a sense of imagination in children. It appeals to ideals of justice and confronts readers with issues of good and evil. Modern fantasy provides an escape from the burdens of reality and helps children identify with characters who are strong and responsible. Most children enjoy reading about the clever and charming animals and persons who populate stories of fantasy. They like the exaggeration, preposterous situations, the great adventures, and humor. Modern fantasy also contains excellent examples of allegory, irony, and