K&W Distribution SWOTT Analysis Essay Sample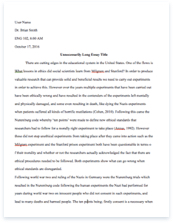 The whole doc is available only for registered users
OPEN DOC
Download Essay
A limited time offer!
Get a custom sample essay written according to your requirements urgent 3h delivery guaranteed
Order Now
K&W Distribution SWOTT Analysis Essay Sample
As K&W distribution proceeds with its development of a strategic plan, it must analyze the forces and trends affecting the snack food industry. Before it launches its new venture, it will conduct a SWOTT analysis that includes the internal and external business environment. The SWOTT planning tools will help K&W understand its strengths and weaknesses. One of SWOTT's tools is the situation analysis, which is an in-depth research of data necessary to complete the analysis. The research must include the different elements of the external forces. The components of external forces are legal, economic, and social aspects. Another external dynamic that requires extensive analysis is the competitive landscape. The in-depth research must also analyze K&W's internal forces such as Strategic capabilities, culture, resources, and leadership. Strategic Capabilities
K&W believes that its strengths come mainly from its strategic capabilities. The focus on the Arizona market provides a competitive advantage. National snacks distributors treat the market as if the entire nation has the same needs. K&W is familiar with demographics of the state of Arizona. They can import snacks that will satisfy the local needs. They understand the market needs better. They understand the seasonal trends of the local market. Their strategic capabilities stem from the many years and experiences its founders have spent in the convenience stores distribution business. They know the business owners well. In conducting their situational analysis surveys, they found that most businesses are not very happy with the profit margins they make on some of the national brands. For example, their profit margin on Frito Lays potato chips is only 25%.
Arizona has a big Latino community, and they present a big percentage of the consumer's sales in Arizona's snacks industry. In a survey, when business owners have found that they can make about 40 % profit margin on potato chips with a Latino flavor, store owners overwhelmingly stated that they will give these products preferable display space. K&W's strategy is a focused strategy; there are needs that grow in the business environment, and the company responds to these needs by providing products needed by the customers (Johannesson, Palona, 2010). The focus strategy is the best approach for K&W at this stage. The company will focus its resources on Arizona's market and the snacks segment of the consumer goods industry ("BusinessDictionary.com", n.d.). Organizational Culture
Another internal strength that differentiates K&W from its competitors is its culture. The company strongly believes that a strong ethical culture is the driver for a competitive advantage. Its leadership understands that the difference between achievement and failure centers on the determination and value bred from the culture. From top-management down to every employee, the leadership will instill the company's mission and its purpose in every member of K&W. collectively; the company will work relentlessly to achieve its strategic objectives. The management will conduct frequent assessments to ensure that every task conducted is well-aligned with the strategic plan. K&W has faith in the strength of its leadership. The leadership understands the values of good communication and mutual respect in creating a successful culture. Ultimately, it is the consumer who determines if the company will succeed, and developing a reputation based on integrity is crucial. One of the company's strategic objectives is to have its brands and its people associated with Arizona's culture. Resources
The SWOTT analysis takes into account the company's resources. K & W financial resources are not their strength when compared with their competitors. Their marketing strategies will not include media ads. Instead, the differentiation strategy is the key for marketing. The snacks offered by K&W are unique, and consumers will appreciate the quality and the unchallenged taste and flavor. Arizona is a narrow market segment of the lucrative Snacks industry. In their marketing schemes, rivals such as Frito Lay cannot meet differentiation-focused customer needs. It is their weakness, and it is the strength of K&W distribution. This focused strategy offers a core competency advantage to K&W. it also offsets the weakness of financial resources as it is a strategy that centers on low cost operations and specialized products that do not have substitutes. The limited budget is a big weakness in K&W's resources, but the company believes that its human resources and knowledge of the targeted market will add a big competitive advantage. The company has a strong sales team. Thea Kray have the ability to communicate the distinguished value of each product they sell, whereas, the competitors sales people are merely shelf stockers. These skills add value and advantage to the company's resources. Leadership
Leadership is what makes a company succeed or fail. The two brothers who founded K&W distribution are excellent leaders. In their many years serving the Arizona market, they have been taking notes and communicating well in searching for opportunities. Their leadership comprises carefully listening to consumers and employees alike. They have developed exceptional communication skills, and they strongly believe that providing support is a crucial teamwork skill. The brothers realize that managing the company is not mainly about politics or having the authoritarian power. Unlike their competitors (companies of bureaucratic structures), everyone in the organization has a voice, and their input is appreciated. When employees feel valued and respected, their motivation level increase and that will reflect on their productivity. The two brothers will lead by example. They will teach their persuasion capabilities to everyone in the organization. The leadership will manage with compassion first and foremost. Legal and Regulatory Aspects
There are many external forces that will influence the strategic planning of K&W. Legal and regulatory aspects are crucial consideration in the snacks industry. The FDA has strict guidelines on imported foods and snacks. These rules present a threat to the operations of K&W. The guidelines change frequently. The company must stay updated with all guidelines related to imported foods. These guidelines include food labeling, food safety, and foreign supplier verification programs ("U.S. Food and Drug Administration", n.d.). Changing guidelines are a threat because if the FDA bans a certain foreign supplier from exporting to the United States, it will affect the availability of some crucial products. Also, K&W must consider its foreign suppliers selectively because of its reputation. K&W will import from only reputable foreign supplies in safe regions of the world. The company will repackage every product that becomes successful in the Arizona market. It will make sure that it complies with the nutritional information labeling guidelines. Ultimately, K&W will use its private labeling and rename successful products leading to building brand names and loyalty.
Economic Forces
The economic aspects are outside the control of any company. The SWOTT analysis put emphasis on the economic forces because of their influence on the strategic plans and direction a company must follow. The economy is not always at a standstill. K&W will constantly analyze the state of the economy because it understands that economy swings influence consumer purchasing and spending patterns. K&W's overall strategy plays well in every economic state because snacks mean different things to different people. Even in a down economy, people eat the kind of snacks that make them feel good. These snacks may include chocolates, cookies, chips, salty nuts, crackers and popcorn. Others use snacks as a way of life. They choose healthier version of snacks such as fruit crisps, vegetable sticks, dried fruits, trail mixes, nut mixes, and healthy grains. This segment of consumers will consume their usual snacks regardless of the state of the economy. Social Aspects
The social aspect of the snacks industry is varied. Snacks play a role in American social life. People serve them at parties, festivals, and every social event. Sport events, church gatherings, and business meetings have snacks. As part of K&W's marketing strategies, social events present opportunities to promote and market its brands. It will use these events to display its social responsibility by promoting their healthier versions. School events offer opportunities for K&W to show its commitment in providing adolescents with tastier and healthier snacking alternatives. The Competitive Landscape
SWOTT analysis is not complete without learning about the competitive landscape of the targeted market. The biggest distributor is Frito-Lay famous for its national brands of corn chips and potato chips. Frito-Lay's products sell very well. Another giant in the snacks industry is Kraft food, which owns the famous Nabisco brand of cookies. These companies rely on economies of scale. They lack differentiation strategies. The national brands products have reached the maturity stage of their lifecycle (Michman & Mazze, 1998). Additionally a growing percentage of consumers are becoming health conscious, and willing to substitute their usual cookies and chips snacks with choices that offer less salt, less fat, richer in fresh ingredients, and more nutritious. The lack of attention to market trends presents opportunities for K&W distribution. The Supply Chain
For a snacks distribution organization to be successful, it must consider the efficiency of its supply chain. K&W has a small budget and operates exclusively in the state of Arizona. It has a centralized warehouse where it keeps all of its products. The company monitors its warehouse for storage density, expiration dates, and inventory proficiency. Managing the supply chain is very crucial to use resources and to serve customers efficiently. K&W uses advanced software for warehousing management and for forecasting future inventory needs. K&W warehouse receives its line of snacks shipped directly to its centralized warehouse. The staff inspects the order for quality and accuracy. They store the packaged snacks and rotate the inventory, so older inventory is sold first. The "first in first out" is important to guarantee freshness. The snacks are loaded on the delivery trucks daily for their final destination. Effectively managing the supply chain keeps K&W profitable and on the right track to achieve its mission. Conclusion
Doing a SWOTT analysis helps a firm develop a strong strategic plan. K&W can use this analysis to build on its strengths and reverse its weaknesses. The study helped K&W capitalize on opportunities in Arizona's snacks market. These opportunities have risen from new consumer needs and changing trends. The SWOTT analysis has shown that K&W have strong leadership, skilled human resources, and excellent strategic capabilities. Effectively, managing its supply chain as well as its differentiated and focused marketing are sources of strengths that provide the company with a competitive advantage. The limited budget and the complex legal and regulatory regulations are challenges and threats to the success of K&W distribution.
References
BusinessDictionary.com. (n.d.). Retrieved from http://www.businessdictionary.com/definition/focus-strategy.html Johannesson, J., & Palona, I. (2010). The dynamics of strategic capability. International Business Research, 3(1), 3-12. Retrieved from http://search.proquest.com/docview/821695349?accountid=458 Michman, R.D., & Mazze, E.M. (1998). The Food Industry Wars: Marketing Triumphs And Blunders . : Harcourt Education. U.S. Food and Drug Administration. (n.d.). Retrieved from http://www.fda.gov/NewsEvents/Newsroom/PressAnnouncements/ucm362610.htm