LA Confidential by Saskia Bos Essay Sample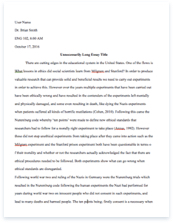 The whole doc is available only for registered users
OPEN DOC
Pages:
Word count: 391
Category: film
Download Essay
A limited time offer!
Get a custom sample essay written according to your requirements urgent 3h delivery guaranteed
Order Now
LA Confidential by Saskia Bos Essay Sample
LA Confidential is a typical cop movie which involves every cliché in that time period. Scandals, racism, corruption, aggressiveness and of course women. The film has a really slow start with a lot of different storylines. LA confidential is like a diesel car, a slow starter but along the way it is getting better and better. LA confidential is a film about the police corps in LA who want to show that they are the best, even when they are not. The bureau is full of impaired cops who only want to shoot, fight and kill the so called bad guys before they are even proved guilty. Like the ……… already said, they think they live above the law. The new ……… want to work in an honest way and plays by the rules. This in disgust of his colleges. Along the way it became clear that even he is not are so called "good cop". Every member of the LA police is an agents for his own personal reason and in my opinion they are there to solve their own problems instead of societies The roles in LA confidential are quite similar to each other but played in a really different way.
There are great actors like Russel Crowe but there is also really bad acting There are a lot of paradoxes in this movie. There is really good music with the scenes and really bad, there are really good shot and really bad ones and also, the blood looks different with every murder. Quite weird right? This makes the film a bit amateurish. Like there where two different directors. One for the first part and one for the second part. This film is good in one way. The story, if you don't pay attention while watching you miss a couple of storylines. Sometimes it is a really slow story and other scenes are going really fast. I must say, I really like Russel Crow and his love interest. They are playing really good and make you want to look further. This is why the last murder investigation is a really messy one with a lot of different complots and interest. After a, The LA police is doing the right thing in collecting evidence and locking up the right suspects, well the ones who aren't killed yet.