Lady Day at Emerson's Bar & Grill Essay Sample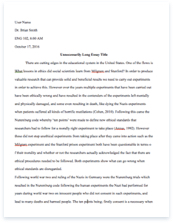 The whole doc is available only for registered users
OPEN DOC
Pages:
Word count: 1026
Category: music
Download Essay
Get Full Essay
Get access to this section to get all the help you need with your essay and educational goals.
Get Access
Lady Day at Emerson's Bar & Grill Essay Sample
I've submitted two essays before this one and i did not receive a passing grade do to the fact that the eassy written by this site were no structured properly. this is an english 101 course where the teachers are teaching students to write structured essays. i have not yet submitted this esssy so i would like to request a revision. The essay must be in keyhole structure. the teacher said "if you start off talking about cars end it talking about airplanes." what ever that means. the essay written starts with jazz music. this is not general enough. jazz is a form of music. so, im guess music should be the most general form. i also notice that there is no thesis in the the last sentence in the introduction as i request. the thesis should be the statment that explain the following three paragragh. all three paragraphs must have a topic sentence. the conclusion should restate what was written but in general. so, the essay should start general then specific then general. again i must stress that the class is a begining writting course, so the content is not as important as the structure.
   "You can't copy anybody and end up with anything. If you copy, it means you're working without any real feeling. No two people on earth are alike, and it's got to be that way in music or it isn't music."
                                     – Billie Holiday (1)
            Without any doubt there is no jazz-lover who has never heard name of Billie Holiday, the singer who conquered the world with her "lovingly sweet, weathered and experienced, sad and sophisticated" voice (3). However, there are few people who know what a dramatic and tragic her life was. Therefore, for most it was kind of revelation when they read or saw on the stage the two-person play of Lanie Robertson "Lady Day at Emerson's Bar and Grill" dedicated and depicting life and career of Billie Holliday. First, at its prime and then subjected to gradual decline because of drugs and alcohol abuse. Nevertheless, the question of what, in fact, caused Billie's addition that lead to her unexpected death remains without answer. Thus, our objective is to find out what lies in the heart of Billie Holliday's substance abuse and which factors where the most influential.
            Billie's life story, which she tells herself, is really full of sorrows and grief. It goes back to 1959, the year when the singer released her final, harsh-voiced recording and died because of drugs at the age of 44. The scene is set at a South Philadelphia bar (not even a nightclub), almost a decade after Billie's (or Lady Day as she was dubbed) peak as a star (4:2). She steps on stage wrapped in an ermine boa, carrying white gardenia, but she is obviously in her low spirits and as she then sits sipping whiskey, we learn about the tragedy of her life.  After a few numbers she takes another glass of whisky handed by Jimmy Powers, her keeper as well as her accompanist: "Give me a pigfoot" (4:3). From her do we learn about her unhappy childhood, painful and ruinous marriages, everything what shaped her and prompted to taking drugs and drinking. Here in 1959 she grumbles that "singing is living to me, and they won't let me" meaning her conviction and one-year incarceration as well as following restriction on performing in liquor clubs.
            Thus, according to her own confession, the main sources of Billie Holliday's addiction lie in her lacking parental love and deprived of full-fledged family childhood and her strange ability or bad luck to fall in love with wicked men who were all abusing drugs. To start with, referring to the first point, from Lady Day's story we know about her early years in Baltimore (her home city), her being deserted of her father whereas mother used to leave her alone. Billie had to start working when still in tender age and she was raped, and then sent to some reform school where she had to clean floors.  As to the second cause, she repeatedly met wrong men with baneful influence that made her addicted to heroin and drinking. The singer recalls her much-loved (though terrible) dispensing drugs husband Sonny as "my first love and my worst love" (4:24). And last ground (discrimination) has always been present in her life and perhaps was a last straw. To my mind, the most vivid and explanatory scene is when bars of her symbolic prison materialize together with the key figures in Billie's dramatic life, viewing Sonny and then her early idol, Bessie Smith, whose horrible death as well as the death of Holiday's father were due to the fact that they were refused medical treatment in white Southern hospitals (4:31).
            To cut the long story short, Billie Holliday was an incredible woman of immense inner power who managed to fly high as a singer in spite of her unhappy and lonely childhood deprived of real family and unsuccessful marriages to the wrong men which prompted her to substance abuse but could not take away her talent and thrilling and enchanting voice. "You can only get where you're at from where you been," Holiday once observes (4:48). Perhaps, this was her best credo that helped her to cope with difficulties, which seem at the first sight unbearable for the common man. Without any doubt, she was a victim of her times, a woman broken under the burden of unsettled personal life and blind narrow-mindedness of the society. Nevertheless, her songs proclaim victory over pain, resilience and firmness of the human spirit and ever lasting power of talent that cannot be buried or obliterated by any human weaknesses.
Bibliography
History of Jazz. Retrieved on November 20, 2005 from:
http://encarta.msn.com
Billie Holiday. Retrieved on November 20, 2005 from:
http://en.wikipedia.org/wiki/Billie_Holiday
Billy Holliday. Retrieved on November 20, 2005 from:
http://personal.ansir.com/wms/billieholiday.htm
Lady Day at Emerson's Bar and Grill. Crepe de Paris, 1333 Fifth Ave, 623-4111.