Lamoiyan Corporation Essay Sample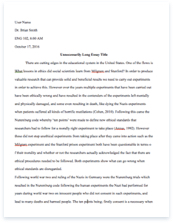 The whole doc is available only for registered users
OPEN DOC
Download Essay
A limited time offer!
Get a custom sample essay written according to your requirements urgent 3h delivery guaranteed
Order Now
Lamoiyan Corporation Essay Sample
"We exist to improve the quality of life by bringing essential products within the reach of the common people"
Vision
"We aspire to have a Lamoiyan product in every home".
Corporate Values
SOCIAL RESPONSIBILITY. We make our presence a blessing to society. PURSUIT OF EXCELLENCE. We do things better than before and better than competitors. INTEGRITY. We do things right.
RESPECT FOR THE lNDIVIDUAL. We value individuality by treating each other with fairness. TEAMWORK. We reach collectively goals that we cannot reach separately.
Internal Environment Factors
STRENGTHS
* Offers products for Personal care, Oral Care and Household. * Oral care, most likely the Hapee toothpaste, is offered much cheaper than the competitor's main product, Colgate. * Exercised the Personal selling through door-to-door.
* Focused on giving superior customer value
WEAKNESSES
* Lack of budget for advertising in media.
* Low strategies to compete with other big companies.
* Less product distribution in Visayas and Mindanao
* Below the line advertisements
External Environment Factors
OPPORTUNITIES
* Lamoiyan tied up with the Vietnamese which is the largest toothpaste manufacturer.
* Trade in ASEAN countries with free tariffs on toothpastes.
THREATS
* Tight competition between Colgate and Close Up
* Competitors with low-priced products.
Long Term Objective
The main objective would be to match the Lamoiyan Corporation products with its competitors through penetrating different retailers and use of distribution wise enough. Strategies
Obviously, Lamoiyan Corporation competes with the companies whose main product is also toothpaste. To uphold the consumption of the products and contest with the big ones, the following are proposed: * Since Lamoiyan has started to produce packed toothpaste, they may invest in continuing the production of such product to clash with the big companies.
* Another weak side of Lamoiyan Corporation is its distribution. Its products are not widely distributed into retailers nationwide and do not reach people over provinces especially in Visayas and Mindanao. Through its massive packed toothpaste and with other products, again, investment in distribution might be at risk but would help the company reach the peak.
* Another is below the line advertisement. Where it practices the use of sign board on public school premise and sponsoring events. Unlike its competitors who use advertisements heavily on television commercial, radio commercials, magazines and billboard. The strategy is not mistaken but if your objective is to leverage the company and its brands, above the line promotion may assist in accomplishing it. Thus, it has been the practice of current competitors which supported them to elevate the business operations.
Action Plan
Actions| Time Frame| Person in Charge|
* Product ManufacturingContinuous of production of packed toothpaste.| Throughout the operation| Manufacturing and Packaging department| * Distribution SchemeStart distributing to retailers nationwide| Throughout the operation| Distribution Intermediary| * Marketing OperationsInclude advertising the services as well as all marketing efforts.| Throughout the operation| Marketing Department| * EvaluationEvaluating the entire operation including all strategies| After the operation| Top management with representatives from all departments|