Lao-Tzu Person Essay Sample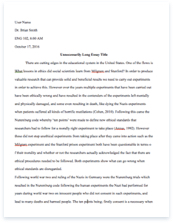 The whole doc is available only for registered users
OPEN DOC
Pages:
Word count: 792
Category: taoism
Download Essay
A limited time offer!
Get a custom sample essay written according to your requirements urgent 3h delivery guaranteed
Order Now
Lao-Tzu Person Essay Sample
            It is widely known that Lao-tzu was a prominent person in the world of Taoism. However, Lao-Tzu's work did not just extend to the religious aspect but it also extended to the stately issues. His work, 'Tao-te Ching,' contains these kinds of issues and was said to be a guide for the rulers. Since his work was done in Chinese, there were those who had translated his works to a more common language, which is English. If pronounced Tao-te Ching would be 'dow de jing.' After giving basic information about the book, it would then do justice to further discuss Lao Tzu in person. Lao Tzu's name could be translated as "Old Master" but the origin of Lao Tzu's birth could not really be pinpointed properly. Works about him would suggest that his fame had started alongside with Confucius. Lao Tzu as the wave proponent of Taoism rivaled that of the major wave proponent of Confucianism. However, it should be noted that Lao Tzu had served under the Chou dynasty but he apparently left the court of Ch'u in order to pursue other things. Tao-te Ching then was said to have been completed by Lao Tzu as his political philosophy.
            It would then be natural to start of with Lao Tzu's most basic principle written in his book. The concept of Tao would then be reviewed over and over again in his political philosophy. In the course of the book, there were three ways in looking at the term. First is that it would mean as the "way to be enlightened", secondly it could be the "way to live life", and lastly it could be reviewed as what Lao Tzu would take as the "allness of the universe." It could be seen then that the Tao would be that great factor that is in the universe and sometimes it could be seen to be another concept related to the Higher Being.
Lao Tzu's work could be seen as taking particular womanly stand especially when it connotes a high regard for Mother Earth or Mother Nature. However, these claims could be one of those who had tried to translate the works of Lao Tzu. Nonetheless, it should be the case that Lao Tzu's Tao-te Ching had a certain prescription that is different from the worldly achievements that others might preach. Far from that in fact, it should be noted that Lao Tzu has a strong firm belief in the concept of going back to nature. Again, this assertion could be further justified through Lao Tzu's high regard in nature. Aside from this, it should be noted that Lao Tzu believed that material things would only be a burden to a person. It would not help the person but it could lead a person to the path of evilness. The material things would taint a person's soul and he/she would not be enlightened if he/she would just put a high regard on worldly things.
In great connection to this then, Lao Tzu's political philosophy could be seen in this trend. The state's power then would be lessened in order to act upon the principles that he had prescribed or suggested. Individual freedom would then be regarded in Lao Tzu's principle. It should then be the interest of the state to allow the people to act on natural forces and tendencies. The power of the government then should be lessened especially when the people would be able to address their own purpose in the Universe.
It seems then that Tao-te Ching could be a guide for a sage ruler. It was said that the virtues that a ruler must possess could also be read in Lao Tzu's Tao-te Ching. Aside from these things, Lao Tzu had provided us with an alternative in viewing the governmental business. He also contributed greatly in the spiritual enlightenment that an ordinary person could have as well as the sage ruler or leader. It could be said that Lao Tzu's principles may be difficult to apply especially when his principles would mean the curtailing of the stately powers as well as it would generally suggest that people in the world could be deemed as all good. Although, Lao Tzu's answer to this is that the pressure upon the people to create havoc is not due to the individual inner nature of man but it could be brought upon by the materialistic desires and pressure form others. All of Lao Tzu's principles may be far fetched for the people now residing the world but his work hopes to leave a sense of happiness to the people given that all should practice the principles laid by Lao Tzu in his Tao-te Ching.