Law and Biddy's Tea House Essay Sample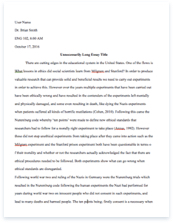 The whole doc is available only for registered users
OPEN DOC
Get Full Essay
Get access to this section to get all help you need with your essay and educational issues.
Get Access
Law and Biddy's Tea House Essay Sample
In May 2009 Natalie Attired started working at Biddy's Tea House. Miss Attired had been evaluated four different times about her performance on the job. Each evaluation Miss. Attired had improved.
In June 2010 Miss. Attired had gotten a full sleeve tattoo. Miss. Baker the owner of Biddy's Tea House had informed Miss Attired if she did not remove the tattoo she would be fired. Miss Attired did not get her tattoo removed and she was terminated.
In July 2010 Miss. Attired filed and was denied unemployment compensation because she was terminated due to "misconduct". Issue:
The issue is that Miss Attired's refusal to remove her tattoo does this constitute as "misconduct" under the New Mexico Statute § 51-1-7. Rule of Law:
N.M. Stat. Ann. § 51-1-7 does not have a definition for misconduct so they adopted the definition for misconduct under Mitchell v. Lovington Good Samaritan Center. INC., 89 N.M. 575, 577, 555 P.2d 696, 698 (1976) "Misconduct is limited to conduct evincing such willful or wanton disregard of an employer's interest as is found in deliberate violations or disregard of standards of behavior which the employer has the right to expect of his employee, or in carelessness or negligence of such degree or recurrence as to manifest equal culpability, wrongful intent or evil design or to show an intentional and substantial disregard of the employer's interest or of the employees' duties and obligations to his employer. On the other hand mere inefficiency, unsatisfactory conduct failure in good performance as the result of inability or incapacity, inadvertencies or ordinary negligence in isolated instance, or good faith errors in judgment or discretion are not to be deemed 'misconduct' within the meaning of the statute. Analysis:
According to the definition Miss Attired's actions did not constitute as misconduct. She did not disregard her employer in anyway It's very expensive to get a tattoo removed. Conclusion: Miss. Attired did no in anyway commit misconduct, and she should be able to receive her benefits.