Leadership Style Essay Sample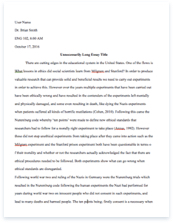 The whole doc is available only for registered users
OPEN DOC
Download Essay
Get Full Essay
Get access to this section to get all the help you need with your essay and educational goals.
Get Access
Leadership Style Essay Sample
Health care is a stage that requires multiple leadership styles to be successful. There is a distinct difference between managing employees and leading employees. A successful leader needs to have a solid understanding and ability to merge the two traits together. A group of employees that are lead during their work time instead of micromanaged will have a stronger sense of loyalty and determination to produce quality work. Successful leadership style
This student identifies Kelly Zuiker as having a successful leadership style. Kelly Zuiker is the Administrative Assistant at Catholic Health Physicians Group (CHPG) and manages three different orthopedics offices. Each office has its own style of daily operations and different personalities of staff and physicians to interact with. Kelly Zuiker handles every day with style and the ability to maneuver through multiple office challenges without showing the slightest ruffle of distain. Kelly Zuiker walked into a position that had been vacant for several months and was able to start creating a work environment that supports the employees. Why he or she is a successful leader
This student feels that Kelly Zuiker is a successful leader because she is not afraid to jump in and take the reins in any situation. Kelly shows great motivation in supporting her staff and making the decisions needed within management to create a balanced work environment. Although, Kelly is handed many obstacles to deter her forward progress she continues to move forward, handling each set back as a new goal to work through. This student feels that Kelly uses a Democratic, or participative, leadership style with her employees. Kelly involves staff in some decision making and creates an open line of communication. Kelly has made a concerted effort to increase satisfaction for the employees. This student sometimes finds it hard to receive the level of support that is given by Kelly Zuiker. This student has been supporting fellow employees for so many years that it is foreign to be the employee that is being support. Kelly Zuiker supports this student's efforts to move forward in her career and encourages efforts at advancement. Comparison of styles
This student believes that Kelly Zuiker's leadership style aligns with her own style. This student employs the help of fellow staff to help make decisions that will directly affect the office environment. This student believes that staff involvement in decision making helps to decrease anxiety about future changes because the staff is aware of and had an active part in the decision making process. Traits of a successful leader
This student believes that she needs to develop more characteristics that lean towards an Authoritarian, or autocratic, style of leadership. This student believes that she needs to understand and exude a more exact decision making process. When a leader leaves room for an employee to counter with unwanted words or behavior then disciplinary problems can evolve. This student believes that a strong combination of Democratic and Authoritarian is the desired skill set needed to be a good leader. Student's strengths
This student believes that Kelly Zuiker could learn from the students strengths by being able to spend time learning her position and the true aspects of the job the student does. Kelly Zuiker is not able to spend solid time in each of her clinic and this student believes that is a detriment to Kelly's full knowledge of what is needed in her clinics. Kelly relies on solid staff members, not a supervisor, to run the daily aspects of her clinics. This lost time in the clinic is valuable to a leader to understand and make changes to office policies and procedures. If a leader does not have an understanding of all the jobs done in the office then appropriate acknowledgement of an employee or disciplinary actions of an employee cannot be taken. Conclusion
When leading employees a good leader will employ a combination of styles of to be effective. The style of leadership this employee is currently working under is conducive to a productive and supportive environment. Supporting the staff to develop their performance and work production is vital to a good work environment. This student believes that she is in the correct environment to learn and develop her leadership skills.