Leeds Lays Essay Sample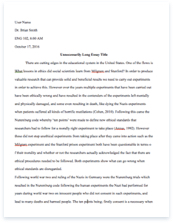 The whole doc is available only for registered users
OPEN DOC
Get Full Essay
Get access to this section to get all help you need with your essay and educational issues.
Get Access
Leeds Lays Essay Sample
The above quote denotes Leeds' regional importance as an industrial centre and it is for many of these reasons that Leeds has come to be recognised as one of Britain's leading service centres, or at least the claim to the position. To explain Leeds' industrial importance, as drawn upon in the opening quote, I intend to provide a brief description to the background of Leeds and its growth from a market town to the important city, both regionally and nationally that it is today.
Also its economic transition from industrial based to service dominant economy. This essay will also then take a look at Leeds' claim to be one of Britain's leading service centres, giving evidence to justify this claim, such as recent employment figures. To follow I will try to investigate the problems with service based economies, and trying to follow a service oriented strategy Leeds' original growth was initialised by the trading and marketing of textiles, due to its location near to raw materials, power and transport, namely the River Aire.
Its importance in these two spheres grew rapidly throughout the sixteenth and seventeenth centuries, and "by the end of the eighteenth century, Leeds was a market town already investing in facilities to increase prosperity and diversifying its economic base" (R. Unsworth, 2001:3). Although it wasn't the only important Leeds output, growth was led by the textile industry up until the industrial revolution.
When textile employment declined as efficiency increased, the importance of other industries, such as engineering, rose and it was this slight diversification in the economy that lead to the expansion of Leeds as a prominent industrial and manufacturing centre. By the end of the nineteenth century retailing had developed in the form of wholesalers, shop fronts and mass production. This was the first real sign that the service industry was to be a prominent characteristic in the economy of Leeds, amongst the heavily manufacturing oriented situation.
Manufacturing still featured very significantly, while the service sector seemed to take a back seat, in the early part of the twentieth century. The damage and destruction brought by the first and second world wars meant a need for much reconstructing and a boost in the building/construction industries egg. Brick making, in the region. It wasn't really until after the second world war that Leeds began to follow a service oriented strategy. The development of shopping centres and office towers in the city centre in the period after the war, paved way for this now prevailing characteristic of today's Leeds.
A walk around Leeds today gives weight to the city laying claim to a position as one of Britain's leading service centres; the streets are lined with shops, retail outlets, hotels, leisure and entertainment services, and the skyline is encroached significantly by the tall office blocks of the many financial and business companies operating in the city. Whether the city is following a service oriented strategy or not is debateable but what is obvious is that the service sector is playing an ever increasing role in the economy of the city.
Evidence of this lays firstly in employment figures in Leeds. The last few decades have seen a decline in industrial and manufacturing employment and a rise in service sector employment. In fact only 16% of the population of Leeds are employed in the service sector, that's 276 700 people (Source:Leeds Economic Handbook 2000). Other employment changes have included an increase in part time and female employment, and a decline in opportunities for men, employment patterns most associated with the service sector.
Such facts and figures justify the claim but there are other basis for this claim. The second is the growth in business and financial services. In fact Leeds is considered the most important financial centre outside London (Leeds Economic Handbook 2000). Although "the region has diversified its base to include growth in small to medium sized enterprises, call centres, electronics, media and financial and professional sectors", "the majority of industries experiencing growth are in the service sector" (Leeds In Depth, 2000:12).
Other evidence includes the growth in new and refurbished leisure facilities, retail, hotels and catering in the city centre and along the waterfront, and how this has stimulated further investment, like the substantial private and public investment seen in the 1990s. In addition to this "according to a recent report by the property consultant Healey and Baker, Leeds is ranked the second most highly rated city to shop in" (Leeds In Depth 2000:15).
All these points and evidence of Leeds, service oriented economy, and perhaps indeed to the claim that Leeds is one of Britain's leading service centres. However evidence from the Annual Employment Survey would suggest otherwise. Figures show Leeds to rank only fifth or sixth place in total employment in service sectors such as finance and business services, and distribution and hotels. This is behind the cities of London, Manchester, Edinburgh, Bristol and Liverpool. Such evidence would imply that Leeds is not in fact a leading British service centre.
However when assessing the data for knowledge intensive services such as media, advertising, consultancy, high street banking and legal services, Leeds ranks third behind Bristol and Manchester. This just shows that although Leeds is not a leading centre in overall services, it is in fact a leading centre in certain fields of the service sector. Following a service oriented strategy does, however, have its problems. The first of these is in employment. The service sector stereotypically provides mostly part time work, and is very much a female dominated industry.
The Leeds Economic Handbook predicted that the economic activity rate of men in Leeds is set to decline and indeed the same to happen to the rate of people aged 50 – retirement, as the services are associated with younger employees. Also many of the forms of employment within the service sector are unskilled or menial placements. This means that many people will be forced to take jobs that under utilise their skills. Particularly a problem in Leeds where much of the workforce is skilled, operatives or former manufacturers. Another problem is that a service oriented strategy is in real terms a relatively low wage economy.
This is partly because many firms, particularly in Leeds financial sector, are national or international firms, with Head Offices outside Leeds. Meaning profits are often taken out of the Leeds economy and spent elsewhere. Also some companies may bring in specialist staff from other areas providing no high wage employment to the local area. For example PricewaterhouseCoopers has brought many of its partners up from London to Leeds instead of providing Leeds accountants with the opportunity to further their careers. The service sector is not just problematic.
Indeed in Leeds it has led to an improvement in the built environment "changes in the fabric of the city-retail sites, new office buildings, refurbishment of old and redundant property, conversion flats and infrastructure development" (Leeds In Depth, 2000:14). The sector's ability to attract investment is definitely one of its saving graces. In conclusion I would agree that Leeds is following a service oriented strategy, and that in certain aspects of the industry, for example the financial sector, the city truly is one of Britain's leaders.
To say Britain is one of Britain's leading service centres is not strictly wrong. There are four or five centres that have a stronger claim than Leeds but the margins are slim, and Leeds is expected to grow quite rapidly over the next few years. I would predict that in the future Leeds will be a more important national centre and a British leader. Following a service sector strategy provides rapid growth and investment but is problematic with its patterns of employment and the redistribution of profits.