Legal Aspects of Professional Psychology Essay Sample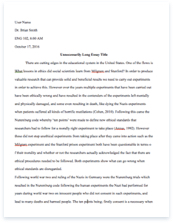 The whole doc is available only for registered users
OPEN DOC
Pages:
Word count: 1773
Category: ethics
Get Full Essay
Get access to this section to get all help you need with your essay and educational issues.
Get Access
Legal Aspects of Professional Psychology Essay Sample
Legal aspects of professional psychology stands protected and covers an inclusive range to include; informed consent, informed refusal, assessment, testing, diagnosis, confidentiality, competence, and The Health Insurance Portability and Accountability Act (HIPPA). These legal aspects are in place to ensure psychology professionals are making the "best" ethical decision relation to his or her client. It is imperative psychology professionals do not violate ethical standards or state laws, and at the same time, certify each client has accurate information and treatment related to his or her diagnosis. This paper will describe the impact legal aspects have on professional psychology and legal concern associated with informed consent and refusal, legal concerns related to assessments, testing, and diagnosis. Moreover, this will substantiate the importance and challenges of maintaining confidentiality in therapeutic relationships and clarify the significance of competence in professional psychology.
Legal Issues Related to Informed Consent and Refusal
Informed consent defines a legal process to guarantee a client, research participant, or patient is completely aware of potential hazards and costs related to procedures or treatment. Components of informed consent incorporate advising the client of treatment options, likely alternatives, risks, and most important the advantages of treatment. Informed consent is considered legal or binding when the consent is provided on a voluntary basis, client is competent of his or her actions, and made known of the risks involved. Pope and Vasquez (2011) state, "the process of informed consent provides both the patient and therapist an opportunity to make sure that they adequately understand their shared venture" (Pope & Vasquez, 2011). It is a process of communication and clarification. Moreover, informed consent is crucial to the process of healing that initiates trust and communication between the therapist and client. The client has a legal right to accept or reject the process of informed consent, which ultimately protects the professional and client form undesirable legal ramifications. This is known as a lawsuit or malpractice suit where the client/Plaintiff seeks damages for professional negligence.
However, when a client declines authorization for treatment another person may be elected to give informed consent, such as a parent, legal guardian, or power of attorney. When each of these options has been exhausted and the client continues to decline professional services, he or she has verbally given a competent refusal for professional services. When a client refuses treatment the therapist is accountable for clarifying consequences, risks, and documentation linked to denying professional treatment. Without documentation of "informed refusal" the professional may be liable if harm or death occurs. The documentation will protect the therapist in case of a hearing, malpractice lawsuit, or for a court proceeding. A patient who refuses services and has extreme health issues or is a minor, the therapist has an obligation to consult a specialist in ethics, a judge, or lawyer to ensure others are not mentally or physical affected by a client's refusal for services. When a professional fails to chart accurate procedures or complications related to the patient, an error arises, or the therapist fails to include information excluded from informed consent a malpractice lawsuit will be filed. Then the client/plaintiff is protected legally and pursues compensation for physical or mental damages, misconduct, or exploitation as a result of professional negligence.
Legal issues associated with Assessment, Diagnosis, and Testing
Psychological assessment, testing, and diagnosis insist on professional competence. The competence of the therapist must be self-evident in the course of training, supervised encounters, and education. There are ethical, legal, and technical concerns related to incompetent specialists who have not obtained proper credentials to administer psychological examinations. The results of diagnosis, assessments, and test leave a lasting impression on the client. The professional psychologist must understand, maintain, and uphold competency levels to interpret theories, validation, and measurements related to psychology examinations. Misappropriation of assessments, testing, and diagnosis is a result of an incompetent therapist and the final results are misconstrued causing legal issues. "Using testing technicians to administer restricted Level C psychological tests is a controversial practice that has generated significant concerns among many psychologists, professional organizations, state, and provincial boards of psychology, departments of education, and even third-party health care providers (Lowman, 1996; Wilson, 1982)" (J.D. Hall, D.L. Howerton, & A.U. Bolin, 2005, p. 3).
To prevent legal issues the therapist must state clearly to the client the purpose, intention, process, and devices associated with treatment, assessment, and diagnosis to the patient prior to administering examinations. Principle "D" of The American Psychological Association recognizes the importance of "fairness and justice entitle all persons to access to and benefit from the contributions of psychology and to equal quality in the processes, procedures, and services being conducted by psychologists" (APA, 2010, p. 3). The therapist is legally and ethically responsible for specifying the procedure to his or client, which requires the client to give consent and be knowledgeable of third parties who may obtain access to the results. Since those types of issues concern the variety of people who eventually may receive copies of the report and the associated raw data once the assessment is complete. This must be addressed with the patient before starting the assessment, so that the client's decision to give or withhold consent is adequately informed. (Pope & Vasquez, 2011).
Importance and Challenges of Maintaining Confidentiality in Therapeutic Relationships
Confidentiality is the link for a therapist to offer a safe trusting environment for his or her client to share anxieties without concerns of experiencing maltreatment. The relationship between a therapist and client initiates with an understanding of confidentiality. The agreement obligates the therapist to refrain from disclosing information to a third party. Confidentiality is crucial in to develop a trusting relationship between the client and therapist. The essential purpose for maintaining confidentiality in therapeutic relationships is to protect the client's legal right to privacy, unless otherwise stated by the client. There are severe penalties to therapist who violate a client's code to confidentiality.
Confidentiality is crucial to the development of therapeutic relationships and is associated with the American Psychological Association Ethics Standard 4.01 "Psychologists have a primary obligation and take reasonable precautions to protect confidential information obtained through or stored in any medium, recognizing that the extent and limits of confidentiality may be regulated by law or established by institutional rules or professional or scientific relationship" (APA, 2010, p. 7).
However, the American Psychological Association Ethics Standard 4.02 discusses limitations of confidentiality "(a) Psychologists discuss with persons (including, to the extent feasible, persons who are legally incapable of giving informed consent and their legal representatives) and organizations with whom they establish a scientific or professional relationship (1) the relevant limits of confidentiality and (2) the foreseeable uses of the information generated through their psychological activities" (APA, 2010, p. 7).
There are circumstances in which the professional cannot uphold confidences ethically or legally, such as when another person's life is at stake, child abuse, and elder abuse is reported. Prior to breaching confidentiality with a client the therapist must be aware of legal issues to include financial compensation and emotional damages. In California, the consequences for infringing confidentiality may result in sanctioning from the Board of Licensing, and regulated practice or a definite loss of license. A therapist who has lost his or her license because of misconduct can reinstate his or her license by meeting necessary terms presented by the State of California Board of Behavioral Science (BBS), which would require full payment of penalties associated with prosecution. In 1996 the Health Insurance Portability and Accountability act (HIPPA) was established to safeguard confidential records of the client or patient. Additionally, in 1981 California established the Confidentiality of Medical Information Act, Civil Code Section 56 to maximize confidentiality of medical data to harmonize with previous and current federal laws enacted in California. Confidentiality is more than preserving private information, confidentiality is crucial to developing a healthy therapeutic connection between a therapist and client.
Importance of Professional Competence in Professional Psychology
Professional competence is a requirement for therapist working in professional psychology; that incorporates a combination of skills associated with behavior and knowledge. Competency entails a therapist to be adequately qualified to perform tasks associated with his or her as a profession. According to the American Psychological Association Standard 2.01 "Psychologists provide services, teach, and conduct research with populations and only within the boundaries of their competence, based on their education, training, supervised experience, or appropriate professional experience" (APA, 2010, p. 5). In psychology, a therapist should have intellectual competence and emotional competence to confirm knowledge and effectively treat the client. The primary goal of the professional should be to provide the client with effective treatment to maximize capabilities, accomplish goals, and achieving his or her peak potential.
However, competence is more than education, training, and supervision. Competence determines the credibility of a therapist to diagnosis, treat, test, assess, and counsel a client. In the same manner, competence has a wide range of treatment modalities such as psychoanalytic, humanistic, and cognitive behavior techniques shown to be effective. Methods used for adults to overcome anxieties may not be the same for another client with similar symptoms. This is why professional psychology requires therapist to maintain skills and knowledge necessary to conquer professional competence to produce the highest level of care for clients in professional psychology.
Conclusion
In conclusion, legal aspects assist every therapist/physician to uphold ethical standards to guarantee each client is treated with respect, safety, and courtesy. When a therapist establishes a professional relation, the client expects the therapist to be qualified and licensed to operate in the role of professional psychology. According to Pope and Vasquez (2011), "the right to informed consent reflects respect for individual freedom, autonomy, and dignity"; that requires competency of therapist during testing, assessments, and diagnosis. Competence is not a declaration. Competence is an official action corroborated through experience, education, and training. Confidentiality is an obligation interrelated with The American Psychological Association Ethics Code to guide and prevent immoral or corrupt behaviors. The American Psychological Association has set guidelines and standards prepared to protect therapists from legal judgments and clients from unethical decisions. Therapists are required to maintain high ethical standards to prevent negligence, which ultimately can result in a malpractice lawsuit or loss of license.
References
Confidentiality of medical information act California CIVIL CODE SECTION 56
http://www.leginfo.ca.gov/cgi-bin/displaycode?section=civ&group=00001-01000&file=56.10-56.16
Ethical Principles of Psychologists Code of Conduct Including 2010 Amendments
http://www.apa.org/ethics/code/index.aspx?item=7#
Hall, J. D., Howerton, D., & Bolin, A. U. (2005). The Use of Testing Technicians: Critical Issues for Professional Psychology. International Journal Of Testing, 5(4), 357-375. doi:10.1207/s15327574ijt0504_2
http://web.ebscohost.com.ezproxy.apollolibrary.com/ehost/