Lessons on Leadership from Ann Fudge Essay Sample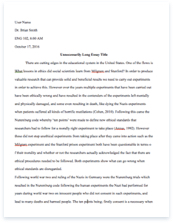 The whole doc is available only for registered users
OPEN DOC
Download Essay
A limited time offer!
Get a custom sample essay written according to your requirements urgent 3h delivery guaranteed
Order Now
Lessons on Leadership from Ann Fudge Essay Sample
Question 1: How would Ann Fudge fall into the each of the Five Factor Model (FFM) categories?
Surgency: Ann will fall into the surgency dimension because she is self confident and decisive. She had the ability to interact effectively with constituencies of a consumer business. Agreeableness: Ann is a easy to get along with it states that she can get along with everyone from consumers, factory workers on a production line, and executives in the boardroom. Dependability: Ann is clearly dependable and committed to her line of work. She puts up to 15 hour shifts. She worked hard to put Y&R back on top. Adjustment: Ann came into the company in a very stressful time but she remained focus and worked with the company to get it back on track. Openness to experience: Ann was open to the idea to travel around the globe and visit other Y&R employees.
Question 2: Consider the components of creative intelligence from Table 7.3. Identify the key components that have impacted Ann Fudge's life. The key components that have impacted Ann Fudges life has to be the analytic intelligence and practical intelligence and synthetic ability.
Question 3: Ann Fudge decided to take a sabbatical to focus more on her personal life. Based on her experience, what are some of the benefits to such a break? What might be some of the drawbacks?
Ann wanted to have some time to define herself. She took some time and traveled from Sardinia and Corsica. She also took up some yoga and she also wrote a book that was titled "The Artist's Way at Work" which is a book about improving creativity and innovation on the job. I don't think there was any drawback because as soon as she accepted that job with Y&R her work has been really successful.