Lessons to Learn from Steve Jobs Essay Sample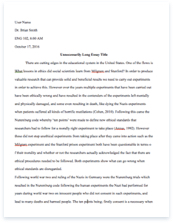 The whole doc is available only for registered users
OPEN DOC
Pages:
Word count: 2210
Category: jobs
Get Full Essay
Get access to this section to get all help you need with your essay and educational issues.
Get Access
Lessons to Learn from Steve Jobs Essay Sample
A man of the stature of Steve Jobs needs no introduction. Steve Jobs, undoubtedly, was one of the greatest entrepreneurs and a great visionary of the 20th century. Steve Jobs revolutionized the computer industry by democratizing the technology and making the computers smaller, cheaper, intuitive and accessible to everyday consumers. In 1976, at the age of 21, Jobs founded Apple Computers with Stephen Wozniak , probably the most successful enterprise in the world today. In 1980, Apple Computers became a publicly traded company with a market value of 1.2 billion dollars. However, several Apple products confronted consumer disappointment due to serious design flaws and to overcome this, Apple, in 1984, released the Macintosh.
But, inspite of the success of Macintosh, the board of directors lost trust in Jobs and he was forced to resign as Apple's CEO in 1985. After leaving Apple, Jobs laid the foundation of NeXT Inc and purchased Pixar, an animation firm, which merged with Disney, in 2006, making Jobs Disney's largest shareholder. In 1997, Apple bought NeXT and thus, Jobs returned to Apple. After re-joining Apple Jobs revitalized the company, whose share had fallen to a mere 4% of the computer industry by then. Steve Jobs put Apple back on the track and once again, instigated Apple's success using his ingenious strategies. WHAT JOBS STANDS FOR, FOR A WILLING-TO-BE SUCCESSFUL ENTREPRENEUR * How Jobs marketed Apple products
The most important and crucial element of trade is the marketing of the goods you produce. And this was where Jobs surpassed his nemesis. The way Jobs marketed his products was through his highly captivating and scintillating presentations and story-delivery.. yes, Jobs presentations were akin to stage performances. Steve Jobs presentations were all theatrical experiences. A Jobs presentation used to unleash a rush of Dopamine into the brains of his audiences. The most interesting thing I would like to take over from Jobs and which I actually highlight in this article are his esoteric presentation skills and strategies.
So how did Jobs do that?
Every Jobs presentation was about creating a story. On analysing some of his presentations one can find the following attributes and stages of a successful marketing presentation-
* Analog to Digital
Steve Jobs was a man who earned a great reputation in the digital world. But he always started to plan his strategies and presentations using pen and paper; that is , the analog way. After creating the ideas this way, presentations were prepared. A typical Jobs presentation slide would consist of expressive and large (font) words and no bullets. His presentations consistently had a captivating headline like- "Today Apple reinvents the phone!". Moreover, he always included a passion statement, metaphors, customer evidences, video-clips and flip charts in his presentations.
* Answering- Why this product?
In May 1998, Apple launched a new product aimed at ameliorating its dwindling share in the computer market, which had fallen to 4%. This was the new translucent iMac. Jobs first pointed out the fallacies and cons of the then existing products. After this he explained the new features of the iMac talking about its fast speed ("it screams"), its gorgeous fifteen-inch display, a large amount of built-in memory and the components that made networking a blissful experience. After this, in the surprise moment, he walked to the centre stage and unveiled the iMac.
* What is your core purpose?
Why do you do whatever you do? This is the question that needs to be answered before you step-up the road t success. Unless you love what you do, you cannot ask for success; for excellence. This question always favoured Jobs. He loved what he did. When a columnist from the Business Week asked Chris Gardener (remember The Pursuit of Happyness) how did he gain the strength to keep going and he answered- "Find something you love so much, you can't wait for the Sun to rise to do it all over again".
* Setting the stage for marketing blitz
Jobs used to enthral his audience with brilliant headlines. Jobs introduced the MacBook Air with these words- "What is MacBook Air? In a sentence, it's the world's thinnest notebook." The minute Jobs delivered a headline on the stage, the Apple publicity and marketing teams kick into full gear. Posters are dropped down, billboards go up, the front page of the Apple website reveals the product and headline, and ads reflect the headline in newspapers and magazines, as well as on television and radio. Whether it is "1,000 songs in your pocket" (for itunes) or "the world's thinnest notebook" , the headline is repeated consistently in all Apple's marketing channels.
* Introduce the antagonist
In every classic story, the hero fights the villain. The same outline applies to world class presentations; to Steve Jobs' presentations. Introducing the antagonist rallies the audience to the hero. The following are some bits from Jobs' iPhone presentation- "The most advanced phones are called smartphones, so they say. They typically combine a phone plus e-mail plus a baby internet. The problem is they are not so smart and they are not so easy to use. They're really complicated. What we can do is make a leapfrog product that is way smarter than any mobile device has ever been. So, we're going to re-invent the phone. We are going to start with a revolutionary use interface…."
Now he introduces the antagonist and talks about four then existing smart phones- Motorola Q, Blackberry, Palm Treo, Nokia E62. He calls them the usual suspects.
"…..The problem with them is in the bottom forty. It's this stuff, right there [points to keyboards on the phones]. They all have these keyboards that are there whether you need them or not….."
Now he introduces the Hero (iPhone).
"What we're going to do is get rid of all these buttons and just make a giant screen. How are we going to communicate with this? ……. We're going to use a stylus. No [laughs]. Who wants a stylus?…… So, let's not use a stylus. We're going to use the best pointing device in the world- a pointing device that we're all born with. We're born with ten of them. We'll use our fingrers."
Such kinds of presentations were the results of the fact Jobs knew that what actually matter to people is not Apple's product but, solving problems and making their lives better.
* A proper make-up of numbers
On October 23, 2001, Apple launched a digital music player that would revolutionize the entire music industry- the iPod. The iPod stored songs on a 5GB drive. In his presentation Jobs made this number more meaningful by saying that 5GB provided enough storage for 1,000 songs. But, wait, Jobs assured his audience, there's more. Jobs said the new iPod weighed 6.5 ounces and was so small that "it could fit in your pocket." When Jobs pulled out one from his own pocket it immediately clicked with the audience. The iPod's slogan said it all: "1,000 songs in your pocket." Jobs knew that numbers might have meaning to the most ardent fans but are largely meaningless to the majority of potential customers. Jobs made his numbers specific, relevant and contextual.
* Use amazing words. . Fancy them
Steve Jobs was one of the few business leaders who could confidently speak in simple, clear and direct language, free of the jargon and complexity so common in business communications. Even if you think Jobs is grandstanding from time to time, his choice of words puts a smile on your face. In an interview for Fortune magazine, he was asked to describe the interface of Apple's new OS X operating system. He said "We made the buttons on the screen look so good, you'll want to lick them." Again, in November, 2001, Jobs described the song transfer feature of the first iPod, Fortune, like this "Plug it in. Wirrrrrr. Done." The words Jobs used to choose for his presentations can be described with three words simple, concrete and emotional. This can be clearly seen in the phrase Jobs used while unveiling the first seventeen inch notebook computer on January 7, 2003. He said "A giant leap beyond PC notebooks. Miraculously engineered."
* Acknowledgement and stage sharing
A Jobs presentation was rarely a one-man play. It was his belief and also, according to him, was need of the market that everyone needs to shine for the good of the show. In October, 2008, Apple introduced new MacBook laptops crafted from single blocks of aluminium. Jobs began his presentation with the words "Let's talk about notebooks. We want to talk about some technologies and discoveries that we've made that help us build notebooks in some new ways." After having said so, instead of describing the new process himself, Jobs introduced John Ive, Apple's senior Vice-President of design to give a crash course of the new process to the audience.
* Element of Surprise
A Steve Jobs presentation was always filled with an element of surprise. Consider the following bit taken from an excerpt from Steve Jobs' MacWorld 2007 presentation where he introduced the iPhone- "…..Well, today we are introducing three revolutionary products… The first one is a wide-screen iPod with touch controls. The second is a revolutionary mobile phone. And the third is a breakthrough Internet communications device. So, three things: a wide-screen iPod with touch controls, a revolutionary mobile phone, and a breakthrough Internet communications device. An iPod, a phone and an internet communicator. An iPod, a phone- are you getting it? These are not three separate devices. This is one device, and we are calling it iPhone. Today, Apple is going to reinvent the phone!"
His ideology and beliefs:
Apart from the marketing and presentation techniques, one can learn a lot from the ideology Jobs which can definitely help to create your own path. * Don't trust what experts say
Steve Jobs was the man who could boldly and audaciously take decisions. He was, in a real sense, a true risk-taker and a consummate player of the corporate game. He always believed that experts are the people who could tell you not to do something but, they cannot tell you , then how to do it. Experts only speak, they don't do.
* Customers don't know what they want
A consumer is the person who only looks around, he doesn't look ahead. A consumer can tell you to provide something better than your competitor, but something like it. It is only the the true entrepreneur who can take a quantum leap, who can look ahead of the time and give the world something innovative, something that has never been built before, something that was never seen but, was always needed. This belief took Jobs ahead of all his nemesis.
* Every minute detail matters.
For Jobs, no detail was so minute to be neglected. He used to discuss and contemplate even on seemingly trivial details, working on design of all the products. It is always the small things, the tiny bits that make a thing what it is. Neglecting or overlooking small and fine details is like killing a foetus before the baby is born.
* Bozo explosion
Steve Jobs, undoubtedly, was one of the wisest men of this century. And so are his employees and fellow men. Apple Inc hires officials who are actually worth joining Apple. Bozo explosion is a kind of process, Jobs believed in, which according to him , is the same thing that happens when a rotten apple is put in a basket with fresh ones. Bozo explosion describes how a bad choice of an employee , especially of a higher rank, can kick off a chain of similar officials getting into the company which, ultimately, down turn the performance of the company. A bad CEO will higher even worse officials, who in turn, will produce even worse output and results.
"ONE MORE THING" TO LEARN FROM STEVE JOBS
Steve Jobs used to keep his audience guessing. Frequently, he will leave them with "just one more thing" before he ends his presentation. So, in true Steve Jobs fashion I would like the reader to learn the true lesson of life from him.. the last lesson. On June 12, 2005, Jobs gave the commencement address at Stanford University which became an Internet sensation. In this address he told his audience three stories about his life, wherein, he explained his journey of life. Jobs ended his speech with his headline "Stay hungry, stay foolish." This line reveals how one can achieve the zenith of achievements. The message being, do what you love, view setbacks as opportunities, and dedicate yourself to the passionate pursuit of excellence. Whether it is designing a new computer, introducing new gadgets, running Apple, overseeing Pixar, or giving a presentation , Jobs believed in his life's work. This is the last and most important lesson Jobs can teach – the power of believing in yourself and your story. Jobs followed his heart whole of his life. Follow yours to be what you like to be, to achieve what you love.