Library Sparks Essay Sample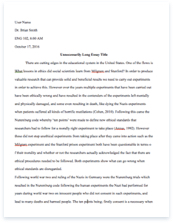 The whole doc is available only for registered users
OPEN DOC
Pages:
Word count: 1610
Category: library
Download Essay
A limited time offer!
Get a custom sample essay written according to your requirements urgent 3h delivery guaranteed
Order Now
Library Sparks Essay Sample
Library Sparks, an Upstart Publication, is a magazine available online and in print for children's librarians. It has indexes going back to 2003  so is now an established resource. It is aimed at school librarians in the elementary school, but could have a wider audience  e.g. home schoolers and civic librarians. Its focus is on creating life long readers by motivating children to use the library, learn library skills and enjoy reading. It also includes in its aims the use of literature across all curriculum areas. It is available in print  9 times a year for $59.95. The outlook is fresh and lively with activities and suggestions for each age group.
There are for instance 100 authors suggested for the primary student in the May/June 2006 issue. Each issue has a central theme with lots of ready to use activities linked to it. However although there are resources on line, many of the 'departments' listed are only available in the full print editions, so the online magazine serves as a taster for the full issue rather than standing alone, with only 5 out of 14 'departments available. This sort of thing must be expected in a commercial company, who, whatever its commitment to education, must seek to make a profit from subscriptions.
There is also a road show that travels around the United States with 4 dates in July and August 2007. This will include several popular authors  such as Pat Miller and Toni Buzzeo. This is aimed purely at librarians and seems rather expensive at $249, even though this fee includes meals, handouts and a certificate of participation. The presentation for this event looks exciting and reminds me of old circus posters because of the font used.
This is very different form web sites with a more scholarly appearance, whose aims are perhaps slightly different, such as Teacher Librarian to which you must subscribe before accessing articles, though it does give tasters. The Teacher Librarian seems , at least in part, to be concerned with the organisation and administration issues, something that is barely mentioned in the Library Sparks magazine.
Upstart, the publishers of Library Sparks, are part of Highsmith  Incorporated, who produce a range of items for the educational market. These include everything from bookmarks to books, bookshelves and posters. It is one of a series of publications that they produce aimed at various age groups and situations.
The company is long established, having been founded in 1956. It is committed to education, providing grants for research in co-operation with the American Association of School Librarians. It also provides scholarships and encourages the writing of non-fiction with its co-sponsorship with the Black Caucus of The American  Library Association of the BCALA Literary Award for Non-fiction. As well as these the company gives an award for innovation in libraries as well as one for urban libraries.
The web site is easy to navigate and understand. Easier to use for instance than the H.W. Wilson Children's Core Collection. You just have to click on the required section. It is on a white background which means it should be easy to read. However some of the details are a little blurry, especially those parts in italics. Also the link to future issues did nothing but give the month in which it would come out so seemed a little pointless. A link on the present issues index  saying ' See what's coming up in future issues' said the same. I realise that future issues may not be finalised at this stage, but this just makes for frustration on the part of the librarian navigating around the site.
There are however details from the previous issue included on the web resources and then this leads one back to the issue before that. An unusual way of dealing with a search, but librarians do after all need to develop lateral thinking skills. I would have found it helpful if resources were labelled with the age range covered instead of having to open them before finding out who they were aimed at e.g Earth Day Game listed under April Web resources. That is not to deny the usefulness of such resources. The synopsis of the story for instance in 'Library Lessons' could be used to encourage students to write similar synopses and an index of these could be built up.
There are clearly defined sections  – this month, future issues, index, web resources, subscriptions, free sample, about us and contact details. Some things are a little hidden away though – for instance they are appealing for article writers, but this would not be known unless you open the contact details page. Also if you want to know what to expect in each issue you will have to open the 'About us' section which is not where I would necessarily expect to find such information. The illustrations are charming, but decorative and a little twee rather than educational in themselves.
There is a form for contact included, but perhaps they could think about a supervised forum for librarians to discuss relevant points or make suggestions that others could read? Each issue contains almost too much. There is a real feast for participants. They include news about new books, lessons, games and activities on the theme of library skills,   connections to various parts of the curriculum such as bibliographies, activities and discussion ideas.
There are aids to story telling such as finger plays, interviews with both authors and illustrators and even a list of freebies and hints. The contents also include such things as play scripts, book club ideas and activities to develop reading skills and to encourage readers. The suggested reading lists  for each age group is a useful, comprehensive  easily printed resource that could easily be made available to families of young readers.
It might  be advantageous if the magazine could be more interactive , with activities that children could relate to such as those on the McAllen Memorial Library website for instance. A parent's section is another idea as in the British Wordpool online magazine. Although it is aimed primarily at librarians and activities for children, parents are part of the wider school family after all and need to be involved in their children's literacy. Perhaps some school might want to have books that parents could borrow  so that they can have a better understanding of various subjects  such as how to help reluctant readers.
The monthly calendar suggest activities for each day – some linked to a particular date e.g. Garfield's birthday, others to the time of year e.g. Fresh Fruit and Vegetable Month and yet more, the majority, that can be fitted in any time e.g. A Listening Walk, A Pipecleaner Party. Some are of a more literary nature than others e.g. researching events from the year of student's birth or writing tongue twisters are there alongside the anniversary of the patenting of the hula-hoop. The fact that only a few items are directly linked to dates is good because it allows choice and flexibility.
The best feature for me was the 'Webliography' – a list of web sites linked to each issue and this alone would make the magazine worthwhile for me. It may not be unique, other sites have 'useful links' after all, but it is certainly comprehensive and exciting.  Sites listed such as 'Kids Go wild' and 'MacScouter.com' are rich resources for anyone working with children whether parents , teachers , youth leaders  etc. Others will have there own choices.
It could also be the basis for a list of 'Have you tried?' web sites available to children. That is one of the best things about LibrarySparks – no t only does it provide information, it provides the means to allow children to become enthusiasts whatever their interests. The child who learns a new song  from Mac Scouter or discovers facts about reptiles on 'Kids go Wild' is doing so by reading and finding it a useful and enjoyable tool and isn't that what it is all about.
LibrarySparks will not stand alone as the only magazine for school librarians – they need to have available also more technical articles about such thing as dyslexia and library organisation which are available elsewhere as on the School-Libraries.org web site with its list of professional organizations and advice on such subjects as developing a school's web page, links to on-line discussion groups and presentations explaining laws relating to libraries and so on.
I t is however  a lively and useful resource that ought to be available in every school library in order , as it says, that children will be motivated to read and to become life long readers , while at the  same time  seeing  that  books are fun as well as being very useful tools.
References
Camp songs available at http://www.macscouter.com/songs/  accessed20th June 2007
Highsmith publishers and educational suppliers   available from
http://www.highsmith.com/webapp/wcs/stores/servlet/StoreCatalogDisplay?catalogId=10001&storeId=10001&langId=-1&page=mall
accessed 20th June 2007
Kids Go Wild available at  http://kidsgowild.com/    accessed 20th June 2007
Librarysparks available at
http://www.highsmith.com/webapp/wcs/stores/servlet/Production/LSP/pages/lsp_home.htm accessed 20th June 2007
McAllen Memorial Library available at http://www.mcallen.lib.tx.us/christa.htm
 Accessed 20th June 2007
School Library Resources  available at
http://www.school-libraries.org/resources/   accessed 20th June 2007
Teacher Librarian available from
http://www.teacherlibrarian.com/tlmag/v_31/v_31_3_feature.html   accessed 20th June 2007
Wilson, H.W. Children's Core Collection available at http://www.hwwilson.com/print/childcat.cfm#Online  Accessed 20th June 2007
Wordpool available from
http://www.wordpool.co.uk/rr/rrcontents.htm  Accessed 20th June 2007