Life style and poor decision making Essay Sample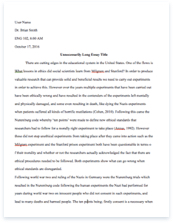 The whole doc is available only for registered users
OPEN DOC
Download Essay
A limited time offer!
Get a custom sample essay written according to your requirements urgent 3h delivery guaranteed
Order Now
Life style and poor decision making Essay Sample
Adolescents' aged 15– 19 years old is among extremely populated faction universally with somewhat highest dependence ratio as they are either in schools, colleges or in streets (UNICEF, 2014). Adolescents need to have access to information that will promote their welfare; comprehensive sexual reproductive health information will protect adolescents from unplanned pregnancies and their associated consequence (Nwalo and Anass, 2012) as they are prone to a number of risk factors associated with socio economic disadvantages, life style and poor decision making; in sub-Saharan Africa the adolescents is the proportion with highest HIV AIDS prevalence rate (Godia1 et al, 2014).
Adolescent are at higher risk of being victims of sexual abuse that results into incidents of sexual transmitted infections and/or child pregnancy; (TDHS 2016) unsafe abortion and maternal mortality of most of these consequences last for a life time and presents unique vulnerability to adolescents who face different problems including physical, sexual and emotional, with vary severity life.
In Tanzania 44.8% among adolescents aged 15-19 has experienced sex with 11.8% forced first sex experience 32.46% of in marriage adolescents experiencing physical or sexual violence by spouse (Decker et al, 2015). In spite of existence of sexual and reproduction education in school curriculums the cases of sexual transmitted infections (STI) and child pregnancy escalates from time to time; 23% in 2010 to 27% in 2015-16 (TDHS, 2016) as a result adolescent girls have to drop out of school and for boys when involved becomes teen fathers with little capacity of parenting (UNICEF, 2014).
This study aims to investigate Accessibility and use of SRHR information among adolescents, which is an instrumental aspect in fighting against teenage pregnancies and spread of Sexual Transmitted Infections.
1.2 The Problem Statement
Findings from Tanzania demographic health survey (2016) indicates that more than 93% indicates of adolescents have heard about methods of family planning, as well as findings from a study by Rusibamayila et al (2013) reveals that knowledge around family planning is not an issue of concern among adolescents.
Yet the trend of sexual transmitted infections (STI) including HIV AIDS and child pregnancies among adolescent is escalating/ increasing from time; 23% in 2010 to 27% in 2015-16 (TDHS, 2016). It is therefore not clear if adolescents in peripheral and marginalized areas have access to the reproductive health information and if they do, whether they make use of such information. This study aims on investigating/ determining the accessibility and utilization of Reproductive Health information among adolescents in secondary schools.
1.3 Objectives
1.3.1 General Objective
To assess the accessibility and use of Reproductive Health Information among secondary school adolescents of Ushindi and Magomeni Baptist Secondary School at Kindondoni
1.3.2 Specific Objectives
This study has the following specific research questions:
I. To identify the sources of RH information among secondary school adolescents.
II. To examine the accessibility of RH information among adolescents.
III. To explore the extent of utilization of Reproductive Health information among secondary school adolescents
IV. To recommend ways to improve accessibility and usability of reproductive health information among secondary school adolescents
1.4 Research Questions
1. What are main sources of Information on Reproductive Health among secondary school adolescents at Kinondoni?
2. Is Reproductive Health information accessible among secondary school adolescents at Kinondoni?
3. Does secondary school adolescents utilize Reproductive Health Information at Kinondoni?
4. What are the ways to improve accessibility and usability of Reproductive Health Information at Kinondoni?
1.5 Research Design
Research design is a blue print on which the study the study is built entailing the methods for data collection, processing and analysis (Fisher, 2010). This study will use both quantitative and qualitative research designs so as to extract information that could be provided by respondents based on own attitude derived from individuals' opinion, which is not easy to quantify but important to fulfill study objective.
1.6 Area of the study
The study will be carried out in two secondary schools at Kinondoni in Dar e salaam Region. Specifically data will be collected from Ushindi Secondary School and Magomeni Baptist Secondary School. Kinondoni district is highly populated commercial part of the city in such environment adolescents are exposed early age sexual activity with high risk of unwanted pregnancies and Sexual Transmitted Infections The choice of the schools was based on their geographical location; both located in populated commercial joints In between schools picked one is own by the government and another one by Baptsist church of Tanzania this will provide a an inclination angle to any variations students exposure to RH information on school administration and ownership at Kinondoni.
1.7 Population of the study
The population of this study will be comprised of secondary school adolescent's boys and girls aged 15-19 Years, patron/ matron and ward social welfare officer. The schools to be studies studied are Ushindi Secondary School and Magomeni Baptist Secondary School at Kinondoni, Systematic simple random sampling will be utilized to select sample between form two students; this is a stage where teenagers starts engaging in sexual intercourse (TDHS, 2016) this calls attention to investigate their accessibility and use of reproductive health information which is vital for protection from unwanted pregnancies and sexual transmitted Infection.
The choice of sampling method is intrigued by need to give equal chance of participation and higher representative sample where by attendance registries will provide for sampling frame (Kamuzora and Jamal, 2008).
1.8 Data collection techniques
1.8.1 Questionnaires
Questionnaire with mixture of both open and closed ended questions will be administered to respondents to increase the validity of responses. Questionnaires are advantageous in terms of economy, lack of interviewer bias, The questionnaire will be administered to form two adolescents; whereby attendance register to be obtained from academic officer will serve as sampling frame representatives will be selected using simple random sampling technique aged 15-19 from Ushindi Secondary School and Magomeni Baptist Secondary School at Kinondoni
1.8.2 Semi structured interview
An interview entails interrogation between a source of information and the information seeker (Fisher, 2010). Individual interviews will be conducted with ward Social Welfare officer and school patron/matron using semi structured interview. These respondents were/ will be chosen so as to solicit information about adolescents' accessibility to reproductive health Information and their perception on their use of reproductive information. This information will be used to triangulate information obtained from adolescents' questionnaires.
1.8.3 Focus Group Discussion
The FGD tool will be used to collect qualitative information pertaining to accessibility and use of reproductive service Information. A single focus group discussion will be comprised of 6-8 adolescents aged 15-19 years. A total of two FGDs shall be conducted in each school. One FGD shall be composed of students from two streams (form 1 and 2 and the other form 3 and 4).
The categorization was will be done to ensure respondents are comfortable to give their views as these two groups of adolescents could be having different information needs and seeking behavior. In addition, the gender of participants in the groups will be considered where girls and boys shall be treated differently. Gender consideration is crucial in having a balanced representation and views from respondents.
1.9 Data analysis
Quantitative data will be subjected into frequency and cross – tabulations using the SPSS Version 20.Sotware. On the other hand, qualitative data will be subjected to content analysis and used with quantitative data to triangulate and enrich an understanding of the subject matter.
1.10 Data Quality Control
Reliability of data is built by ability of research tools to constantly conduct the measurement process and obtain similar intended results (Rwegoshora, 2014), in similar perspective this study will pilot the data collection tools and findings from pilot study will be used to improve the tools.
1.11 Significance of the study
This research will contribute to the body of knowledge by providing an understanding on accessibility and use of RH Information among adolescents; such information will be useful by the donor and NGO s operating youth targeting reproductive health programs.
The results will be intriguing to policy implementers, development practioner and public at larger by informing them the status of youth access to RH information and the main source of RH information among adolescents. To the researcher this study will be a platform to critically broaden critical thinking and widen knowledge base on implementing applied research methodology in a field of information studies.
References
Fisher, C. (2010). Researching and writing a dissertation; an essential guide for business students. 3rd Edition. Pearson education pressn Decker R, M. Yasutake S. Ahmed, S. Sonenstein L, F. Blum R. Astone, N. (2015) Gender-based Violence Against Adolescent and Young Adult Women in Low and Middle Income Countries. Journal of Adolescents Health, Volume 56, Issue no.2
Godia1, P, M. Olenja M, J. Hofman, J, J and Nynke van den Broek. (2014) Young people's perception of sexual and reproductive health services in Kenya. BMC Health Services Research Kamuzora F. And Jamal, A. (2008). Research Methodology for Bussiness Social Science students. Mzumbe Book Project. Mzumbe Morogoro