Living on Campus vs. Home Essay Sample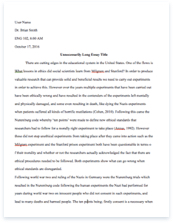 The whole doc is available only for registered users
OPEN DOC
Pages:
Word count: 560
Category: student
Download Essay
A limited time offer!
Get a custom sample essay written according to your requirements urgent 3h delivery guaranteed
Order Now
Living on Campus vs. Home Essay Sample
When attending a college or university, students can either decide if they would like to live on or off campus. This decision all depends on how far the college or university is located from home. This is a major decision the student must make. Living on campus is a different environment then living at home. Students who live on campus will be living with other students, and those students that decide to live at home must be able to commute to school. There are many advantages and disadvantages to living on campus.
Getting away from home and parents is the major advantage of living on campus to some students. Students can basically live by their own rules; nevertheless, without breaking the campus rules. Students are able to get away from their local friends and make new friends. They don't have to buy a car or worry or about using public transportation to attend school. Classes are all within a walking distance; as a result, some students can also sleep longer. Students can also help each other with activities, so they can enjoy themselves. Students must be responsible if they want to live on campus. Moving away from home is an important step in life.
Living on campus is a different way of living. The students will be living in a different society. They will be able to interact with various races and ethnic groups. Being able to learn about cosmopolitan culture in our society is an advantage since it helps the students understand and view society from a new perspective.
There are also many disadvantages of living on campus. Many people don't realize that most students get "home sick". They start missing their parents and High School friends. Sometimes on-campus students fail to get along with their roommates. This problem may affect the students' grades .It is also very easy for students to become distracted from their work and studies. All students study at different times of the day, while one student may be studying for an exam, his roommate may be listening to loud music. Such a situation may cause a disagreement between the students. Roommates must sit down and compromise. Also, when living alone students have more responsibilities. They need to wash their clothes, buy their food, and experience more personal responsibility brought by a new statue of independent living. Deciding whether to live at school or at home is a major decision. Students must sit down and think about the situation talking with someone who has experienced living on campus is a great idea. Meeting new people is not the problem. Trying to live and adapt to a variety of lifestyles require maturity, patience and understanding.
It is very difficult for students to choose campus life or home life while attending college. Everyone reacts differently to change. And the students that enjoy a variety of different people can choose to live on campus. Some students can't adapt to different people so they choose to live at home. Before attending college, the student should also review and include the pros and cons of living on campus .For some students there are more cons than pros and vice versa. By reviewing the college student will be better equipped to make the correct decision for himself which ever environment can best serve the individual's needs.