"Lord of the Flies" by William Golding Essay Sample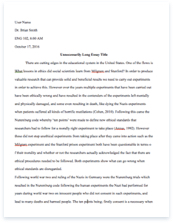 Pages: 15
Word count: 4,014
Rewriting Possibility: 99%

(excellent)

Category: novel
Get Full Essay
Get access to this section to get all help you need with your essay and educational issues.
Get Access
Introduction of TOPIC
I am comparing and contrasting Lord of the Flies, written by William Golding in 1954 and set on a Pacific island sometime in the future with Dr. Jekyll & Mr. Hyde, written by R.L. Stevenson in 1886 and set in Victorian London. Evil is personified in there books, but in different ways, as the authors' philosophies are different.
Both authors were influenced by books they had read and by their surroundings. There were two sides to Victorian London – the squalor of the old city, with the poverty and disease of the lower classes as well as the prosperous middle-class town. The men who lived in this 'new' town would have had to obey strict codes of morality, for example, to go to church on Sunday and not to drink to excess. Stevenson lived in the new part of Edinburgh and instead of doing what was expected of him, as a young, middle-class man, he sometimes went into the old town. His made Stevenson think of himself as a dual creature, just like Jekyll before he took the potion. He was also affected by the terrible crimes committed in his area, e.g. by Deacon Brodie, who was a craftsman by day and criminal by night, and also by the Penny Dreadfalls – short stories about the supernatural evils.
His literary influences include detective stories, since Dr. Jekyll & Mr. Hyde seems to be set out rather like one, as well as Gothic novels, such as Frankenstein by Mary Shelley, and perhaps even Darwin's Origin of the Species, because Darwin thought man was a beast, quite literally, and Hyde is described as "ape-like" and "troglodytic". On the other hand, Golding's literary influences were adventure stories, particularly The Coral Island, a book by R.M. Ballantyne. This and other adventure stories show evil as something that be conquered, but the experience of war made Golding think otherwise. At the time of writing, people were still coming to terms with the atrocities of Nazi Germany and what had been done in the concentration camps. Golding wanted to show that man is innately evil, because otherwise, people would not have committed the crimes they did willingly.
Golding uses two characters to portray evil, Jack and Roger. Jack symbolises lust for power more than anything, it is his primary want, whereas Roger grows to symbolise pure evil, as he deliberately kills Piggy. In the descriptions of both of these characters, there are similarities to Hyde. Jack is "ugly without silliness" – this is like Hyde "giving an impressing on deformity without any nameable malformation", they both seem to be ugly, yet the specific reason for which they are described so is not given, thus it seems that ugliness is part of their nature. The physical similarity to Roger is not great, it is only that both are small, Roger being describes as "slight" and Jekyll describes his alter ego as "younger, lighter.. I had lost in stature."
Hyde himself is described using metaphors and similes, as a "Juggernaut," being "ape-like" and "dwarfish". He is also associated with evil in these descriptions. "Satan's signature" seemed to be upon his face, and he was described as "particularly wicked-looking." Hyde speaks little, like Roger (who does not voice his thoughts at assemblies, even thought the most inarticulate, like Simon and Percival Wemys Madison attempt to), but when he does speak, he does not restrain himself, in the same way as Jack does not when he is angry. When speaking to Utterson, he cries one sentence with a "flush of anger", which shows that unlike all gentlemen, he shows how he feels.
Jack uses manipulation, for example in getting Samneric to hunt, instead of tending to the fire or to excite the littluns and make them want to hunt – after Jack shouts about how the beast can be defeated by hunting "the sound of mock hunting, hysterical laughter and read terror came from the beach", he can do this just with words. This is not at all like Hyde, because Hyde does not enjoy manipulation. Indeed, the only time we know Hyde manipulates anyone on purpose is when he writes the letters to Poole and Lanyon, pretending to be Henry Jekyll to get his chemicals. He does this for self-preservation, whereas Jack and Roger both enjoy manipulation, through torture.
Jack uses a different method than Ralph when speaking. Ralph is logical in his words, he plans out his speeches but Jack talks impulsively. This might be one reason why he is more successful, he can oppose whatever Ralph says straight away.
In Lord of the Flies the two evil characters develop the wickedness over time, but Hyde is evil from his "birth". At the end of the first chapter, when Jack is about to stab the pig, he cannot "because of the enormity of the knife descending and cutting into flesh, because of the unbearable blood". It is unbearable because Jack had never shed blood (I presume) before. The same goes for Roger. "There was a space round Henry, perhaps six yards in diameter, into which he dare not throw". The use of the word "dare" suggests that he is tempted but cannot because of the reason given further on in the paragraph. "Roger's arm was conditioned by civilization that knew nothing about him". He is still conditioned, he is not yet "himself".
After the humiliation of being unable to kill the piglet, Jack swears he would not show mercy next time. He does not, he is very excited when he kills the pig in Chapter 4, although he still dislikes the blood. "He noticed blood on his hands and grimaced distastefully", yet seems to be excited by this at the same time. "'There were lashings of blood', said Jack, laughing and shuddering". If Jack is, as I suspect, shuddering with momentary disgust, I think this is the time when the evil side of him comes out, his good side being disgusted of what he did, mainly because of the selfish reason of wanting to prove to his mind that he has power over himself.
Golding hints that there might be human fatalities because of Jack's willingness to kill pigs, combined with a couple of voiced thoughts. "Shove a palm tree under that and if an enemy came", he begins, referring here to the rock on the tail-end part of the island. If he meant beast instead of enemy, I think he would have said this, because he likes using that term, it gives him power. Instead, he leaves room for the enemy to be something or someone else. Later on, in Chapter 7, Jack suggests that a littlun could be used to act out the pig hunt, right after Robert says they need a pig "because you've got to kill him". Everyone laughs at Jack's suggestion, he is not told off for considering such a shocking thing.
After the death of Simon, Jack does not seem to have changed, even though it was his dance that caused death. However, the reader does not know whether Jack feels guilt because Golding never lets us see what he is thinking. This is different to Dr. Jekyll & Mr. Hyde because Stevenson lets us see through Jekyll exactly how Hyde thinks and feels. Jack might have too much pride to feel guilty or display it.
Jack has a particular person that he hates – Piggy. He bullies him in a number of ways because of his physical features, the first thing that Jack says to Piggy is "Shut up, Fatty". He takes Piggy's glasses without asking, hits Piggy over the head, smashing his specs on the rocks, gives him no meat after the hunt. Hyde does not have a particular person who he hates, but Lord of the Flies is an allegory, so Piggy represents many people that cannot protect themselves from abuse or exploitation. Hyde does not hate but I would assume he abuses and exploits the easily abused and exploitable as part of the pleasures he indulges in.
Roger is the character that represents pure evil, and like Hyde he does not want power or recognition. Both characters do not seek attention, speak little, and when they do they use short sentences because all they need is to pass their message on. They do not see talking as an activity, but as something occasionally necessary.
The two crimes considered the worst in most, if not all, civilized societies is murder and rape, and those that commit these are considered evil. Well, Hyde and Roger had both killed for enjoyment, they had killed to be rid of a temporary nuisance, with neither Carew nor Piggy wishing to provoke. Both of these killings are associated with madness – "Roger, with a sense of delirious abandonment leaned all his weight on the lever," and Jekyll describes how he was suddenly in the "top fit of my delirium," as well as how "no man morally sane could have been guilty of that crime upon so pitiful a provocation". To the reader, both these killings seem crazy because these killers must have felt what could only have been described as insanity.
As for rape, even though Lord of the Flies is an allegory, Golding does not let us
forget that Jack and Roger are still children, and their passions lie in things other than sex. Yet Golding still manages to make Roger do something similar, Roger pushes his spear into the sow's backside, violating her in this cruel way to kill her. I think this is the first time the narrator uses the female pronoun (apart from when Piggy refers to his aunt), and in the chase paragraph, the words "she" and "her" are used at least twelve times. This constantly reminds the reader that she is female, which makes what Roger does seem all the more like rape. For Hyde, Stevenson does not say exactly what his pleasures are, but because his other self, Jekyll, is an old bachelor, I do not think it would be unlikely that some of them are sexual. When combined with the idea that Hyde seems repulsive to all human beings that encounter him, some or most of his pleasures may involve rape.
The boys commit many acts of destruction and violent selfishness, for example they set fire to the forest accidentally when creating their own fire and later on Jack hits Piggy, smashing his glasses. These examples are not as extreme as the incidents later on in the book, e.g. the killing of the sow.
This takes place because of Jack. He wants to demonstrate his newly obtained power to himself by hurting. There is a sharp contrast here; Golding describes the peace the pigs lie in, enjoying the shade. As soon as Jack gives the monosyllabic signal, this scene changes completely, it becomes chaotic with at lot of noise being made. The sudden disruption of "maternal bliss" shocks and makes this act seem all the more evil. In describing the killing, Golding uses short, purposeful and violent sentences, which make the event seem very vivid and vicious. Golding also makes it clear how terrified the pig is with words such as "terror", also how she is frantic, trying to run away. This makes the reader sympathise with the sow and so the hunters seem wicked. "Struck down by the heat, the sow fell and the hunters hurled themselves at her." They show no mercy, stabbing her wherev from coursework.info er possible, making the death violent even though she has little energy left to fight back, and would die quickly.
The killing of Simon happens because Jack insists on a dance. The boys dance because it is fun, appealing. Roger stops playing the pig and becomes a hunter, leaving the circle empty and needed to be filled by something. That is when Simon came. I think that the boys would not have stopped, but they still knew it was Simon. Golding describes it in a way that seems to be through the eyes of the crowd. They would have seen him as a "thing", which is the first description, and as "the beast", which is the second description, but Golding also refers to him as Simon. I think this is the time when they recognise him, but choose to ignore this because of their excitement. As before, the sentences are fairly short to build tension, yet give vivid images through the words used. There are a lot of violent verbs, i.e. "screamed, struck, bit, tore". Golding also mentions "the tearing of teeth and claws", claw being a word associated with animals, thus Golding makes it seem as though they are no longer human. Their ability to recognise a fellow human being and attack him so makes this seem to me like a particularly wicked incident.
Piggy's death is different to the other deaths because it is very emotionless. The sentences are short, but it lacks the violence that makes it seem particularly evil. The frankness of the paragraph is shocking and rather unsatisfying, when compared with other deaths and acts of violence. But it is a death in true "Piggy" style, a scientific and accurate account that cannot be described as either good or bad.
In Lord of the Flies, evil incidents usually involve groups of boys, except for the killing of Piggy by Roger. The boys are easily excited and the person who makes them excited, Jack, has power over them to make them do whatever he wishes. Roger does not need to be manipulated to make him do evil deeds – he is evil already.
In Dr. Jekyll & Mr. Hyde, Hyde acts alone, but this could be because he was "alone in the ranks of mankind, pure evil". The first incident is described subjectively, which gives Enfield more chance to emote. He describes the terrible way in which Hyde tramples over the child's body, twice mentioning that she was screaming, as well as the calm manner in which Hyde does this, describing him as "perfectly cool" and "making no resistance". This is a sharp contrast to the hate that is expressed by the women, "wild as harpies", and the usually emotionless doctor, who "turned white and sick with the desire to kill him". Certainly, everyone who sees Hyde is repelled by his appearance or his nature. Perhaps they see in him an aspect of themselves they are ashamed off, and find that, instead of accepting it, they deny it and try to disassociate themselves from it by showing anger anger.
The Carew murder was quite different. Unlike the trampling of the child, when Enfield "longs for the sight of a policeman", the world before the incident is described as seen through the eyes of a "romantically given" maidservant, as peaceful and tranquil, with no cloud and the lane "brilliantly lit by the moon". This is not unlike the setting before the sow's murder, when there was no movement, just peace. But presently the maidservant notices two figures and it is clear that she looks at Carew more than at Hyde. This helps in shocking the reader because Carew is described with such words as "beautiful", "kindness of disposition" and "innocent", which makes the contrast of the murder even greater. Stevenson uses vicious words in one long yet punctuated sentence – "trampling", "hailing", "shattered", etc., and uses the word "storm" to illustrate just how powerful these blows are. It also leaves the reader a gruesome image to think about – "the bones were audibly shattered", after which the maidservant faints and leaves the reader to imagine what things Hyde could have done to poor Sir Danvers. We know that the thick cane was "broken in the middle under the stress of insensate cruelty", and that there seemed to be no apparent motive (the attacker did not take the items of value off Carew's body, and robbery was really the only thing a random attack like this could be partly justified by) which makes then incident all the more terrible.
Most of the evil incidents in Lord of the Flies occur in the daytime, whereas those in Dr. Jekyll & Mr. Hyde take place after the sun had set. This might show how Stevenson thinks man is both good and evil, displaying the latter in the darkness of the night, in the same way as Deacon Brodie committed his crimes in the night. Golding, in thinking man is innately evil, lets the children perform these acts in the day because they do not need the night to hide them. What compensates for this, though, is paint. They can be behind a mask. "Jack felt safe from shame or self-consciousness behind the mask of paint", it is a symbol of anonymity, hiding all the qualities the civilised take pride in, the identity and reputation going with them. All that is left are physical skills such as hunting.
The main symbol of evil throughout Lord of the Flies is the beast. Although the beast does not exist, the symbol develops throughout the novel, and the further the children sway from civilization, the more powerful this idea becomes. At first, the beast is just a fear of the unknown, yet the fear only exists because the boys believe this unknown to be evil automatically. From them on, the beast becomes a source of power for Jack. He knows it is a source of power because he still plays with the boys' fear of it even after what he said was the beast had died. But after its introduction, he uses the prejudices the boys hold against the beast in the same way Ralph makes them associate fire with home. The fear of the beast overpowers this association as the children adapt to their new life and forget about home. The beast is not real, as such, until the parachutist falls on top of the mountain.
The beast is the evil in man, and since Golding believes man to be wholly evil, it is quite ironic that what the children mistake for a beast is actually human. The darkness is an ambiguous symbol, which could stand for either tranquillity or evil, but the boys automatically associate it with the latter. The darkness combined with the shape of the parachutist give the five boys that see it so an image that becomes, in their imagination, more exaggerated and grotesque. "The beast had teeth and big black eyes", says Ralph – it is a terrible distortion of the dead parachutist, but this distortion was enough proof for them that the beast existed, and being able to prove the beast's existence gives Jack more power. He has justification for his actions – to keep the beast at bay as if it were some sort of evil deity. A primitive religion of sorts develops, with the rituals and sacrifices primitive religions are thought to have. And yet it is the boys themselves who hard the island and one another, their belief in the beats is the cause of Simon's death and the sow's death. This "beast" would not have harmed either.
In Dr. Jekyll & Mr. Hyde, one of the not-so-major themes is secrecy and mystery. Stevenson preserves the mystery right up to the end by using an unusual narrative technique, whereby there are many narrators, e.g. Utterson, Enfield and the maidservant, so that Dr. Jekyll's secret is not revealed. The symbols that Stevenson uses to shoe secrecy are doors and the thick fog that surrounds London. There are a few references to doors, e.g. "You must not doubt my friendship, even if my door is often shut to you," Jekyll tells Utterson, which could be taken figuratively, with Jekyll wanting to preserve the friendship despite the secrets he must hide. Then, of course, there is that door at the beginning, which was equipped with neither bell nor knocker. No-one can get in or is able to even ask to get in, which accentuates the secrecy. The fog does the same, it symbolizes secrecy and how it is all around London. This relates to the theme of evil because people would not have secrets if they were not evil. This is why blackmail and bribery come into the story, Utterson thinks that Hyde is blackmailing Jekull and Hyde bribes that family into saing nothing. Blackmail was very easy in this fragile society because of the huge amount of indivulged secrets, and both bribery nd blackmail are evil acts because they prevent the truth from being told, and put more at risk. If the child's family made Hyde's name "stink gtom one end of London to the other" without taking the money, Hyde would have been avoided and living in that situation would have been difficult for him. This shows how people can buy themselves a good reputation with enough money and not have to earn it, so their secrets and desires can be hidden behind what the repressive society wishes people to be.
Lord of the Flies could be viewed as an allegory of political power. In that respect, I think Golding's view of evil is that everyone has evil in themselves, yet it needs a catalyst to start it off, which is Jack. He becomes evil through his lust for power, and once he is chief, he abuses this power. This does not happen all the time, as we can see with Ralph, but with certain individuals. However, although not everyone possesses a craving for dominance, we all have evil within us which we hide. Every character indulges in some kind of destructive or violent act, even Simon! In the very first chapter, he helps Jack and Ralph to push the large rock off the cliff, causing the second act of destruction (the first was the plane making the scar). We try to restrain ourselves, yet people like Jack can manipulate us and work us into a frenzy. This works best in groups, each member encourages the other by showing support for whatever cause the eloquent orator wants the group to support and makes each person lose his identity. This is why Simon died, each individual would have been able to stop, but as a group they could only carry on.
Stevenson's view of evil is similar to Golding's except he did not believe anyone could be pure evil, Hyde was the first. He voices his thought on the subject of evil through Jekyll in the final chapter of the book. "Man is not truly one, but two", he states and continues to talk of the duality of man. I think he believed that human being possessed both evil and good, and because of the repressive Victorian society, the people were curious about their evil sides because the balance is tilted, towards "good". The evil side only develops and takes over if there is no other outlet for desires that yearn to be fulfilled. It should not be separated, because pure evil is a terrible thing to be let loose, and because it will return in an unpleasant form – "my devil had been long cages, he came out roaring". But both authors make it clear that we are all susceptible to evil.