Loyalty: Genuine Friendship Essay Sample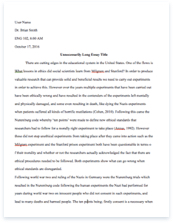 The whole doc is available only for registered users
OPEN DOC
Download Essay
A limited time offer!
Get a custom sample essay written according to your requirements urgent 3h delivery guaranteed
Order Now
Loyalty: Genuine Friendship Essay Sample
Being loyal is a characteristic everyone desires from a friend. "As a person needs air to live, a friendship needs loyalty to live as well" –Anonymous. Loyalty is very important in a genuine friendship. Finding a loyal friend who shows true devotion isn't easy. Friends trust each other and can easily share secrets. A good friend is always ready to help in any situation. Loyalty is a characteristic that one gains from another person. The depth of loyalty within a friendship or any relationship all depends on the time two friends have known each other. Loyalty is the foundation of any valued friendship; it should never be mixed in with business or for anything that gives one financial gain. The foundation of any relationship is based on loyalty. Friendships are usually started with similarities that two individuals share. From loyalty, other characteristics that friendships are built on are gained by characteristics such as trust, honesty, and love; which are all based on how loyal one sees to another.
The more loyalty one gives to another, the better and more valued the friendship is. For example, in the 2001 film The Fast and the Furious, detective Brian O'Conner is out to get ex-convict Dominic Torreto for stealing electronic goods. Brian O'Conner goes undercover to gain the loyalty, trust, and respect of Dominic Torreto, the leader of the heist. O'Conner and Torreto become real friends by the end of the film and that is when Torreto finds out that O'Conner is an undercover agent. The movie ends with O'Conner letting Torreto escape from FBI agents. He let him go out of respect for their friendship. Being loyal to Torreto was more important to him than letting his friend being incarcerated. Even though they haven't known each other for a long period of time, O'Conner is still loyal and that is what people seek from other people, loyalty. True friends shouldn't mix personal affairs with business or for anything that gives one financial gain. In the 2011 film Ides of March, a movie about campaigning and politics, the supporting characters break each other's loyalty. The supporting characters, Stephen Meyers and Ida Horowicz had an unspoken respect for each other.
During the film the respect and loyalty was broken when Horowicz was told about Meyers meeting with Duffy, the opposing candidate of Meyers. After the finding of the meeting Horowicz sees Meyers as a disloyal person and befriends him. Meyers really knew that Horowicz only wanted their friendship for her financial gain. Horowicz planned to get an inside story from Meyer's campaign. She schemed to get details about the campaign to boost her financially by publishing and stealing information to her employer. Meyers and Horowicz both back stabbed each other and broke each other's loyalty. The loyalty was broken when Horowicz abused it for her own gain. Towards the end of the movie, Meyers becomes the campaign manager and then Horowicz wants to be "best friends" with Meyers again, just so that she can get the scoop on the campaign.
That shows that people think it is fine to abuse the loyalty of their friendship and think that they can still be friends after abusing it. Loyalty is the key to a genuine friendship. People are loyal, but then are things that make that make them compromise their loyalty towards someone or something. People sacrifice loyalty for other things such as money or power. But there are also people that stay loyal to a person that they've known for a long period of time or even a short period of time such as a friend, a lover, or a family member. Finding someone that is loyal can be very hard to come by nowadays because people want loyalty from someone, and people keep to themselves because they don't want to get betrayed. But if we don't take the risk of letting someone know our secrets then we would never know if we trust someone. Life is about taking risks, and if the risk is letting someone into their life and trusting them with their secrets, they could either be loyal to their friend by not telling anyone anything or disloyal.