Mabel Staupers Essay Sample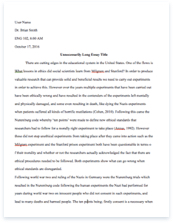 The whole doc is available only for registered users
OPEN DOC
Pages:
Word count: 807
Category: nursing
Get Full Essay
Get access to this section to get all help you need with your essay and educational issues.
Get Access
Mabel Staupers Essay Sample
Mabel Keaton Staupers was born in Barbados, West Indies on February 27, 1890. She came to the U.S. in 1903 with her parents. She attended a nursing school in D.C. and graduated with honors. After graduating, she married James Max Keaton only to later divorce. Her second marriage to Fritz C. Staupers ended with his death in 1949. Mabel Staupers was influenced by many factors growing up. She saw the discrimination against African Americans as a child. Later she would see first hand the struggles of African American nurses and patients during the early 1900's. During this time it was difficult for an African American nurse to find employment. They often had to take positions as private duty nurses, since hospital positions were few and far between. It was also difficult for African American nurses to obtain a higher education, as there were few higher education colleges excepting African American students. Another significant influence for Staupers was the limited membership into nursing organizations for African Americans. If they were able to gain a membership, they were often limited memberships. All of these struggles influenced Mabel Staupers to work towards ending discrimination for African Americans. Throughout her career, Mabel Staupers had many successes.
Staupers was one of the few African American nurses to be granted admission to nursing school. She attended Freedman's Hospital School of Nursing in D.C. in 1917. After graduating she moved to New York to help establish the Booker T. Washington Sanitarium in Harlem, New York. This was the first hospital to treat African American's with tuberculosis. She also held a position on the Citizens' Committee affiliated with the New York local Association of Colored Graduate Nurses. However, she found the most pride in her position with the National Association of Colored Graduate Nurses (NACGN). She was not only a member since its inception; she was named the president of the NACGN during the years of 1949- 1951. The NACGN mission was to end discrimination towards African Americans by college officials and the healthcare system and to strive towards integration of African American nurses into all aspects of nursing. One aspect of nursing that Staupers felt strongly about was limited access African American nurses had in the Army and Navy Nurses Corps. During WWII, there was a shortage of nurses and Staupers took full advantage of the situation.
She used the shortage as leverage for African American nurses to gain access to the Army and Navy Nurse Corps. She worked closely with Eleanor Roosevelt through a letter writing campaign, convincing politicians to recognize all nurses; black or white. By 1945, Staupers successfully ended discrimination in the Armed Forces Nurse Corps. Another success for Staupers came in 1948, when her years of work with the NACGN helped African American nurses gain full acceptance into the American Nurses Association (ANA). Mabel Staupers was honored for her work in nursing by receiving many awards. She was a recipient of the Mary Mahoney Award, an award given twice a year to those that have made significant contributions to those that help promote desegregation. Staupers was recognized for her leadership and contributions to African American nurses by receiving the Spingarn Medal for 1951. The Spingarn Committee is affiliated with the NAACP. She was also inducted into the ANA in 1996 due to her valiant efforts to eliminate discrimination.
This was a huge accomplishment given that this was the same organization that restricted memberships to African American nurses until 1949. Staupers, at the age of 71, documented the history of African Americans in nursing in a book titled, No Time for Prejudice. Although described as an autobiography, I found it to be more of an account of the history of nursing. She goes into great detail about the woman and their positions and their contributions to the profession. It is apparent from her book that she was proud of the woman she was surrounded by and wanted to have a historical account of the history of nursing for future generations to enjoy well past her death in November of 1989 at the age of 99. Mabel Staupers changed the world of nursing, not only for African American nurses but for all nurses. Because of her fight, a set of standards for training amongst all nurses was established, the number of schools admitting African Americans increased from 14 to 330 from 1934 to 1950, and desegregation occurred. Although many nurses worked towards ending discrimination Mabel Keaton Staupers was a significant piece to the puzzle.
Bibliography
"Mabel Keaton Staupers." Encyclopædia Britannica. Encyclopædia Britannica Online. Encyclopædia Britannica, 2011. Web. 17 Oct. 2011. . "Mabel Keaton Staupers." Notable Black American Women. Gale, 1992. Gale Biography In Context. Web. 17 Oct. 2011. Nursingworld.org. 1996. . Staupers, RN, Mabel Keaton. No Time For Prejudice. New York: The Macmillian Company, 1961