Macbeth – Evaluation on a Personal Performance Essay Sample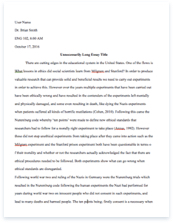 The whole doc is available only for registered users
OPEN DOC
Pages:
Word count: 945
Category: tragedy
Download Essay
Get Full Essay
Get access to this section to get all the help you need with your essay and educational goals.
Get Access
Macbeth – Evaluation on a Personal Performance Essay Sample
We were put into groups of three or four people and we were told to "mark the moment" of when Lady Macbeth persuades Macbeth to kill the king. In my group we decided to start out piece with a still image. We felt that this would help the audience understand what we were doing and also help them see what our characters were feeling. In our still image we had Macbeth at the front kneeling down, with Lady Macbeth directly behind him and the King on the left of them and one of the guards on the right of them. This showed the audience that Macbeth and Lady Macbeth had the "power" in the start of the piece and that they ultimately had to choose what to do.
The piece started off with Lady Macbeth slowly walking forwards and whispering "You must kill the king" five times in a row, constantly getting louder. On the fifth time of saying it all of the characters changed their facial expressions at the same time. Macbeth begins to look worried and anxious, Lady Macbeth looks angry, the guard is suddenly asleep lying on the ground and the King's facial expressions suggest that he pondering about something.
Once everyone finished holding their freezes for 10 seconds, each character revealed their inner thoughts. Macbeth revealed his first. He talked about how confused he was and that he could go one of two ways – kill the king and become king himself or decide not to kill the king himself and living the way he was. He continued to "discuss" the pro and cons and then said that he felt he was under a massive amount of pressure from his wife, but felt that he had to obey her as she meant so much to him.
This was followed by Lady Macbeth's inner thoughts. She described how she thought that Macbeth was being "incredibly selfish" and "untrue to himself" and that he MUST kill the king.
The King then marched up and down the room twice before saying a word. This showed the audience that he was deep in thought. He then said "I do love life at the moment. But I can't help it. I keep on getting this dreadful feeling in the pit of my stomach. It's almost like someone is trying to tell me that something is going to happen. Something very bad".
After this we went back into our original positions and did exactly what we did at the start of the piece – (We got into exactly the same positions as before and Lady Macbeth once again repeated "You must kill the king" with exactly the same intensity as at the beginning. After this however, Macbeth clutches his head in frustration and screams out "Ok I'll do it!" At this moment everyone freezes in exactly the same positions as at the start which shows the audience that nothing is really settled and that everyone is still unsure about what is going to happen.
Other Groups' Performance
We watched a piece that I was very fond of. The reason I liked it was because of the fact that they had a narrator, unlike anyone else. I felt that as a viewer it helped me hugely in understanding what each and every character felt and what each movement meant.
The piece began with Macbeth, Lady Macbeth and the King all in a line facing the audience – (The narrator was sat at the side of the room). It started with them all saying "Kill the king" and then going into their group still image. This used two chairs. Macbeth and Lady Macbeth were both stood on the chairs bearing down on the King. This showed the audience that they had much more power than the king, which was the point of the exercise.
Macbeth then came out and gave a short monologue. This described his desire to kill the king, "ripping him to shreds." He then described how he was scared of his brutal wife. I became apparent to the audience that he did not want to show and reveal his animosity to Lady Macbeth, and this was done in a redolent way. He then froze facing the audience with a bold, audacious expression on a trembling face. Lady Macbeth stepped forward and shouted, "Murder him!"
Someone in the background, presumably a servant then whispered, "No," which was slowly echoed by the other actors.
I felt that this was superbly directed and brought really emotion to myself and the whole audience.
Then, from out of nowhere, the actor playing the role of Macbeth collapsed. Stood over him was Lady Macbeth, or so we thought. There had been a triple role reversal, and it was the king lying dead on the floor, Macbeth standing over him. This, also sounding complication, was well produced and I liked the way that it was so effectively put into practice.
This group nor only performed well, but showed that they had put a lot of time and effort into the piece, using effective strategies and ideas to convey the message of a cold, cruel-hearted scene.
In this story, Macbeth longed for ultimate power. It can easily be said that over the years, this has not changed one bit. People are absorbed by wealth and authority.
This had completely enhanced my personal view of understanding of fame and power. The techniques that were used were simply and well done. It has let me see that things that events that happened hundreds of years ago still apply now.