Macro Market Analysis Essay Sample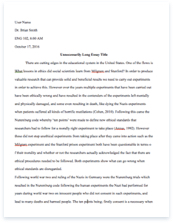 The whole doc is available only for registered users
OPEN DOC
Pages:
Word count: 702
Category: market
Download Essay
Get Full Essay
Get access to this section to get all the help you need with your essay and educational goals.
Get Access
Macro Market Analysis Essay Sample
The macro market analysis of the apple-berry juice will be discussed in this paper with emphasis on the external environment (PEST). The external environment is important when marketing a product and hence should be considered carefully so as to provide quality goods to the customers as well as maximize profit and reduce cost. The various factors that will be considered are Political environment, Economic environment, Social/Cultural environment and Technological environment. POLITICAL ENVIRONMENT
The political environment is very important in the macro market analysis of the apple-berry juice product. The current government in United States encourage companies to produce more goods which in turn will lead to increase in employment. There are political factors or policies that aid in production of farm products that serve as raw materials in juice production. The "Farm Bill" is an example which has made it easier and affordable for farmers to produce farm products with less cost through government subsidies. When the raw materials are cheap in production, definitely the cost of goods will be reduced and affordable to the customers. Moreover the Center for Disease and Control (CDC) has been fighting to reduce obesity and diabetes among the various people in the county through awareness programs and information sessions. This CDC's policies will aid in the sales of the product because people are already aware about the various measures that will aid them in avoiding diabetes and obesity, which is dieting on low sugar products. These political factors will inhibit the product success in the market. ECONOMIC ENVIRONMENT
Mississippi State, has the highest rate of diabetes in United States, which is 33.1% followed by West Virginia and Alaska with rate of 31.6% and 31.4 respectively (http://www.gallup.com/poll/122405/obesity-diabetes-across-states-clear-relationship.aspx). The various states mentioned have high rate of diabetic people and will thus be economically wise to market in those areas. Advertisement price rates will also be low in the aforementioned states than the bigger ones like New York or California that have astronomical advert price rates. The production cost is another economic factor the will inhibit the product success in marketing because of location and development. Economically theses states will be more successful due to their geographical location and city costs. SOCIAL/CULTURAL ENVIRONMENT
The high rate of diabetes in the aforementioned states will inhibit the marketing of the product because the people living with diabetes will be health conscious of their disease and will therefore try any possible method or product that will help them. Population growth will aid in the availability of workers and reduce labor costs. TECHNOLOGICAL ENVIROMENT
Improvements in Plant genetics that will increase farm production is a technological environmental factor that should be considered. Some plant products are seasonal and hence not available all the time, but with advanced research in plant genetics, plants can now produce throughout the year without problem or pest attack. This advancement in plant genetics technological will help the Low sugar Apple-Berry Juice.
Segment for the Ideal Customer of Low Sugar Apple-Berry
People with type 2 diabetes cannot produce insulin that is necessary in sugar digestion. This is as a result of the body immune system attacking and destroying the insulin producing cells in the pancreas, called beta cells (http://jdrf.org/about-jdrf/fact-sheets/type-1-diabetes-facts/). There are 3 million people with Type 1 diabetes and approximately 80 people per day are diagnosed with Type 1 diabetes in the United States; Type 1 Diabetes (T1D) accounts for $14.9 billion in healthcare costs in the U.S. each year (http://jdrf.org/about-jdrf/fact-sheets/type-1-diabetes-facts/). These facts shows that is a large market that is expanding on daily basis and will continue if not checked properly with necessary methods, precautions and products.
Low Sugar Apple-Berry juice will be segmented towards the T1D patients because this product is mainly for them since it has low sugar content. It can also be segmented towards obese people that wants to lose weight and still enjoy low fat products.
These people can be reached through awareness programs that emphasize about the health risk of type 1 diabetes if not checked properly. Adverts should be mainly targeted towards states with high diabetes rate so as to encourage them to buy the product which will help them in managing their ailment.