Major Paper Outline Carlton Essay Sample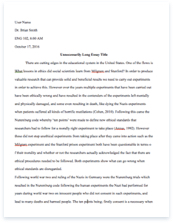 The whole doc is available only for registered users
OPEN DOC
Download Essay
A limited time offer!
Get a custom sample essay written according to your requirements urgent 3h delivery guaranteed
Order Now
Major Paper Outline Carlton Essay Sample
Rowland Hussey Macy's determination and ingenuity paid off at the age of 36 with the launch of R.H. Macy & Co. He adopted a red star as his symbol of success, dating back to his days as a sailor. First-day sales totaled $11.06 but by the end of the first full year, sales grossed almost $90,000. By 1877, R.H. Macy & Co. had become a full-fledged department store occupying the ground space of 11 adjacent buildings. Macy's entered 2005 with about 240 locations, primarily on the East and West Coasts. With the conversion of all Federated's regional store nameplates in March 2005, Macy's grew to about 425 locations across the country. In September 2006, with the conversion of stores acquired from The May Department Stores Company, Macy's now serves customers through approximately 800 stores in virtually every major geographic market in the United States, as well as the macys.com
website (http://www.macysinc.com/aboutus/history/macysahistory.aspx).
Macy's is one of the biggest department stores in the United States and presents one of the best services to customers. Macy's is a powerhouse company that many other organizations compete to be like or to try to immolate to lead in their particular industry. Macy's Inc. has great leadership and brings about great talent within its organization. Macy's Inc. formed a great strong partnership to form the powerhouse of today. Sometimes doing business solo will eventually wipe organizations out; even if the business has great customer service, great quality and a low retention.
Macy's Inc. is pretty much consistent with quality and customer service but we all know nothing is perfect and nothing is operated without any incidents that are not positive. We all know that in order to get better, we must learn from our mistakes. Taking what you have learn and apply it to become better brings about quality management. Discussed in our text, many of the philosophers have their own spin on what are the best steps and guidelines for regulating people's aspects. Deming, Jran, Crosby and Feigenbaum all have great theories that can applied and combined to assist with producing and monitoring quality. Macy's Inc. has to find out what quality techniques and approach that will keep them current and competitive.
Opportunities:
When opportunities present it, jump on it! Macy's Inc. has many opportunities as follows: -Acquisitions –Asset Leverage –Emerging Markets –Expansion –Product Service Expansion -Takeover
Macy's Inc. is a leading in many areas but taking advantage in these areas will expand their brand and services in a much bigger circuit. Eventually, Macy's overall objective should change from leading to taking over.
Six Sigma: The Director of Quality position reports to the Vice President of Process Management and is responsible for driving Lean/Six Sigma strategic improvements and innovative change throughout the organization. Black Belts partner with business and operations leaders to define and prioritize opportunities as well as lead major initiatives related to design and implementation of innovative process and technology changes within Macy's. Drive positive results for key business goals and Key Performance Indicators (KPI's) Key Accountabilities
· Develop area/organization continuous improvement strategies that support the overall Macy's Six Sigma business strategy. · Management and execution of improvement plans that support the strategy · Lead project teams for major initiatives · Lead various activities and projects in the utilization of Lean and Six Sigma methodologies · Facilitate the use of Lean and Six Sigma tools throughout the organization · Teach basic Lean and Six Sigma tools
· Serve as a resource for Six Sigma analysis
References
Steward, David. (2004). Doing Business by the Good Book. New York; NY: Hyperion Books.
Weinstein, Justin. (8/21/2012). Macy's Continues to Deliver and Be Undervalued. Retrieved from: http://seekingalpha.com/article/818591-update
Collins, Jim. (2009). How The Mighty Fall And Why Some Companies Never Give In. New York, NY: HarperCollins Publishers.
****http://www.termpaperwarehouse.com/essay-on/Bsop588-Course-Project/106654