Malham a Quiet Village in the Yorkshire Dales Essay Sample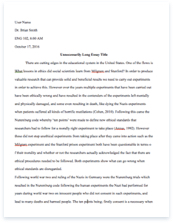 Pages: 3
Word count: 572
Rewriting Possibility: 99%

(excellent)

Category: village
Get Full Essay
Get access to this section to get all help you need with your essay and educational issues.
Get Access
Introduction of TOPIC
Malham is a national park in the Yorkshire dales, It is well known for its limestone features such as Malham cove witch is over three hundred ft high, The cove has a limestone pavement which has very deep gaps between them. At the top of the cove there is the pavement which is a group of blocks these are called Clint's and the gaps between them are called Grykes.
[Diagrams]
Also Malham has got a number of waterfalls there is one in Janet's Foss and one in Gordale scar these are the diagrams for Gordale scar and Janet's Foss.
[Diagrams]
Malham village has a number of attractions and conveniences like B&Bs such as Beck hall, Dale house and the Buck inn (which is a Pub and Hotel).
They have campsites for example there is one at the rear of the Townhead barn.
Malham has a few Ca?fes which has a very good value for meals and drinks they are called Olde Barn Cafe and The buck inn but there are a few more with hotels and campsites attached to them.
Malham is a very quiet place which gets a lot of visitors at weekends mostly walkers and
rock climbers who climb up Malham cove which is over 300 ft high. It is very dangerous because at the edge its is very unstable because of visitors walking to the edge it is getting weaker each time and soon it would be ready to collapse. With the visitors walking so much over each block on the pavement its eroding away and the start to bob around and when the blocks get wet it can get very slippy also the Grykes beside each one are about 5-7 meters deep and in some of the gaps there are small trees and grass shrubs growing out of them and the visitors who visit this area drop litter down them this could kill some of the trees etc, but the last couple of years there have been dramatic changes people have tried to take all there litter home and because it's a national park there are hardly any bins there this is because the big garbage vehicles sometimes cannot get through and cannot get up to the top of Malham cove if that did happen it would cost a lot more so what the moral is for the visitors to take there litter home so it is cheaper that way and as the saying goes 'Take nothing but pictures and memories and leave nothing but footprints.'
This diagram shows a little of what happens when rubbish is put down each of the Grykes.
[Diagrams]
And in Gordale scar and Malham cove there are resurgences these are were water come out of the ground mysteriously.
This diagram shows resurgence in as much detail as possible.
[Diagrams]
There rocks are mostly made out of limestone in malham because a very long time ago it used to be under the sea and malham cove was a huge waterfall.