Managing abuse Essay Sample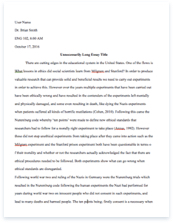 The whole doc is available only for registered users
OPEN DOC
Download Essay
Get Full Essay
Get access to this section to get all the help you need with your essay and educational goals.
Get Access
Managing abuse Essay Sample
A common reason why abuse may be inflicted by a carer is because they be feeling in despair, frustrated and stressed, because caring for someone who is vulnerable and dependent is extremely demanding, both physically and mentally. Carers may feel isolated and alone, because they provide care for that person for long periods of time, which effects the time they have to themselves. Decisions about how and when to intervene are still is proved difficult.
Interventions are shifted to approaches that are more respectful of the rights of the vulnerable adult. These approaches are based on increased understanding of help seeking behaviours and the power of social support. Programs need to consider special approaches to for vulnerable adults, as they tend to be more isolated than children, and there are no organisations provided to protect those in need, e. g. the NSPCC for children. However, this is not to say that children are always protected from the danger of abuse occurring.
Respite, temporary relief for caregivers and families, is a service in which care is provided to children with disabilities, chronic or terminal illnesses, and/or to children at risk of abuse and neglect. Crisis nurseries, a type of respite for children at risk of abuse and/or neglect, were first developed in the early 1970's. Crisis nursery programs were also designed to offer an array of support services to the families and caregivers of these children.
Crisis nursery programs provide a safe and supportive environment for children as well as a non-threatening resource for parents and caregivers. Most crisis nursery programs offer childcare free of charge for a maximum of 30 days in any year. This care is usually available 24 hours a day. Most programs accept children at any time, day or night, in order to relieve a potential or existing emergency in the family. Support is needed, not only the vulnerable person, but also to their carers, to help them provide better care and understanding of the feelings they may have.
Other Support services include family counselling, individual counselling, case management, parenting classes, access to medical services, home management training, help lines, substance abuse prevention counselling, and developmental assessments. Also, there are respite services available for adults who have learning difficulties, physical disabilities, etc. The provision of respite services for people with learning difficulties is widely believed to be crucial to enabling them to remain at home.
The most common services available include day services, family-based respite, volunteer or befriending schemes, hospitals, holiday respite, and domiciliary services. By allowing the carer to have a break from caring, they are more likely to feel relaxed and less stressed. Advocates are useful to allow those deemed as vulnerable, to take control of their lives, develop and sustain feelings of personal worth and self esteem, promote individual support through individual planning, and help those learn the skills needed to speak up for themselves in potentially abusive situations.