Managing for Sustainability Essay Sample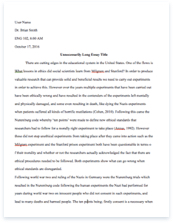 The whole doc is available only for registered users
OPEN DOC
Get Full Essay
Get access to this section to get all help you need with your essay and educational issues.
Get Access
Managing for Sustainability Essay Sample
In today's modern world doing research online may be the most accessible and convenient way to go. There are millions of websites with endless amounts of information on thousands of topics out there. However, one of the troubles facing information seekers is the accuracy of the information out there and how to go about narrowing down the thousands of results produced. During the meeting with Professor Livermore he provided some helpful tips on how to find reputable and not so overwhelming results.
First and foremost we learned that searching for reputable sources does not include Google or Wikipedia. Although those search engines can produce reputable information for gathering ideas, they however are not to be used for scholarly information. The better resource would be to use the University libraries tool provided. Those sites offer access to scholarly articles that are reputable and recent. When searching on these sites you want to use the "Advanced search" option. This allows you to narrow down results to precisely what you are looking for. Some of the options in advanced search are time period, using only certain keywords, and type of article you want to find. This is an extremely helpful tool because to provide scholarly information in a paper or project the information should be as recent as possible; information from over five years ago may no longer be relevant. The advanced search helps to narrow those results down.
Many times individuals will attempt to create searches to find answers to an exact question. They will go about their search by using the exact question as the search criteria. However, this produces an array of information that is not precisely providing an answer to the question at hand. It is important to notice the most substantial words or phrases of the question and use those to create the search. For example, when searching for how to find the best practices for management in regards to supporting the natural environment, using the words "management" and "sustainability" would most likely produce the best results. Using the word "environment" would more than likely produce a massive number of results that are irrelevant to the topic. We learned from the Professor that rephrasing a question using different words sometimes would sometimes produce good results as well.
If the researcher is unsure of other ways to rephrase what is being asked; many of the search engines have a thesaurus option. This option provides the ability to use other words to provide more accurate search results. It also allows for narrowing down the type of article produced. For example, check the selection pertaining to case studies, and articles involving case study examples will be produced. In this option it is also important to make sure that full text of the results are available.
Often times some articles will be only available in full PDF form to download. In order to demonstrate this information we did a sample search on the topic as well. We used the library resource ProQuest. Our first search was done incorrectly to demonstrate how many results would be produced and how irrelevant they would be. We searched "Managing for Sustainability." The search produced over 10 pages of results. Next we searched in keywords "Management" and "Sustain and sustainable or sustainability." These results only produced three pages of results. Clearly Professor Livermore's suggestions were helpful in narrowing down useful research.