Manchester Airport Essay Sample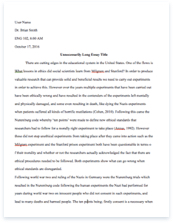 The whole doc is available only for registered users
OPEN DOC
Pages:
Word count: 964
Category: airport
Download Essay
Get Full Essay
Get access to this section to get all the help you need with your essay and educational goals.
Get Access
Manchester Airport Essay Sample
The recruitment procedure at Manchester Airport helps them to appoint the best candidate. At first the identification of the vacancy makes it clear that a new employee is needed and therefore the employers at Manchester Airport are certain to clearly state what type of a person is needed in the form of a job description and a person specification. Then they advertise the vacancy in a way to make it possible for the most amounts of people to see and know about that a vacancy is available resulting in more applicants and a variety of skills within the applicants giving Manchester Airport a better chance of short listing the applicants and undoubtedly identifying which employees should be interviewed. This would mean that after selecting an applicant after the interviews you will be selecting the best from the best. There are some areas of the procedure that I would make changes to which then in my opinion would get better candidates. Here are some changes that I would make:
I would be more careful whilst scoring applicants during an interview and I would try not to use personal opinions to select the best applicant. This would mean that I am scoring the applicants fairly and not judging them by their looks but scoring them in a more professional way as I believe that whilst giving their opinion on an applicant the employee in the Human Resources department at Manchester Airport would consider some aspects of the appearance of the applicant i.e. their dress code etc….
Another change is that I would make the person specifications more detailed and precise to make it easier for myself to short list the applicants because if I have a more detailed person specification I would have a more detailed plan / layout of what I have to do. I feel that the person specification needs to be more detailed because as I mentioned before Manchester Airport advertises the vacancy in such a way that would bring about more applicants and short listing applicants from a larger number is much harder than short listing applicants from a smaller number e.g. if the Human Resources department had to select 50 applicants for an interview it is a lot easier to select 50 applicants from 1000 than to select 50 applicants for 5000. This would result in more appropriate applicants enabling Manchester Airport to select and appoint the best.
Judge the likelihood of the success of your application
I think that my CV covered most of the aspects which Manchester Airport required as it included my personal details, my employment history, my education, additional information and a personal statement which was not asked for. However I did not include any information on offences as I had nothing to write about myself regarding offences and I didn't include anything on identification and equal opportunities. However I feel that my CV overall has more strengths than weaknesses because I added a personal statement i.e. I gave extra additional information about myself.
Secondly my letter covered most of the points. I have included information about myself; I said why I would like to be considered for the job, my interests, what I am like as a person and I also included a line concluding that I am able to come for an interview at any time during that week. Overall I feel that my application letter was very strong. It has lots of strengths and I feel that I have conveyed my point across and I feel that I will be able to convince the employee well with why I should be considered for the Business Administration Apprentice.
I have read up on the area of work and I feel that I am fairly confident that I will do well at the interview and I will be able to answer most of the questions asked to the best of my ability and to a good standard according to my interviewer.
In addition I may be competing against lots of other people who are doing their GCSEs in Manchester. Their strengths are that they have the same experience etc… as me however their weakness is that they are going to obtain maybe less GCSE grades A-C therefore I maybe at an advantage and that factor will be my strength.
Suggest other training that Manchester Airport might offer you in the future
My job in the future may develop and as I will know every single person in the department because I have been helping them and doing all of the administration type work for them I might wasn't to move on to management level if there is a job vacancy. For example if I wanted to do move on and apply for the Commercial Manager job which is on management level in the Terminals Management Team then I would be given training to develop my management skills, communication skills to be able to communicate with the 4 other people on the same level as me and the person who works under me, who I am in charge off.
I will also be trained how to use other programs on the computer to help me to produce commercial products using the computer and new ICT technology to enable me to do my job effectively. I would receive ongoing training on how to communicate effectively and the health and safety as it will change often. After every few years I would be retrained on how to use new advanced technology and I would receive appraisal and training to identify the skills that I need to do my job effectively and I would set targets whilst discussing with my manager. I would also identify future training needs.