Marketing Case Study: Haverwood Essay Sample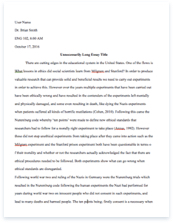 The whole doc is available only for registered users
OPEN DOC
Pages:
Word count: 1143
Category: consumer
Download Essay
A limited time offer!
Get a custom sample essay written according to your requirements urgent 3h delivery guaranteed
Order Now
Marketing Case Study: Haverwood Essay Sample
1. The household wood furniture industry is a very cyclical and tough business to get into. The industry is broken down into 3 categories: upholstered, wood, and other furniture. The other category includes "ready to assemble furniture and causal furniture". Many of the wood manufactures today are very focused on quality of the product that they sell to retailers. Manufactures provide brochures with the quality of the material that they make their furniture with and how each piece is assembled, so they can better sell to retailers. In the industry today there are about 1,000 furniture manufactures. The top ten manufactures represent about a third of the industry sales in dollars. The top 25 manufacturers represent account for about half of the United States furniture sales. To be in the furniture industry these days is very tough because prices have decreased by 30% due to overseas manufacturing. Many of the large furniture manufactures are outsourcing the building or the furniture to another country and then importing the pieces back into the United States. This accounts for about 30% of the industry sales. As I said above, the furniture industry is cyclical, any change in disposable income, new housing starts, consumer confidence, and disposable personal income will have a dramatic effect on the furniture industry.
Haverwood relative position in this industry is a high quality wood furniture manufacturer. They pride themselves on distributing their product to 1,000 high quality department stores nationwide. Since they have a high quality product they do not distribute to chain stores or discount stores. 2. Consumers buy furniture, as I said above, very cyclically. If any of the factors I mentioned above change, they will discontinue buying furniture until those factors turn around. About 1% of United States disposable income is spent for household furniture and home furnishings. The expenditures for under 25 year olds and 75 year olds and above, on an annual basis for buying furniture, is identical at 200 dollars per year. Once someone reaches the ages of 25-34 their expenditures jump to 500. This is almost the same for 45-54 year olds and 55-64 year olds. The 45-54 year olds spend about 50 dollars less and the 55-64 year olds spend 25 dollars or less.
The age group that spends the most on furniture is the 35-44 year olds at 600 dollars a year. Consumer behavior for purchasing furniture is very particular. Consumers are said to enjoy furniture buying and shopping but they have no idea what is a good piece of furniture and a bad piece of furniture. Consumers also have a problem with how it will look in their house. They cannot really gauge if it will look good or not in the short run. They are even more concerned 20 years down the line. Consumers have no idea if that piece of furniture will look good then. Lastly, they are concerned with the quality of the piece. Will it last 20 years down the line and how can they tell from one piece to the next. 3. The purpose of advertising furniture is to expand market share and continue to put your brand of furniture out in the market place, so consumers can see it and retailers can see it. If a manufacture stopped doing this, retailers would have no way of knowing a manufactures brand. If the retailer did not know it then the manufactures brand the consumer would not know it.
Even a well-established brand such as Haverwood Furniture Company has to constantly being giving brochures to their retailers and putting their highlighted pieces in magazines and other furniture friendly reading sources. If they did not retailers could go to many other furniture manufactures and buy the products they needed there. The promotion of the furniture industry has changed recently with the internet. Many manufactures do not open websites because they believe that the upfront cost of building the website and the ongoing maintenance cost to keep the website up is not worth is to them. Plus the added failure of many Internet furniture retailers has dissuaded many of the companies on putting up a website. What these manufactures have done is build promotional websites at half the cost of a regular website. This allows them to continue to get new furniture products out to their consumer base but still be cost effective. A brand new idea for promotion has been galleries. These galleries are especially beneficial to Haverwood.
I say this because they sell higher end furniture. This means it is more costly. The consumer that goes to these galleries are "40-59 year old homeowner with an annual household income over 100,000" and this perfect for Haverwood. I say this because these people came to buy furniture and they have the capital to buy Haverwoods furniture. The high points for these galleries take place in October and April in High point, North Carolina; also from June till August in Los Angeles, New York, and Boston. 4. The objective for Haverwood's marketing program in 2008 would be to distribute their product to many of the galleries around the country. They would have to pay to be in each of these galleries. This could increase the marketing budget. I believe this would be worth it because Haverwood would be going directly to their target audience. The cost of the galleries would have to be weighed with the amount of sales that were done per gallery. Again, they are marketing directly to their target consumers.
Also, to continue to distribute to "shelter magazines such as Better Homes and Gardens, Martha Stewart living House Beautiful, and Southern Living." The strategy for implementing this would be to keep with their current spending of 4% on their marketing budget. They may need to put more money towards their sales team because they are taking on 50 new clients. This could be above the projected amount of 70,000 the John Bott suggested for the budget. 5. This is how I project the budget for the communication program would be laid out for Haverwood. First the 70,000 that John Bott recommends for the new sales representatives for the 50 new clients is a low. Also, by increasing the 70,000 to a higher number would properly incent Haverwood's new sales staff. On top of that, 12,000 dollars for marketing is not enough. To properly put the product out in galleries and magazines would be closer to the 225,000 mark that Michael Hevery suggested. This does not leave a lot of growth for the company because the marketing and sales budget would take up 5% of the total budget. This would put Haverwood below their target of a 5% net profit margin for the quarter. I believe with the added capital towards sales and marketing it would exponentially help the growth of the company.