Marketing reseach of watch Essay Sample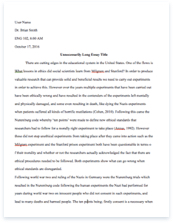 The whole doc is available only for registered users
OPEN DOC
Download Essay
A limited time offer!
Get a custom sample essay written according to your requirements urgent 3h delivery guaranteed
Order Now
Marketing reseach of watch Essay Sample
INTRODUCTION
We are going to introduce our new watch—G-Smart. We would like to show different aspects that our company, CASIO, needs to consider with in producing this product. These includes the micro and macro environment for the market, the 'SWOT' for our company and competitors, that is TISSOT and SONY, as well as presenting our market segmentation, target customer market, pricing strategies, '4P' decisions and the final financial analysis of the product. In the following paragraphs, we would deeply investigate in all these aspects, in order to promote well and find the most efficient and effective way in selling our new watches.
Our company
CASIO
Our new product
G-Smart, a new smart watch
Product's mission
A breakthrough of time everywhere
Target country
The U.S.
Target market
Sport players & drivers
INTRODUCTION TO OUR PRODUCT
We are going to promote our new type of watch—G-Smart. G-Smart is a new developed smart watch, which has a touch screen on its own surface, and
gives you a lot of functions. Besides, G-Smart contains two different appearances. One is for the sport players, while the other one is for the drivers. In addition to the basic function of showing the time, our watch contains many other functions. For the sport players, we have an application for them to record their sport activities called smart sport, for example when he is running, he can record the laps that he runs every day, how many miles he has run, and his best record for the run and so on. This kind of data helps the sport players to manage his or her daily sport activities, and so as to self-regulate its daily sporting progress. Moreover, our watch also acts as an intelligent assistant. It actually functions like mobile phone nowadays, for example, when you want to phone your friend, for example Jack, you can just simply speak to your phone and say " phone Jack" . Then your watch will immediately make a call to Jack. Voice Converter is another idea that we want to enhance the users' communication with others. Under Voice Converter, once we leave a message vocally to our watch, it will help us to convert it to text messages accurately. This saves much time in typing messages and for other special occasions. Our watch also contains other types of high-tech functions, for example, you can use it like an "Octopus" to complete your daily transactions. Our watch can even function just like a mobile phone because it contains blue-tooth and hand free function. So once you are wearing the attached blue-tooth acceptor, you can use it to phone the others. This is especially useful and convenient to drivers.
PICTURES FOR OUR DESIGN
For sport players For drivers
SPECIFICATIONS OF G-SMART
Price
Rubber: US$155
Steel: US$230
Weight
Rubber: 26 g
Steel: 35g
Running system
Android 4.2.2
Display
Multi-touch OLED screen
Connection media
Blue-tooth 4.0
Size
40 mm x 50mm x 8 mm
Colours
Blue, red, yellow
Special features
1. Intelligent assistant
2. Voice converter
3. Hand-free (drivers)
4. Smart sport (sport players)
Target country
THE U.S. is our targeted country. First, she has 313,847,465 (July 2012 est.) populations, which is the third largest country in the world. So the pool of potential target customers is large. More importantly, there are many licensed drivers who are our target customers there. According to the U.S. department of transportation, in 2011, there were 211,874,649 drivers in the U.S. The numbers of our targeted customers is large. Our target customers are sport players. Americans are sport-loving. Americans love their sports, especially baseball, football and basketball. More than that, they have some Festivals which are about sports, like the Homecoming Festival where people will mostly play ball games will each other. So our target customers in the U.S. will be very large. If we choose to introduce our G-Smart there, it will be profitable.
MARKETING ENVIRONMENT ANALYSIS
Microenvironment
Company
For our company—CASIO, the top management needs to set a good objective in order to guide our employees to work for and promote well for our new product. Our objective is to sell our product to whom play sports or drive. We want to build a good appraisal for people in using this smart watch, and we hope the watch itself can become a trend for accessary.
While for the marketing managers, they need to budget well for our new product, find good promotion strategies and coordinate well with R&D and design department.
Customer market
In order to gain the largest possible revenue, we are going to find our customers by further segmentation. Our company will mainly sell the watch in the U.S. and aim at promoting it to people who are middle class and ages are within 25-54.
Competitors
Our company has mainly two competitors—SONY & TISSOT. Both of them had been selling smart watches before. We will analyze their "SWOT" in the following paragraphs, and also "SWOT" for our company. We would also like to be a market follower in the market. As described before, our SONY and TISSOT had already promoted their smart watches, so we would like to seek stable market shares and profits. So we would like to mainly follow the competitors' offers and prices, and even lower price.
Suppliers
Our suppliers include chips making company, rubber company and steel company. Of course, we will find the best brand names for the suppliers in order to make the premium smart watch for our customers.
Market intermediaries
We would mainly like to sell the watches through our own specialty shops.
Publics
In order to bring our new product to the public, we need to find several medium to promote it. For the media, we can post advertisement on newspaper and TV. For the general, we can hold public gatherings, press conferences in order to bring the new watch to more kinds of people.
Macroenvironment
Demographic Environment
Demography is the study of human populations in terms of size, density, location, age, family, sex, occupation, and education, ethnic and racial diversity. Here, we will look at the demographic information of our target country, the U.S. She has the third largest population, which is 313,847,465 (July 2012 est.), in the world. So the pool of potential target customers is large.
The Age structure of THE U.S.is as follow:
The 25-54 Years division has the highest presentation, since our targeted customers are in this range, it would be a supportive figure for our product. More than that, she has the population growth rate 0.9% (2012 est.), which means there will be a continuously net supply of potential target customers. Since our targets are drivers and sport players, we will look at the data of them. First we will look at the data of drivers in the U.S. According to the U.S. department of transportation, in 2011, there were 211,874,649 drivers in the U.S. The numbers of our targeted customers is large. In terms of sports players, Sports-loving is one of the cultures in the U.S., we will discuss more in the social/cultural environment part. But since Americans love sports, so the potential pool will be large too.
Economic Environment
The economic environment affects consumer purchasing power, spending patterns, inflation and interest rate. Our target customers are the Middle-class. According to the U.S.Bureau of the Census, after the adjustment for inflation, the median household income was $50,054 in 2011, a decrease of 1.5 percent from 2010. Also, the household spending on food, housing, utilities, etc. was 53% of disposable income in 1950. But now it has fallen to 32%. It shows their income is shrinking, so as their purchasing power. Actually, although the economy is recovering after the debt crisis in Europe, the Consumer spending stalls and the morale is low. In 2012, the U.S. consumer spending growth halt in May as auto purchases flagged, while confidence ebbed to a six-month low in June. It would be a concern for our implementation of the new products. Affecting by the dim economic atmosphere, the purchasing willingness of our target customers may be adversely affected. So, more strategies targeting this problem will be needed.
Political/legal Environment
Market decisions are strongly affected by developments in the political environment. The political environment consists of laws, government agencies and pressure groups that influence or limit various organizations and individuals in a given society. In 2008, the U.S. president, George W. Bush, has signed a law- The Consumer Product Safety Improvement Act of 2008. The law increases the budget of the Consumer Product Safety Commission (CPSC), imposes new testing and documentation requirements, and sets new acceptable levels of several substances. It imposes new requirements on the manufactured products. The Act also increases fines and specifies jail time for some violations. So when we introduce the new watch to the Americans, we need to pay attention on fulfilling the requirement of the law. Since it would be hinder our project if we fail to meet its requirement. So, it is vital for us to find some qualified manufacturers who are with good reputation and pay more attention on quality control process.
Cultural Environment
People grow up in a particular society that shapes their basic belief and values. So their culture in the U.S. will affect their view on the products and the successfulness of our products. There are two American Cultural Attitudes which will increase the successfulness of our products. First, Americans are time-oriented. In contrast to many other cultures around the world, the American culture emphasizes on man's ability to control outside events. Americans believe in setting strict deadlines and timetables, even for casual social events. It is important to be on time for appointments. Even being 5 minutes late without calling beforehand may doom an interview or important business meeting, while social occasions are slightly more flexible. Sports-loving – Americans love their sports, especially baseball, football and basketball. "Team spirit" is celebrated – Americans see it as a need of an individual in a team. The time-oriented and Sports-loving American cultures boost our confidence in promoting our new product. Our new watch suits the time-oriented American culture. We can promote our new watch by stressing watch connects their time-oriented and Sports-loving American cultures. Also, the watch is designed for sport players too. So it will also link their Sports-loving culture too.
SWOT ANALYSIS
TISSOT and SONY are the top two competitors within watches area. Here is the SWOT comparison between TISSOT, SONY, and CASIO.
CASIO
For the strengths, CASIO targets for each sub group is clear and focused. Sub-brands such as G-Shock, Baby-G, Edifice and Pathfinder are targeted for different groups and marketed accordingly. It has a clear product line and every sub-brand has own selling point. For example, the name of G-shock is come from gravity shock, meaning it is shockproof. Even fall from the third floor windows (about 10 meters high), it will not break. Also, CASIO is being positioned as technology advanced. CASIO has designed world's first LCD watch having a full auto calendar. Comparing with many other innovations, CASIO has built up a synonymous brand image. Besides, CASIO has sponsored events in the area of sports such as the U.S. Open of Surfing. It is beneficial to the brand image. Everyone can know CASIO from the competition. Moreover, CASIO watch is considered value for money and excellent quality. For instance, the series of Baby-G is famous for cute and cool outlook, tough solar, shock and water resistant. Finally, the brand of CASIO is protected with 1,986 registered trademarks in 187 countries around the world. In the aspects of weaknesses, the public is perceived CASIO as a watch brand rather than an electronics brand. As CASIO has produced lots of multi-function watches such as blue-tooth watches which link with smart phone, it produces calculator too. Its calculator is the only brand that students can bring it to the examination room. Also, cash register, projector, camera, notebook and PDA have been manufactured. And its design of the watches more often than not is visually too simple. The outlook of CASIO will not change a lot, always change colours or mix and match different colors. Tie-up with fashion and sponsoring events can be its opportunities. Last year, neon color was the trendy, Casio produced mix and match neon colors watches to attract the youth. Also, CASIO has celebrated its 30 anniversary which is called
G-SHOCK "SHOCK THE WORLD TOUR"-REAL TOUGHNESS PARTY. This party was supported by many famous artists, it got notice again. To improve its market share, more innovative designs and styles should be made up to attract the youth. For example, the limited collection to celebrate its 30anniversary and Blue-tooth watch to catch up with the smart trend, every season has its new color and design. Besides, on the threats side, CASIO is facing threat of counterfeit CASIO products. There are lots of fake CASIO watches in China. CASIO needs to teach consumer how to distinguish real fake CASIO products, improve its authenticity of watches and encourage consumers to buy watches in the official stores. Furthermore, competition in watches with the 'sport look' is heavily populated in the market and can prove to be a threat. As in the watch market, there are lots of sport brands like Nike, Adidas, and Reebok. The competition is intense and every brand wants to be focusing so they make different strategies or promotion to attract consumers.
TISSOT
Being a member of the Swatch Group, the world's largest watch producer and distributor, TISSOT now has a presence in over 150 countries. The TISSOT's innovation leadership is supported by the development of special materials, advanced functionality and high-tech products. With a broader, more versatile range of high-quality timepieces at an attractive price than any other Swiss watch brand, TISSOT also expresses its commitment to making excellence accessible. The first touch-screen technology watch, the TISSOT T-Touch, was promoted in 1999. This technology allowed the wearer to enjoy real instrumental information, such as that from a compass, altimeter, barometer, and more. Touch-screen technology in a watch was developed by TISSOT in models, including the TISSOT Sailing-Touch, and TISSOT T-Touch Expert, providing their users with top-quality instrumental functions. All of their products are user-friendly, what you need is simply a finger-stroke across the glass. "Touch Collection" has made every person including driver, athlete enjoy the watches' functions comprehensively.
TISSOT also rewrites the rule of watch advertising in its latest global campaign. They claim "In touch with your time", a series of executions featuring brand ambassadors present luxury as being accessible rather than exclusive. The innovative black and white print campaign provides further visible proof of the established TISSOT slogan, "Innovators by tradition". The campaign's approach focuses on the idea of "substance" whose quality attached to traditional Swiss style. Some will even display the prices of the products in the advertisements to underline the watches' accessibility. However, the brand's design is easily replicated and that's why there is a warning in TISSOT's official website to the customers that they can acquire only genuine TISSOT watches exclusively from a legitimate TISSOT official retailer. For its opportunities, TISSOT may expand its business to various categories so as to diversify its products and share the risks. Since its current advertising is successful in drawing public's attention, more advertisement is believed to help increase brand awareness.
Since competitors such as TITAN and SONY have more different products across different categories, it is also believed that more and more brand like Apple will have new products with further functions but not only limited in timer. Fake imitations affect TISSOT's image and reputation negatively at the same time.
SONY
SONY has sold SmartWatch in 2012which claimed that it is the first smart watch in the industry. It is a touch screen watch that can access to the mobile phone supporting Android system. Not only act as a watch, but also can display music, reject and mute calls, check latest messages and emails, read news feed from social network, such as Facebook and Twitter. The most convenient point is that nothing will miss when you are wearing the SmartWatch as all notification will be shown out. Besides, customers can choose their own favourite wristbands provided because the watch and the wristband can be separated. So the color of wristband can be changed according to the customers' preferences. As its strengths of revolutionary design and convenience, SONY gets the advantages over others. However, most of the functions mentioned above will only work unless the Android phone is being connected. Otherwise, it is a normal watch.
Also, although SmartWatch is touch-screen, the size of screen is only 36mm x 36mm which is a bit small. Besides, the touch screen is not smooth enough so that the browsing is not fluent. Moreover, it costs US$149 that is about HK$849. Some people think that it is too expensive under such functions. All these are the weaknesses of SmartWatch. For its opportunities, SONY can develop a well-rounded smart watch, having more advanced and intelligent functions. Now, SmartWatch does not have a specific target group. It is set to be sold for everyone, including the general public, businessmen and professional. Therefore a clear target market can guarantee a bigger market share. On the other hand, SONY also has its threats. For the market of smart watch, SONY is not the only manufacturer, but also TISSOT. In the coming future, Apple, Microsoft and Samsung also claimed that they will produce ones. Therefore, there are many competitive rivals. Besides, some argued that smart watch cannot replace smart phone. So SONY is having a competition with smart phone.
MARKET SEGMENTATION
We are going to adopt multiple segmentation approach by starting with behavior segment and then expanding into demographic segment. Behavioral
Behavioral segmentation is based on consumer knowledge of particular products, uses and responses to certain products. This practice in marketing has proven valuable as marketers find more about the customer needs rather than just customer potential. It is the best starting way.
Benefits
We are going to understand and find the main benefits customers look for in a product by benefit segmentation. The watch market has been found four main "benefit segments" – economic; convenient, cosmetic and taste.
Loyalty status
Some people who will buy one brand most of the time are valuable customers called loyal customers. We need segment our markets into those where loyal customers can be found and retained.
Demographic
Demographic segmentation is the most popular segmentation. Its variables are easier to measure compared to the variables of other segmentation strategies and closely related to needs and wants. It helps the firm divide the market into several segments or groups and target each of these groups to enhance its performance. Basically, we will base on the age, income and occupation to determine the target group. As we are going to target drivers and people who do sports regularly as our target customers, we will target people in the age group of 25-54. Our target group will be middle-income
group. As the "sporty" feel of our watch can draw athletes and people who love to do sports attention, we are more likely to opt for a sleek, trendy design. By demographic segmentation, firms can easily categorize the wants of the consumers on the basis of demographic factors, such as age, income and so on.
TARGET MARKET
Our target consumers will be drivers and people who always do sports like athletes. We are going to adopt differentiated marketing strategy which is when a company creates campaigns that appeal to at least two market segments or target groups. Our company plans to create campaigns that appeal to both drivers and athletes in a variety of age groups. As our G-Smart watch is more variable compared with other watches, especially in the functional dimension, differentiated marketing strategy is decided to be adopted. When other companies adopt undifferentiated marketing strategy, company who adopts differentiated marketing strategy can stand out above the rest.
MARKETING MATRIX
Product matrix is a kind of strategic planning. It includes market penetration, market development, product development, and diversification. Market penetration is a strategy for company growth by increasing sales of current products to current products to current market segments without changing the product. Market development us a strategy for company growth by identifying and developing new market segments for current company products. Product development is a strategy for company growth by offering modified or new products to current market segments. And diversification is a strategy for company growth through starting up or acquiring businesses outside the company's current products and markets.
Product development
For our G-Smart, product development is used. Similar smart watches are being sold in current market. However a smart watch which has a function of calling without any phone accessing is a kind of new product. Product development means developing a product with new or different features that offering new or additional benefits to the customers. For CASIO, it adds some additional functions on G-Smart that is the others do not have. So,
existing customers who often wear watch are still CASIO's target customers but they can enjoy many benefits from G-Smart.
Positioning
Positioning is the place the product occupies in consumers' minds relative to competing products. For the competitive advantages of G-Smart, it gets the product differentiation. As we add some new functions, such as voice control and call functions, it is so unique among the other smart watches. On the aspect of service differentiation, not only offering product repair service, CASIO but also provides technical support. Customers can send their own problems to CASIO. And CASIO is ensuring the personal information of customers will not be disclosed. Last but not least, on the aspect of image differentiation, CASIO gives the feelings of fashion and trend, while G-Smart, we would like to have an impressions of high technology and convenience. To combine, our high-tech G-Smart brings customers convenient life and fashionable sense. Therefore, our slogan is "A breakthrough of time everywhere".
4P DECISIONS
Product
G-smart is designed to convenience their lives as the gadget can be easy taken when running and driving that makes human's life simple. Product and service decisions
Product attributes Branding Packaging Labeling Product support service For the product attributes which includes its quality, functions, style with steel and rubber, and its design, to branding which we are the CASIO company and develop the G-smart line, then packing with a box, when you press a button then it will open, next is labeling which will mention it is not the common watch with a G-smart logo, the final is product support service that staffs will teach consumers how to use the watch, also there is instruction booklet in the box and it can be seen on the official web site.
Place
All CASIO watch store are distributed all around the world, for example China, America, England, Singapore, Taiwan and so on. Most of shops are online shops, consumers can order their watches in person through the web site such as Amazon. Also, many official shops are opened in local, and
watches are selling in specialty shops, people can see all kinds of CASIO wtaches. What's more, G-smart can be buy in department stores as it gather different kinds of CASIO watches, consumers can compare with other watches.
Pricing
For general product, we are consumer value-based pricing that is good-value pricing which called outside-in, from Consumervaluepricecostproduct. For new product, we are marketing-penetration pricing since economic factors, people's spending power are low, and the smart trend is keeping, we are followers, the market appears similar competitors, as a result, we will set a low price which are US$155 nad US$230 in order to attract a large number of buyers to get the economic scale for lower the cost and get a large market share.
Promotion
We will take advertising strategy which includes create message "A breakthrough of time everywhere" that makes life more simply and select media that are web sites, public service (ads on bus or taxi), billboard, magazines, exhibition, press release and invite Usain Bolt who is well-known runner to be the spokesman of G-smart .However, in the past, CASIO watches can't be seen on TV, so this time, we will advertise in TV that can promote our G-smart.
FINANCIAL REPORTS
FINANCIAL ANALYSIS
Profitability
Gross profit margin = $111000 / 427000 * 100% = 26%. It indicates the efficiency of cost control, marketing or pricing policy. 26% gross profit margin means stock is being sold at lower prices. For the selling policy of G-smart, we would like to set a lower price to attract more customers and stimulate sales. Net profit margin = $17000 / 427000 * 100% = 4%. It indicates the relative efficiency if the business after taking into account all revenues and expenses. As it is the first year we sell G-Smart, it is acceptable for us only have about 4% profits. Return on equity = $17000 / 520000 * 100% = 3.27%. It used to measure the profitability of a business compared with the capital which has been necessary to generate that profit. Because G-Smart is a new product, more capitals needed to be invested at first, so it generates fewer profits.
Liquidity
Liquidity ratios provide information about a firm's ability to meet its short-term financial obligations. Current ratio = $388000 / 78000 = 4.97: 1. This means the company has $4.97 available to pay every $1 of debt it owes. Companies with current ratios of less than one may not be able to pay their bills, as they have fewer current assets than current liabilities. Companies may maintain a high current ratio so as to remain solvent during downturns. Quick ratio = $ (388000-98000) / 78000 = 3.72: 1. It means that current assets in liquid form are 3.72 times current liabilities. Cash ratio = $151000 / 78000 = 1.94: 1. It indicates the ability of company to pay off its current liabilities if immediate payment were demanded.
Efficiency
Stock turnover ratio shows the number of time the average stock is being sold in a period. It indicates the efficiency of stock control. The ratio is $393000 / 98000= 4 times. It means the average stock sold is quick good as well as the stock control is well since G-Smart is innovative and new to people. Debtor's turnover ratio measures the debt collection period/ability of a company. The ratio is $427000 / 113000= 3.78 times. It show CASIO has a quite good ability in collecting debt. Creditor's turnover ratio measures the average credit period for payment allowed by the suppliers. It is calculated as $78000 / 393000 = 0.198 times. The ratio is small. It shows CASIO have concerns in paying debts. All in all, the efficiency of CASIO is quite good in terms of this G-Smart project.
CONCLUSION
Nowadays, the smart trend is keep going, start from IPHONE to Google glass, it means everything is being smart and help human's life. Our company CASIO, the business philosophy is "creating contribution". It provides unprecedented new products, and makes contribution to society. Products with new features bring help and social progress for human life. Therefore, we now develop the G-smart which can exactly convenience their lives. All aspects above is showing our consideration with G-smart, from marketing environment in CASIO, we can decide that G-smart will develop in the U.S. for the middle-class people who are sport players and drivers from 25 to 54 since the demography, economy and America culture. G-Smart has two different appearances in steel and rubber after we consider the fashion trend in different age and the natural resources. Also, we have a SWOT analysis between CASIO and two competitors which are TISSOT and SONY. For product matrix, G-smart is diversification, as we focus on new segment that consumers are sport player and driver and G-smart is the advanced version of smart watch. With the 4Ps decision and the financial analysis, we believe G-smart can be promoted in the U.S. successfully.
REFERENCES
Basson, E. (2011 December 12). Exploring the supply chain: steel market outlook. Retrieved from http://www.worldsteel.org/dms/internetDocumentList/downloads/media-centre/Barclays-Capital-presentation/document/Barclays%20Capital%20presentation.pdf
Faostat Data. (2010). The top 5 rubber producing countries. Retrieved from http://top5ofanything.com/index.php?h=7738a992
Index Mundi. (2013). United States Demographics Profile 2013. Retrieved from http://www.indexmundi.com/united_states/demographics_profile.html
Mutikani, L. (2012 June 29). Consumer spending stalls, morale at 6-month low. Retrieved from http://articles.chicagotribune.com/2012-06-29/news/sns-rt-usa-economy-wrapup-3l2e8ht2zg-20120629_1_consumer-confidence-manufacturing-activity-consumer-spending
Public Law 110-134. (2008, August 14). United States Consumer Safety Product Commission. Retrieved from http://www.cpsc.gov/PageFiles/113865/cpsia.pdf
Swatch Group. (2012). Annual report 2012. Retrieved from http://www.swatchgroup.com/en/investor_relations/annual_and_half_year_reports