Marriage and the Marriage Market in the Early 19th Century in "Pride and Prejudice" Essay Sample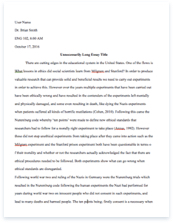 The whole doc is available only for registered users
OPEN DOC
Pages:
Word count: 927
Category: marriage
Download Essay
A limited time offer!
Get a custom sample essay written according to your requirements urgent 3h delivery guaranteed
Order Now
Marriage and the Marriage Market in the Early 19th Century in "Pride and Prejudice" Essay Sample
In the novel Pride and Prejudice, Jane Austen has used Elizabeth Bennet to comment on both marriage and the marriage market at the time. "It is a truth universally acknowledged that a single man in possession of a good fortune must be in want of a wife." This is how the novel starts and generally sums up Austen's view on the topic and how the women of the time were treated. But from the start Austen makes fun out of this by saying that it was actually the women and their families who were looking for a rich husband. This makes us feel that quite a lot of the women in the novel would only marry for the money. Elizabeth on the other hand goes against the moral fashion of the time and marries for love, where as most girls were encouraged by their eager parents to marry a man who had a vast fortune. Like the Bennet parents who had no sons so Mrs Bennet tries her up most to get her daughters married as soon as possible "You must know that I am thinking of his marrying one of them."
The first marriage that we come across in the novel is Mr and Mrs Bennet's. This marriage is a strange relationship where Mr Bennet insists on constantly winding up his wife "Impossible, Mr. Bennet, impossible, when I am not acquainted with him myself; how can you be so teasing?" this tells us that he is more in control in their relationship and because he has to put up with her wining about her daughters not being married he amuses him self by irritating her. Also I assume that he married her first of all for her beauty and as that faded so did their relationship. Austen is trying to put across that you should not marry for money.
Charlotte Lucas is Elizabeth's best friend. After Lizzie rejects Mr Collins he proposes to Charlotte and she accepts. As she is rather old for those days, 'on the shelf', we suppose that the reason she accepted was for the money and or financial stability. So once she is living with him it seems that all she does is tend to chores and pleasing Lady Catherine. I don't even think that they even like each other.
Lizzie and Charlotte's relationship type contrast a lot and also their reactions to proposal. Charlotte is very pragmatic, meaning she will always do the most practical and useful thing. Like in the book when she is proposed to by Mr Collins, she says yes because she knows that one day he will come into a lot of money. 'I'm not romantic you know' this tells us that she is too old to marry for love and so she knows that she has to really marry anyone who offers her their hand . 'I only ask for a comfortable home…….I am convinced that my chance of happiness with him is fair…….' Also she doesn't want very much so is probably happier with more men than Lizzie. Where as Lizzie is a romantic and follows her feelings more than charlotte would, being pragmatic. 'My feelings forbid it in every respect' this means that if she doesn't actually like the person then there is no way that she will accept their offer. 'You are too hasty sir' this shows that she can't rush into relationships and will not marry someone after knowing them only a few days.
When Mr Darcy first proposes to Lizzie it is rather unexpected. 'In vain I have struggled. It will not do. My feelings will not be repressed. You must allow me to tell me how ardently I admire and love you.' This tells us that all though he has tried not to love her he cannot help it. This is a great contrast to the feelings he had towards Lizzie at the beginning of the novel. 'She is tolerable; but not handsome enough to tempt me.' This portrays him as an arrogant, selfish man who feels that he is better than everyone else.
But after he reveals to Lizzie that the only reason that he wouldn't propose before was because he was embarrassed she replies '…why with so evident a design of offending and insulting me you chose to tell me that you liked me against your will, against your reason, and even against your character?'. Again this makes us think about her attitude towards marriage and the marriage market. Normally someone would accept his offer the first time, as he has a lot of money and is handsome, but once again Lizzie contradicts this idea and says no.
Through the character of Lizzie, Austen has said that the man in the relationship has a lot of the power. For example in Mr and Mrs Bennets, Mr Bennet knows he has an easy power over Mrs Bennet and can easily wind her up. Also she puts across the point that most women at the time would marry for money not love like Charlotte Lucas. Over all at the end pf the novel we feel that the relationship between Darcy and Lizzie is slightly out of place in the 19th century as the quote at the start of the play says that "It is a truth universally acknowledged that a single man in possession of a good fortune must be in want of a wife." But Mr Darcy was not in want of a wife even though he had a large fortune.